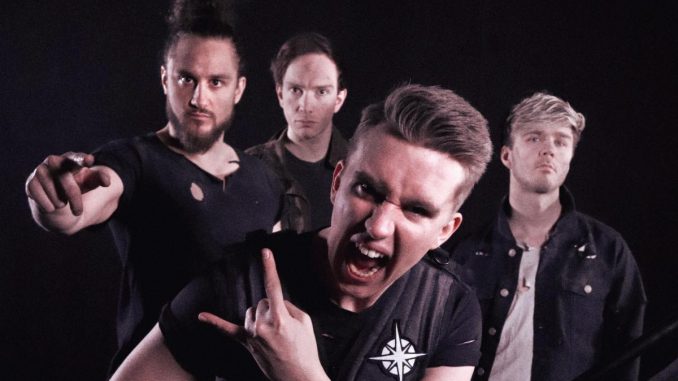 Friday, April 16, 2021 – Perseverance, positivity and determination are the calling card of Swedish electro-metal quartet Solence who today have unleashed their powerful new track, "Deafening" (premiered yesterday on SiriusXM Octane and today on Live Nation's The Noise) and the accompanying music video. In addition to the energizing single, Solence fans can also look forward to the band's forthcoming album "Deafening" out this fall via ONErpm. Commenting on the release and album, Markus Videsäter shares:
"'Deafening' is the start of a brand new era for us. We launch a completely new image with a brand new emblem, flag and logo – redefining what Solence once again with a loud, motivational, strengthening yet emotional sound. We've had a blast making this and are looking forward to shouting the lyrics so loud with all of our fans that it becomes DEAFENING!
When making the album we really wanted to deliver a feeling of self-empowerment and positivity – we feel like the rock scene sometimes can get a little bit dark and we wanted to give people in these times a bit of energy to get through whatever they're going through… When listening to the album we really want the audience to feel empowered, pumped, and like they can achieve anything. Because the truth is – you can!"
Check out the music video for "Deafening"
here
or by clicking the image below, and stay tuned for more Solence news coming soon.
Solence previously released "
Good F**king Music
" last month, which has already clocked up nearly 250k views on YouTube and 666k streams on Spotify. It was the first track to be released since the band released the hugely popular 'Direction' EP in 2020 the follow up to their 2019 debut album, 'Brothers' in 2019. 'Brothers' shot them quickly to international acclaim. To date they have clocked up over 100 million streams across all platforms, have over 138k YouTube subscribers, entered Top 50 on Active Rock Radio in 2020, have been featured on the cover of Spotify's New Core playlist twice, and saw their single
Animal In Me
become the most played track on SiriusXM Octane when it was released last year.
SOLENCE is the musical antidote to what ails the brokenhearted and downtrodden. As they summon a soaring celebration of life-affirming positivity, the Swedish foursome's diverse songs demonstrate the strength found in a community defined by shared passions and goals. Multi-instrumentalist melody makers bonded together at a young age in pursuit of artistic inspiration and connection, SOLENCE quickly amassed 100 million streams across all platforms. Deafening, the band's eclectic and invigorating sophomore album, is a watershed work of possibility, perseverance, and positivity.
"In a hard rock world that can be pretty dark and depressing, we try to make things a little brighter and encourage our fans to believe in themselves," explains frontman Markus Videsäter. To "follow your heart's compass" is the SOLENCE mission statement, a strong sentiment shared between guitarist David Strääf, keyboardist Johan Swärd, drummer David Vikingsson, and singer Videsäter.
Is SOLENCE a hard rock band with electronic elements or an electronic band with a rock infusion? It depends on the song. Already drawing favorable comparisons to I Prevail, Palaye Royale, and Bring Me The Horizon. They developed their sizeable worldwide audience from a shared living space in Stockholm, first emerging with heavy renditions of well-known pop hits. But none of those videos were as popular as the band's own music. In 2020, they broke into the Active Rock Radio Top 50, as "Animal in Me" (6 million views on YouTube) became the most played track on SiriusXM's Octane.
Like 2019's Brothers, Deafening is a massive leap forward. Imagine the aggressive but catchy wallop of In Flames masterpiece A Sense of Purpose colliding with the melody of The 1975, the pop sensibility of hitmaking maestro Max Martin, electro pulse, and a bit of Avenged Sevenfold shred. "We are still carving out our musical identity," Markus says with excitement. There's no singular moment for this band or, by extension, their audience. It's all about the journey. Get ready and Enjoy the SOLENCE.