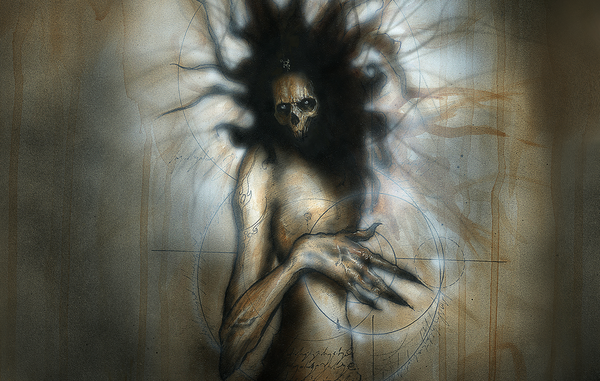 Patterns of Decay
April 15, 2022
Today, PATTERNS OF DECAY release their self-titled, second album. Over these last few years PATTERNS OF DECAY took ample time to look inward and discover their truest selves; to analyze demons and fears. Matthew Stirrat (guitar/vocals) shares "In isolation, our doubts and suspicions take hold, and we learn to come to terms with the darker corners of our own minds. It's the new normal in a world forever changed by circumstances beyond our control. These were the themes to our self-titled album even before the pandemic cast its shadow on everything. Recent years have only proved to us that it was more important than ever that we record this album and share it with the metal world."
"This is a song that lyrically delves into the darkest reaches of self deprecation, negativity, and the battles of fighting your own demons. The urge to fall into a complete sense of apathy towards the world and towards yourself, "Chrysalis" really offers a bleak introspection into the realms of depression/anxiety. It's as if the cold embrace of sorrow is the only friend you have and their voice is the only one you listen to. The temptation to embrace the void and the struggles to believe in yourself are at constant odds with each other," explains vocalist, Christian Contello.
photo credit: Sean Ageman of Washed Up Media
About PATTERNS OF DECAY:
Christian Contello – Vocals
Dan Gold – Guitar
Matthew Stirrat – Guitar/Vocals
Tony Romano – Drums
Jesse Herman – Bass
New York tri -state areas' burgeoning metal stalwarts Patterns of Decay have been slinging their brand of metal since 2014, playing more than a hundred shows to thousands of metal fans while mostly opening for major metal acts like All That Remains, Suffocation, Cattle Decapitation, Deicide, Misery Index, and Currents among others. Patterns of Decay sits on the razor thin edge of their new album's release.
Patterns of Decay released its debut EP Malicious Intent and a music video for the track "A Fool's Guide for Selling Your Soul" Then, POD released their follow up in 2018 titled, Suicide Notes in Comic Sans, and with that album the band released two music videos during this album cycle. This album was the first to feature the bands current lineup, which has remained the same since its release. The album was also an opportunity to showcase their unique personality as a band.
The band eagerly entered the studio at the end of 2019 with about seven songs written, As much as the pandemic stole time from POD, it also gave time to become more comfortable with honing their sound. Patterns of Decay share "having the luxury of time to be able to write songs that had lasting impressions on each of us was a thin silver lining to a pretty dismal global situation." This album, in spite of the pandemic, offered the opportunity for Patterns Of Decay to challenge themselves to produce their fully matured work .
Patterns of Decay online:
Instagram – @patternsofdecayband