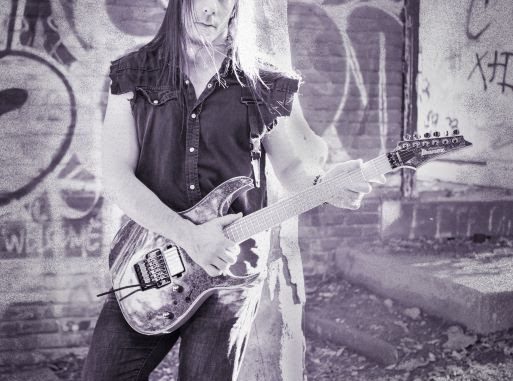 Cover Art: Giannis Nakos of Remedy Art and Design
Orginally "The Chase" was intended to be part of PAT REILLY's album Path to Transcendence, released January 3rd of 2020. However, at that time, PAT REILLY couldn't find a vocalist that fit what he was looking for. Opportunity knocked in 2021, and PAT REILLY, a huge fan of EVERGREY, was able to bring TOM S. ENGLUND (also of SILENT SKIES) aboard. The lyrics written by TOM S. ENGLUND were inspired by two concepts: finding comfort in isolation and seeing in the dark through the depths of confusion ( metaphorically ). "It is an incredible honor to have had the opportunity to work with Evergrey's Tom S. Englund, whom I believe to be one of the best vocalists in modern metal." says PAT REILLY, " I knew his vocals would be just perfect for this song."
TADPOLE JONES from the band Meridian Parkway had actually laid the drum tracks for "The Chase" during the recording session for Path to Transcendence. PAT REILLY produced "The Chase" as well as playing guitar and bass. He also wrote all of the piano, synth and choir parts.
"The Chase" was mixed and mastered by Kevin Antreassian (The Dillinger Escape Plan) of Backroom studios whom PAT REILLY previously worked with while recording with band Fellahin Fall.
The lyric video was created by John Kaimakamis, (Fate's Warning, Badd Kharma) who is well-known audio engineer, video editor, digital designer and a photographer for Metal Hammer in Greece.
photo credit: Karen Naqvi
About PAT REILLY:
PAT REILLY AKA "Pat the Panther" is an international touring guitarist, session guitarist, and songwriter. Born and raised in Queens New York, PAT REILLY started playing guitar at the age of 16, drawing influence from renowned guitarists such as Mary Friedman (ex Megadeth), Dimebag Darrell (Pantera), and David Gilmour (Pink Floyd) to name a few. Although PAT REILLY's musical passions lie in the metal genre, his songwriting is quite diverse, ranging from classically composed intros to full-fledged groove-based metal compositions. Many listeners may consider PAT a "Shredder" but he shies from the term as he prides himself on the emotional element of songwriting and guitar playing, not so much on being purposely technical. PAT REILLY's songwriting philosophy is "Write for the song not for the ego."
On the touring side of music, PAT REILLY's experience is fairly extensive. He has toured with bands such as Tengger Cavalry, Through the Discipline, Vajra, and Awaken, playing several hundred shows throughout the United States, Canada, and Europe most notably performing at New York City's prestigious Carnegie Hall.
As a solo artist, PAT REILLY has released 5 instrumental tracks since 2017 and put out his first full-length album titled Path to Transcendence on January 3rd of 2020. As of 2021, PAT REILLY is an active member of the bands
Fellahin Fall
and
Rival Order
while also fulfilling duties as a session guitarist for various other metal and hard rock bands. Contact PAT REILLY for session work at
Cover Art: Giannis Nakos of Remedy Art and Design
PAT REILLY online: