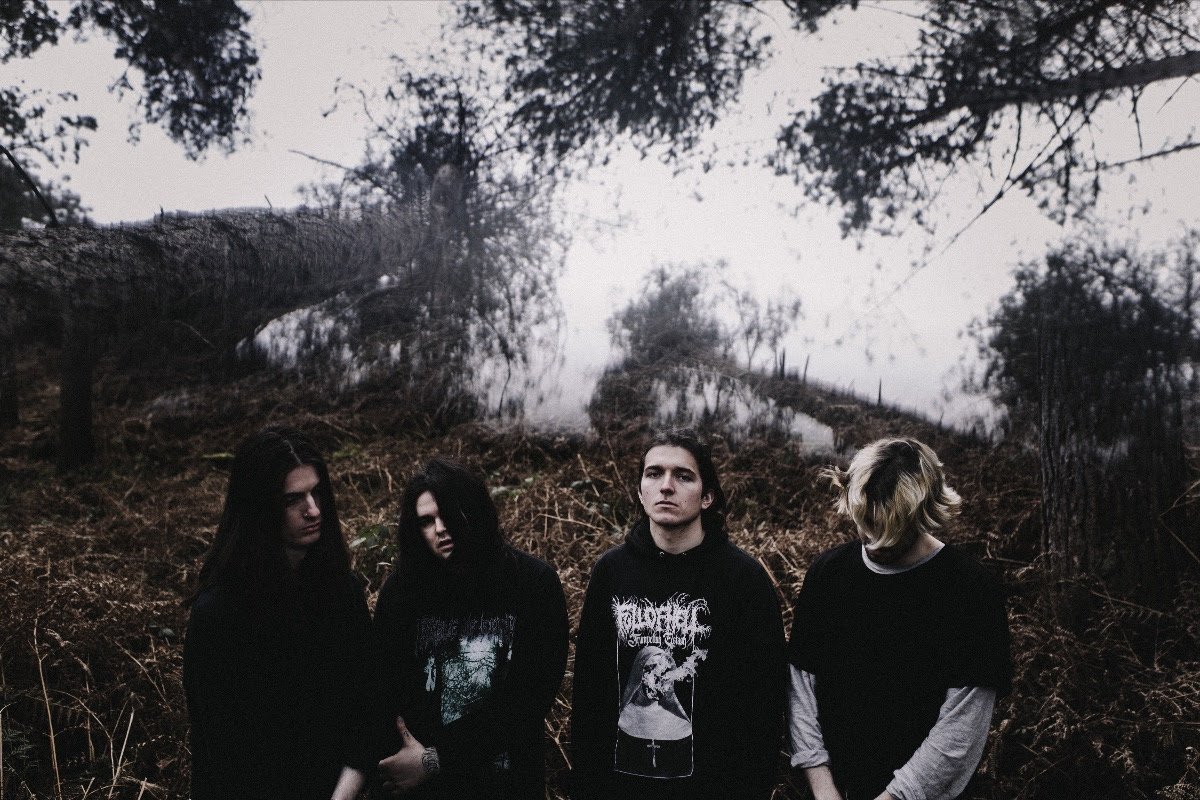 The UK's Parting Gift have shared the video for "Without Sin" from their upcoming EP Ensom, out March 22 on Fearless Records. Watch the clip here.
"Without Sin" showcases a more ethereal, melody-driven facet to the Manchester band's far-reaching and expansive sound. It's a dreamy mix of shoegaze pop and rock. Delivering the most emotive of performances to every audience they play to, Parting Gift's latest track conveys that intensity perfectly. "A word to the ordinary," says vocalist Zac Vernon of the track. "A reminder that this can happen to anyone, the purest of souls. Its taint does not pick and choose and it is ruthless. The ones who pursue their self-betterment can occasionally free themselves from it and take a breather, only to see it come back stronger. However, it's a reminder that, in spite of the darkness, it is always worth not giving in."
The Ensom EP is a powerful statement from one of the UK's most exciting up and coming rock talents. It paints a dark but heady picture with the band's unique approach to sound. Vernon says, "The basis of the entire EP is the feeling of a cold, dark entity making one unable to feel anything. The darkest of dreams and visions, delusions. It is walking the thin line between what is real and what is in your mind. It is the obsession by what is seemingly out of one's control. A sort of coping strategy for the pain it causes."
The Manchester band previously released the single "Pale." Watch the video here.
ENSOM TRACK LISTING:
1. "Pale
2. "03:07 (Moonlight)"
3. "Without Sin"
4. "Cold"
5. "Ensom"
PARTING GIFT ARE:
Zac Vernon — Vocals
Peter Vybiral — Guitars
Jack Dutton — Guitars
George Barnes — Drums
ABOUT PARTING GIFT:
Art is not just a one-dimensional construct. It is a multi-faceted, richly woven and engrossing prospect from whichever angle you view it. This is a philosophy that defines and inspires Manchester's Parting Gift. Shrouded in mystery, Zac Vernon [vocals], Peter Vybiral [guitar], Jack Dutton [guitar], and George Barnes [drums] have been leaving things open to interpretation with their minimalist visual style and deeply enriching sound since their emergence in early 2017. Building up a rapturous and devoted fan base through a handful of beautifully constructed singles, including the rousing double A-side Vein & Rensing (2018), the band has since penned a deal with Fearless Records and toured with the likes of Neck Deep, Blood Youth, Holding Absence, and many others. Even at such an early stage in their journey, the band is serving as a vessel for the most human parts of existence as they look to venture deeper into what it truly means to be in this dark and confusing world.