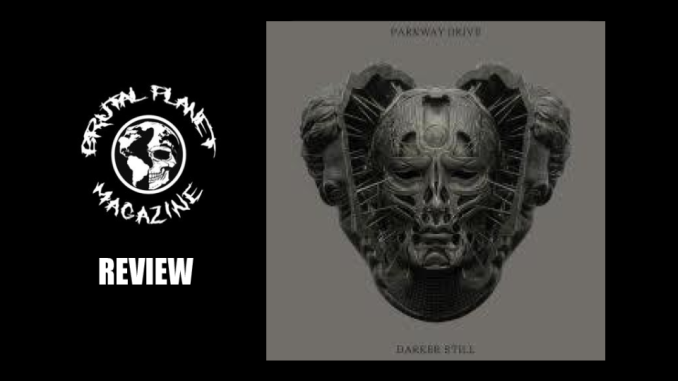 The Australian metalcore band, Parkway Drive, (Winston McCall- vocals, Jeff Ling- guitar, Luke "Pig" Kilpatrick- guitar, "Jia "Pie" O'Connor- bass, Ben "Gaz" Gordon- drums) has delivered another killer album!  Their seventh studio album, "Darker Still" was just released on September 9th, 2022 through Resist and Epitaph Records.  Following the success of the band's 2018 "Reverence" album, Parkway Drive teamed up with producer George Hadji-Christou to produce the band's most unique release in their nineteen-year career.
The opening track, "Ground Zero," starts out slowly with what sounds like a glockenspiel and vocals, and then lashes out with a catchy riff and aggressive vocals.  This song is a great intro to the album as it mixes heaviness and melody.  The next song, "Like Napalm," is another banger that spreads its metalcore assault on your vulnerable ears. "Glitch" was released on June 7th as the album's first single. The official music video has already amassed over 2.2 million views on YouTube. It's an incredible song that deserves the recognition it's been getting. 
The band's second single, "The Greatest Fear," was released on July 6th and is one of my favorite songs on the album.  Like its predecessor, the video has also received over 2 million views in two short months. That speaks for itself, doesn't it? Parkway Drive knows how to deliver the goods. The latest single and album's title track, "Darker Still," was just released a couple of weeks ago and shows off the band's diverse sound. It starts out much slower and features clean vocals. As the song continues, so does its intensity. The music builds and gives an anthemic climax. This is also the longest song on the album, coming in at just under seven minutes in length. "Darker Still" is a powerful performance and a great choice for the third single.

As I mentioned earlier, the whole album is incredible.  Each of the songs is unique, while simultaneously keeping the familiar tones and tempos we all love in this genre. "Imperial Heretic" is a groovy song with a singable chorus. "If A God Can Bleed" features an eerie sound reminiscent of something you would hear from the horror show king, Rob Zombie. This sound is unique to metalcore but exciting to hear how the band does it so effortlessly. "Soul Bleach" picks up the intensity once again and delivers a fast-paced banger of a track. The double-kick pedals really stand out and I would love to hear this song live. 
"Stranger" is a creepy, interlude type of track before the "Land of the Lost" kicks in with full force. It's arguably the best track on the album. Sure, it's not the band's "norm," but this is what I love about the metalcore bands that last nearly two decades- they should experiment with different sounds and branch out a bit. The album's closer, "From the Heart of Darkness" has a tough guy attitude about it that would make teenage Jamey Jasta proud.  I'm not dumb, I realize the older Parkway Drive fans might not like this, but I would encourage you to keep listening. I really think this is some of the band's best work. "Darker Still" is worth being praised.