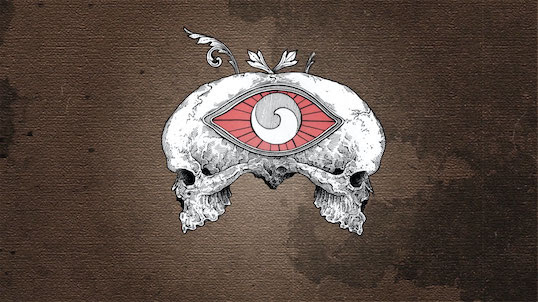 "OBSIDIAN" OUT ON MAY 15TH!
Today,
PARADISE LOST
release
'Ghosts'
, the second single from their new album
"Obsidian"
, out on May, 15th, via
Nuclear Blast Records
. The newly minted anthem is a guaranteed dancefloor-filler at any discerning goth nightclub and comes with an impressive lyric video.
Check it out here:
https://youtu.be/urugx_wSBy8
Nick Holmes about 'Ghosts': "This song tips a cap to the goth rock music that was ubiquitous when we were teenagers. Even as young Death metal fans, a lot of that old 80's music is still very much the soundtrack of our early lives.
Lyrically it's about being haunted by the past and a shallow belief in something you hope will destroy the demons."
You can order "Obsidian" now in various formats here:
https://nblast.de/ParadiseLostObsidian
To get your hands on one of the exclusive bundles, Crash Records sells with tickets for PARADISE LOST's release show at The Warehouse in Leeds on September 17th, check out the Crash Records online shop:
https://www.crashrecords.co.uk/product/paradise-lost-obsidian-bundle-pre-order/
More on "Obsidian":
'Darker Thoughts' (TEASER): https://youtu.be/-IydwhaibhU
'Fall From Grace' (OFFICIAL MUSIC VIDEO): https://youtu.be/QWqNcw-oIbU
'Nick and Greg discuss 'Fall From Grace (OFFICIAL TRAILER)": https://youtu.be/VkuIRhkr0Ns
'Nick and Greg discuss the scene when the band started (OFFICIAL TRAILER)': https://youtu.be/-pPeO9R1YJo
The sixteenth PARADISE LOST studio album, "Obsidian" eschews its immediate predecessors' gruesome, myopic approach in favour of a richer and more dynamic deluge of black shades. From the deceptive elegance and dual atmospheres of opener 'Darker Thoughts' through to the crushing, baroque doom of war-torn closer' "Ravenghast', "Obsidian" reveals a band in masterful control of a broad array of vital ideas. Most noticeably, the record boasts several songs that draw heavily from the much-loved, Kohl-encrusted days of '80s gothic rock.
Formed in Halifax, West Yorkshire, in 1988, PARADISE LOST were unlikely candidates for metal glory when they slithered from the shadows and infiltrated the UK underground. But not content with spawning an entire subgenre with early death/doom masterpiece "Gothic" nor with conquering the metal mainstream with the balls-out power of 1995's "Draconian Times", they have subsequently traversed multiple genre boundaries with skill and grace, evolving through the pitch-black alt-rock mastery of '90s classics "One Second" and "Host" to the muscular but ornate grandeur of 2009's "Faith Divides Us – Death Unites Us" and "Tragic Idol" (2012), with the nonchalant finesse of grand masters. The band's last two albums – "The Plague Within" (2015) and "Medusa" (2017) – saw a much celebrated return to brutal, old school thinking, via two crushing monoliths to slow-motion death and spiritual defeat. Consistently hailed as one of metal's most charismatic live bands, PARADISE LOST arrive in this new decade as veterans, legends and revered figureheads for several generations of gloomy metalheads. In keeping with their unerring refusal to deliver the expected, 2020 brings one of the band's most diverse and devastating creations to date.