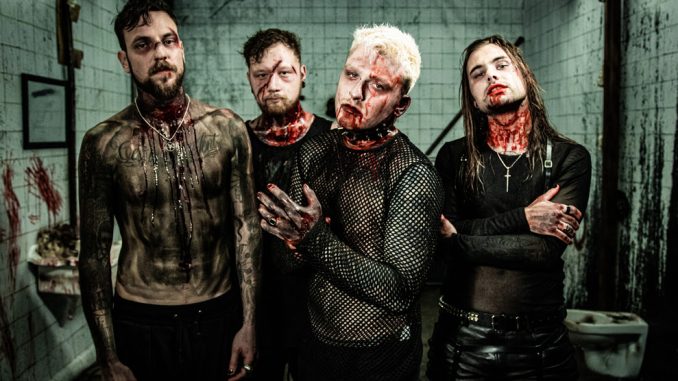 PALEFACE SWISS L-R: Cassiano Toma, Tommy-Lee Abt, Marc 'Zelli' Zellweger, Yannick 'Leeman' Lehmann | Credit: Kriss Jakob
Download HERE
Monday, June 26th, 2023 – Following the release of brand new single, "Please End Me" and their recent debut US tour, PALEFACE SWISS have today announced that they will once again be crossing the Atlantic for the 'Fear & Dagger North America Tour'. The band's first ever Stateside headline run will also feature a monumental support line-up of Enterprise Earth, VCTMS and Crown Magnetar. Tickets are on-sale now and available from www.palefaceswiss.com/tour

Speaking on the announcement of his band's first ever headline run, Paleface Swiss frontman Marc 'Zelli' Zellweger shares

"We can't wait to hit the streets of the US once again and finally visit Canadian cities. Not only did a small Swiss boy's dream come true by touring the US for the first time this year, but returning with our own headline tour is mind-blowing for us. The excitement of seeing familiar and new faces singing along to our songs has us hyped for September and October. It will be a long ride, but one that will be totally worth it!

WE CAN'T WAIT, NORTH AMERICA!"

2023 has been an absolute rager of a year for PALEFACE SWISS. The band have been touring extensively in support of their 2022 release 'Fear & Dagger', beginning with their first ever US tour – the entirely sold-out "The Big Team Battle" tour with Bodysnatcher, Angelmaker and Distant – which saw them ignite insane mosh pits and gain hoards of new fans in every city they played. They dropped stand alone single, "Best Before: Death" on March 1st which quickly became a live-set highlight and new fan favourite, followed by the release of second stand-alone single, "Please End Me" last week.

Following the US tour, the band returned to Europe where they hit the road with Counterparts, Kublai Khan and Dying Wish which saw more sold out shows in major cities. They played a killer set at Hellfest, which was live-streamed and is available to watch HERE. The band also played Jera On Air in the Netherlands and then play Vainstream and Full Force Festivals in Germany and Fatjfest in Czech Republic before returning to the US to play Blue Ridge Rock Festival in September and to kick off their first ever Stateside headline tour (full routing below).

For a full run down of dates and to purchase tickets head to www.palefaceswiss.com/tour
Fear & Dagger North America Tour Artwork | Download HERE

PALEFACE SWISS

FEAR & DAGGER NORTH AMERICA HEADLINE TOUR

9/09 Alton, VA – Blue Ridge Rock Fest (Paleface Swiss Only)

9/13 Detroit, MI – Sanctuary

9/14 Toronto, ON – Hard Luck

9/15 Montreal, QC – Bar Le Ritz PDB (No VCTMS)

9/16 Worcester, MA – New England Metal Fest (No VCTMS)

9/17 Albany, NY – Empire Underground

9/19 Pittsburgh, PA – Preserving Underground

9/20 Horseheads, NY – The Pit at The L

9/21 Brooklyn, NY – Meadows

9/22 Baltimore, MD – Angel's Rock Bar

9/23 Philadelphia, PA – Warehouse on Watts

9/24 Greensboro, NC – Hangar 1819

9/26 Orlando, FL – Conduit

9/27 West Palm Beach, FL – Respectable Street

9/28 Tampa, FL – Orpheum

9/29 Atlanta, GA – Masquerade (Hell)

9/30 Little Rock, AR – Vino's

10/01 Houston, TX – Scout Bar

10/03 San Antonio, TX – The Rock Box

10/04 Dallas, TX – Gilley's (Lone Star Room)

10/05 Albuquerque, NM – Launchpad

10/06 Mesa, AZ – Nile

10/07 Las Vegas, NV – Backstage Bar

10/08 San Diego, CA – Brick By Brick

10/10 Los Angeles, CA – 1720

10/11 Fresno, CA – Full Circle Brewery

10/12 Santa Cruz, CA – The Vet's Hall

10/13 Portland, OR – Dante's

10/14 Seattle, WA – Substation

10/15 Spokane, WA – The Big Dipper

10/17 Salt Lake City, UT – Metro Music Hall

10/18 Denver, CO – Roxy Theatre

10/19 Des Moines, IA – Lefty's

10/20 Chicago, IL – WC Social Club
WATCH: Official video for "Please End Me"
ABOUT PALEFACE SWISS

Since the release of their third album, 'Chapter 3: The Last Selection', independent outfit, PALEFACE SWISS have gained international recognition throughout the Deathcore and Beatdown Community. Known for their huge, aggressive riffs, brutally bombastic rhythm section, frontman, Zelli's outstanding vocals and a pinch of humor. This is Switzerland's finest heavy music. Across their catalog, the band have gained 40 million streams and 6.7 million YouTube views.

PALEFACE SWISS was formed in Zurich, Switzerland in 2017 by vocalist Marc Zellweger (Zelli) and drummer Colin Hammond (CJ) having met through a mutual friend in 2016. After bonding over a shared love of beatdowns and hardcore, Zelli and CJ shook hands at a concert in 2017 and promised they would create the craziest beatdown band ever together. They released their debut 'Chapter 1: From The Gallows' in 2018 and played their first show in October 2018 and quickly grew in popularity with the song "Deprivation Method".

In early 2019, Paleface started writing 'Chapter 2: Witch King' and started working on the final installment of the dark story they'd created with Chapters 1 & 2. 'Chapter 3: The Last Selection' was released on October 30th 2020, spawning four music huge tracks "Curse Us", "The Rats", "Lights Out" and "Skalpell" which quickly ranked high in the beatdown/hardcore charts and saw the band become cover stars on Spotify's Heavy Beatdown playlist.

In 2022 the band released their most ambitious and brutal album yet, 'Fear & Dagger'. The album was widely considered a huge step up for the band as plaudits began to roll in for frontman Zelli's vocal ability, Metal Injection accurately summed it up in their review by saying, "It's fun to get caught up in Paleface's unrelenting instrumentals, but Zelli's really the star of Paleface. This is largely because he treats his screams like rap bars." The album shot the band into the upper echelons of the "deathcore renaissance" and spawned singles "The Orphan", "Deathtouch", "Dead Man's Diary" feat. LANDMVRKS frontman Florent Salfati and most recently, fan favourite and stylistic curveball, "My Grave / Lay with Me". The album focuses on more mature and critical topics related to the fears and struggles young people have to contend with in the 21st century, most importantly, the topic of mental health.

The album's technical proficiency and no-holds barred brutality, coupled with Zelli's unique delivery and highly emotional lyrics struck a chord with fans worldwide, racking up 15 million cross-platform streams, nearly 1 million YouTube views and saw the band's monthly Spotify users increase by over 300%, currently at 320k. It was released to much acclaim with New Transcendence stating "Paleface have created one of the most emotionally relevant and intriguing beatdown releases to date" and Wall of Sound calling it "an unashamedly brutal and angry album" and calling the band

As Metal Injection so astutely put it in their review of 'Fear & Dagger' – "Stop pretending to be cultured, and get down with the beatdown.".
PALEFACE SWISS Are:
Vox: Marc "Zelli" Zellweger
Guitar: Yannick Lehmann
Bass: Tommy-Lee Abt
Drums: Cassiano Toma
Find Paleface Online