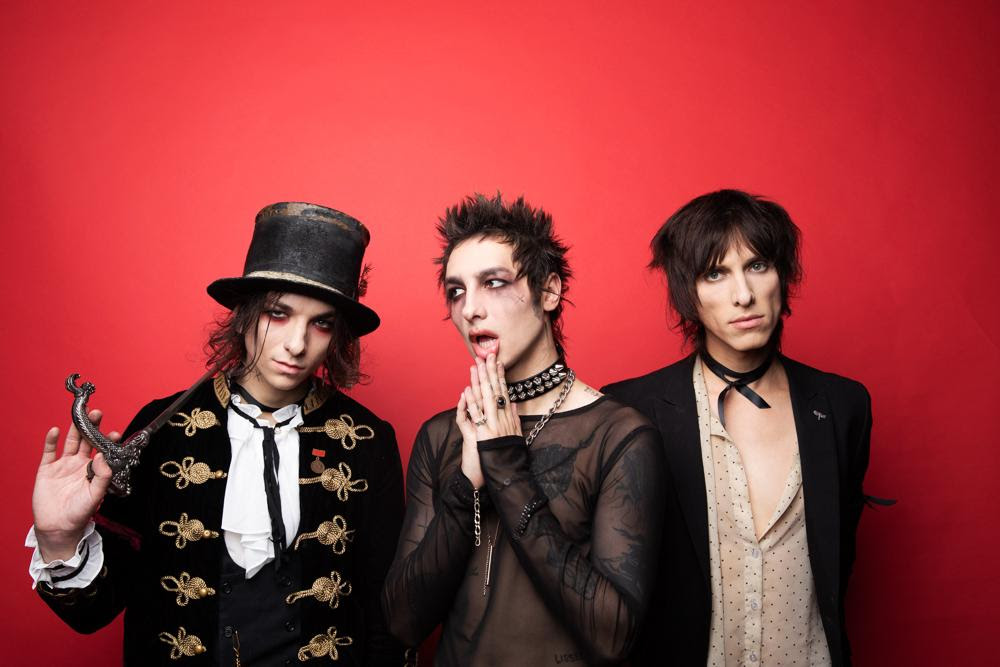 WATCH: Official Video For 'Hang On To Yourself '
Thursday October 17th 2019 – Notorious indy-art rockers, Palaye Royale have released the highly anticipated video for brand new track 'Hang On To Yourself' which premiered on Youtube moments ago with fans tuning in live from around the world. Watch the video for 'Hang On To Yourself'
here.
'Hang On To Yourself' completes a trilogy of new tracks and accompanying visuals that have heralded the transition into the next era of Palaye Royale.

The 3 videos follow a story from the band's upcoming Neutopian Graphic Novel written and illustrated by the band's drummer, Emerson Barrett. They contain several hidden symbols and references to clues that the band have been including in videos and artwork since Palaye Royale began.

The band's rabidly obsessive fandom – The Soldiers Of The Royal Council mobilized en masse last week when the new video dropped providing their own theories on what it all means and who/what the mysterious Lieseil Inc is.

Speaking on the dawning of the new era, the band say:
"Ever since our first EP, 'The End's Beginning' we have been hinting and hiding words and symbols in everything we have created. Boom Boom Room Side A and Side B was a continuation of this existential treasure hunt. Now as we enter the new era, it all begins to unfold"
Palaye Royale have had a busy 2019. So far the have toured as main support to Halestorm followed by their own headline 'Funeral Tour' including sold out shows at Irving Plaza in New York and The Fonda in Los Angeles. They have also played several global festivals this summer including Sonic Temple Festival, Download Festival, Isle Of Wight, PinkPop, Nova Rock and Reading and Leeds. They were main support on the Rob Zombie and Marilyn Manson 'Twins of Evil' US tour and recently returned to the US having playing their first, sold-out headline show in Japan followed by sold-out headline shows in Australia. They have also been hard at work behind the scenes putting the finishing touches to album #3. More news on the 2020 release coming next month.
Palaye Royale have clocked up over 40 million total streams on Spotify, over 43 million views on YouTube and have a combined social media following of over 1 million fans. Their second album 'Boom Boom Room Side B' was released in September 2018 via Sumerian records and saw an impressive first week on the Billboard charts, debuting at #17 on the Top Albums Chart, #3 Top Alternative and #6 Top Rock. The lead single from the album, 'You'll Be Fine' hit #23 at rock radioand to date has had 8.4 million streams on Spotify.
What The Press Are Saying
"The hottest new band on the planet. Three brothers with a penchant for doing things their own way, they're bringing rock 'n' roll to a new generation"
– Rock Sound Magazine (cover feature)
"If the Rolling Stones and My Chemical Romance had a love child it would be Palaye Royale"
– Alternative Press (cover feature)
"Of course, none of this would matter if the music wasn't good. It is. There's a dash of early-Rolling Stones to what they do. A bit of The Faces. Quite a lot of T-Rex. A peppering of the New York Dolls, maybe even some Arctic Monkeys, while Remington has the sort of voice a man called Remington is supposed to have. Raspy, soulful, lived in."
-NME
"Welcome the next wild and dangerous millennial rock band."
– The Aquarian Weekly
"Wash away the make-up and there's no denying that Palaye Royale are making some of the more interesting and intriguing music of 2018. And while Side B may be the band dropping the curtain on their Boom Boom Room era, it signals their arrival as a genuine force to be reckoned with."
– Kerrang!
"..the performance of the day from Palaye Royale… teetered thrillingly on the edge of chaos. When Iggy Pop-style singer Remington Leith clambered atop the speaker stack, he caused a panic among security staff"
– The Guardian