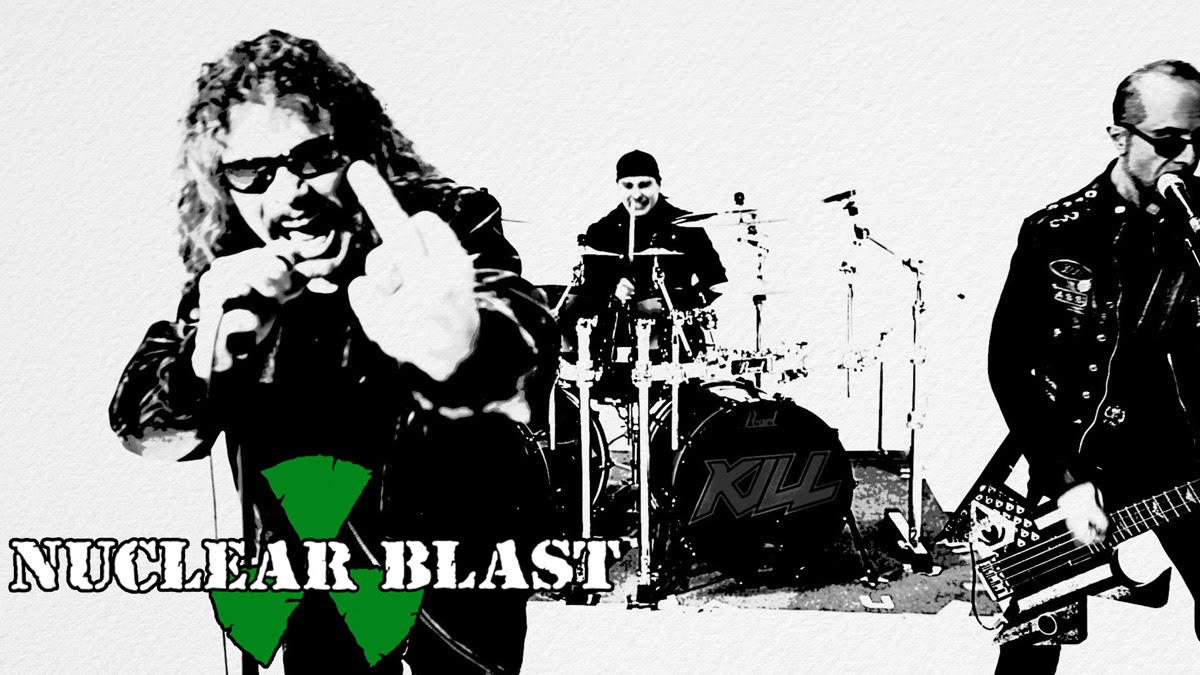 Release Finale of "Welcome To The Garden State" Documentary Series
Legendary New Jersey thrashers OVERKILL released their 19th studio record, The Wings Of War, via Nuclear Blast. Today, the band

released the final episode for their multi-part documentary series entitled "

Welcome To The Garden State

". Watch as the band discusses their defining moments that have shaped how the band has evolved and created their legacy, here: 

https://youtu.be/VKwztsDHcdI

"Those defining moment make us what we are today" comments Bobby Blitz. "So to say you are proud of yourself  this many years later, you go back and say that's because those defining moments. That's because it made me the person i am today or it made us the team we are whatever; through the lean times, rich times, good times or bad times. I think we always had the same ideas but we had the same preparation."

Check out the complete "Welcome To The Garden State" documentary series below:
Part I: Band Origin & Name
Part II: Early Influences The Genre 
Part III; East Coast Vs. West Coast
Part IV: Old School Venues & Social Media!
Part V: "Hello From The Gutter" Music Video, & The Origins Of Their Symbol: The Bat Skull (Chaly)
Part VI: Surviving The Grunge Era & The Bands Longevity
Part VII: Rise Of The Internet And The Evolution Of Digital Audio and Social Media
Part VIII: Defining Moments

Check out the music video for the track "Welcome to the Garden State" featuring infectious song and video that pays homage to Jersey here: https://youtu.be/ujkLk9pVKwE


OVERKILL kick off their The Wings Over USA 2019 tour on April 25th in Baltimore. The trek will make stops in Pittsburgh, Chicago and Nashville before concluding in Boston on May 11th. Joining the tour are none other than San Francisco Bay Area thrash legends and label mates DEATH ANGEL and ex-members of Megadeth, Shadows Fall, and Scar The Martyr, ACT OF DEFIANCE.
Bobby Blitz comments "We look forward to bringing 'The Wings' over the USA. It's been a long road but the journey is not over yet. DEATH ANGEL and ACT OF DEFIANCE join us on this jaunt so prepare yourself for a righteous beating. Let the headbanging begin in April!"
Confirmed dates for the OVERKILL Wings Over The USA 2019 Tour with DEATH ANGEL & ACT OF DEFIANCE are:
4/25/2019  Sound Stage/ Rams Head  – Baltimore, MD
4/26/2019  Theater of the Living Arts – Philadelphia, PA 
4/27/2019  Rex Theater –  Pittsburgh, PA 
4/28/2019  House of Blues  – Cleveland, OH
4/29/2019  Mercury Ballroom  – Louisville, KY
4/30/2019  St Andrews Hall  – Detroit, MI 
5/01/2019  Intersection  – Grand Rapids, MI 
5/02/2019  House of Blues – Chicago, IL 
5/03/2019  Varsity Theater –  Minneapolis, MN
5/04/2019  The Rave –  Milwaukee, WI         
5/05/2019  Delmar Hall  – St Louis, MO
5/06/2019  The Cannery Ballroom  – Nashville, TN     
5/08/2019  Bogarts  – Cincinnati, OH 
5/09/2019  Anthology  – Rochester, NY 
5/10/2019  PlayStation Theater – New York, NY **w/ Life Of Agony
5/11/2019  Paradise – Boston, MA
The Wings Of War
was recorded at
Gear Recording Studio
in New Jersey,
SKH Studio
in Florida,
Shorefire Studio 
and
Jrod Productions
with engineering handled by
DD
and
Dave.
The album was produced by the band while
Chris "Zeuss" Harris 
handled the mixing and mastering.
Travis Smith (NEVERMORE, OPETH, SOILWORK, DEATH…)
was once again enlisted to create the artwork for the album.
Check out them lyric video for the second single entitled, "Head Of A Pin" here:  https://youtu.be/zniDdYOLYt0
Watch the lyric video for the first single,  "Last Man Standing" here: https://youtu.be/uIfUeUCYudo
The Wings Of War will be available for purchase in the following formats:
CD Digipak
CD Digi + T-Shirt + Poster Bundle
Green Cassette
Grey Vinyl (limited to 1,500)
Green with Yellow Splatter vinyl (limited to 500)
Below is the track listing for The Wings Of War
1              Last Man Standing
2              Believe In The Fight
3              Head Of A Pin
4              Bat Shit Crazy
5              Distortion
6              A Mother's Prayer
7              Welcome To The Garden State
8              Where Few Dare To Walk
9              Out On The Road-Kill
10           Hole In My Soul
The gentlemen of OVERKILL are:
Bobby "Blitz" Ellsworth – Vocals
D.D. Verni – Bass
Dave Linsk – Lead Guitar
Derek Tailer – Rhythm Guitar
Jason Bittner – Drums