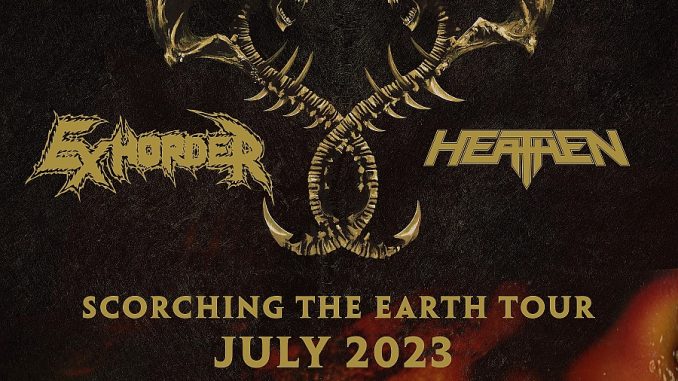 For four decades, OVERKILL have been the trailblazers in producing some of the most signature moments in the world of metal. Earlier this year, the New Jersey Thrash Legends unleashed their twentieth studio album, entitled Scorched via Nuclear Blast Records.

Today, the band announce they are heading on their "Scorching The Earth" U.S. Tour with labelmates EXHORDER and HEATHEN. The 16-date trek will kick off on July 13th in San Francisco and make stops in Dallas, Ft. Lauderdale, and Silver Springs before ending in Huntington, NY on July 30th!

OVERKILL's Bobby Blitz state, 'Hey "killers', the time has come to hit the road in the US of A! July the 13th starts the salvo in San Fran and we will be rolling down the west coast to L.A., across Rt10 east to Florida then up the east coast and back home. Been a long time kids! Keep your eyes open, and get Scorched! Cya on the R.O.A.D.!"

EXHORDER's Kyle Thomas comments "Rolling with OVERKILL is always nothing short of a family affair, but add HEATHEN and us to the mix too and it's like a family vacation! We can't wait to tear up the States with our family!"

HEATHEN comments, "We are absolutely stoked to continue this killer tour package with our friends in OVERKILL and EXHORDER and look forward to bringing it to the United States! We'll see you in the pit!"

Tickets for the tour go on sale this Friday at 10 AM local time.
Purchase here: https://bnds.us/ve4s30

Confirmed dates for OVERKILL's "Scorching The Earth Tour" with EXHORDER and HEATHEN are:
07/13/2023 San Francisco, CA – Great American Hall
07/14/2023 Anaheim, CA – The Grove
07/15/2023 Las Vegas, NV – 24 Oxford (Virgin Hotel)
07/16/2023 Albuquerque, NM – Sunshine Theater
07/18/2023 Dallas, TX – Trees
07/19/2023 San Antonio, TX – The Rock Box
07/20/2023 Houston, TX – Scout Bar
07/21/2023 Destin, FL – Club LA
07/22/2023 Ft. Lauderdale, FL – Culture Room
07/23/2023 Orlando, FL – House Of Blues
07/24/2023 Atlanta, GA – Masquerade
07/26/2023 Silver Springs, MD – The Fillmore
07/27/2023 Stroudsburg, PA – Sherman Theater
07/28/2023 Poughkeepsie, NY – The Chance
07/29/2023 Boston, MA – House Of Blues
07/30/2023 Huntington, NY – The Paramount
Photos by: Frank White
ABOUT OVERKILL
Legendary New Jersey thrashers OVERKILL released their latest offering Scorched earlier this year. The mixing of the record was handled by Colin Richardson and Chris Clancy. Johnny Rodd helped with producing vocals, and finally, Maor Appelbaum handled the mastering and adding finishing touches. OVERKILL are expanding their reach but don't be fooled, the band will remain the filthy, massive gutter thrashers that we all know and love.
The gentlemen of OVERKILL are:
Bobby "Blitz" Ellsworth – Vocals
D.D. Verni – Bass
Dave Linsk – Lead Guitar
Derek Tailer – Rhythm Guitar
Jason Bittner – Drums
ABOUT EXHORDER
Exhorder
's enduring legacy began in the mid-80's when they defined the sound of Louisiana thrash and groove metal. Their initial formation was short-lived, lasting nearly a decade with two critically acclaimed, classic albums, but their impact on the metal genre can be felt through a generation of bands that followed.
Exhorder
dissolved in the mid-90's but briefly reunited in 2011. Now, the band has returned to reclaim their throne of NOLA metal.
EXHORDER's all-star line-up includes:
Kyle Thomas | Lead Vocalist & Guitar
Jason VieBrooks | bassist
Sasha Horn | drummer
Pat O'Brien | Guitar
ABOUT HEATHEN
HEATHEN will be touring in support of their latest album Empire of the Blind which was for the most part engineered, produced, mixed, and mastered by Christopher "Zeuss" Harris at Planet Z Studios. Additional details—rhythm guitars, etc.—were put to digital "tape" by Kragen Lum at SubLevel Studio in Little Rock, AR. The album features guest appearances by Gary Holt (EXODUS, SLAYER), Rick Hunolt (ex-EXODUS), and Doug Piercy (ex-HEATHEN). Check out the music video for "Blood To Be Let" here: https://youtu.be/nKn4bdcdV7E
HEATHEN is:
David White | Vocals
Lee Altus | Guitar
ragen Lum | Guitar
Jason Mirza | Bass
Jim DeMaria | Drums