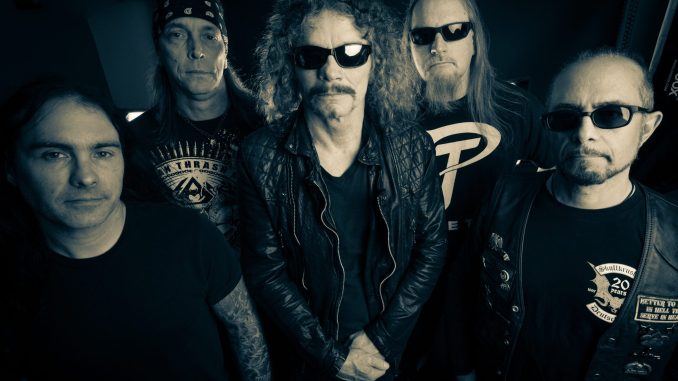 ANNOUNCE NEW ALBUM SCORCHED
+
RELEASE VISUALIZE FOR
"THE SURGEON"
For four decades, OVERKILL have been the trailblazers in producing some of the most signature moments in the world of metal. On April 14th, the New Jersey Thrash legends will bludgeon your ears with their twentieth studio album, entitled Scorched via Nuclear Blast Records.

Today, the band offers fans the first taste of the album with the single, "The Surgeon". Listeners will enjoy a crash course in OVERKILL 101 featuring blistering vocals, surgically shreddy riffs, galloping drums, and the dirty low-end bass that fans come out of the gutter for. . Enjoy the classic sound has made you love the NJ thrash outfit for 40+ years via the visualizer for "The Surgeon" here: https://youtu.be/H1Hn0olArRo

Listen to "The Surgeon" on all streaming platforms: https://bfan.link/Overkill-Scorched

OVERKILL Bobby Blitz comments, "Man, it seems like for F-in ever since we chatted!!!! Ha! I tell you what, this is the longest ever between Overkill releases, Feb '19 to April '23.

For me, it became my 'peterpandemic' go-to. I wrote my part, tore it down, then again and again. I found myself still changing parts while Colin was mixing! It became the normal in a very abnormal time, sanity amongst the insanity. Somewhere in 'Scorched' that is all reflected, a common thread, it is the place I went to get what I needed, maybe what "we" needed. It's different, that's for sure an old-school approach/mix in a modern world….was it worth the wait? You tell me…….see ya on the road! Horns up!"
Scorched offered a new recording environment as all members were able to record on their own. The mixing of the record was handled by Colin Richardson and his assistant engineer Chris Clancy. Johnny Rodd helped with producing vocals, and finally, Maor Appelbaum took over mastering and adding finishing touches. The band returned to artist Travis Smith to create the album cover art.

Scorched will be available in the following formats:
CD Jewel
Fluorescent Green Cassette (Limited to 400 worldwide)
Longbox (Limited to 1,000 worldwide)
Double LP

Black
Aztec Gold (Limited to 2,500 worldwide)
Fresh Green (Limited to 1,000 worldwide)
Trans Amber w. Fluorescent Green
OVERKILL are expanding their reach but don't be fooled, the band will remain the filthy, massive gutter thrashers that we all know and love.
Pre-order Scorched in the format of your choice here: https://bfan.link/Overkill-TheSurgeon
Below is the track listing for Scorched:
1. Scorched
2. Goin' Home
3. The Surgeon
4. Twist OF The Wick
5. Wicked Place
6. Won't Be Comin Back
7. Fever
8. Harder They Fall
9. Know Her Name
10. Bag O' Bones
OVERKILL will be heading overseas this Spring for their "Killfest" European tour supporting the new album. The 14-day trek will kick off on April 13th and feature labelmates and Bay area legends HEATHEN. For the tour, OVERKILL will offer VIP tickets that include the opportunity to hang out with the band and take pictures. Only 20 VIP tickets will be available for each show,
General admission tickets and VIP tickets for the tour can be purchased here: https://overkill.deinetickets.de
Confirmed dates for OVERKILL's "Killfest" European Tour 2023 with HEATHEN are as follows:
APRIL 2023
13 – Bochum – Zeche
14 – Zwolle – Hedon
15 – Osnabrück – Hyde Park
16 – Berlin – Huxleys
17 – München – Backstage
18 – Stuttgart – LKA
19 – Zürich – Komplex
21 – Parma – Campus Industry
22 – Fontaneto – Phenomenon Club
23 – Saarbrücken – Garage
24 – Wiesbaden – Schlachthof
25 – Vorselaar – De Dreef
26 – Paris – Trabendo
28 – Pamplona – Totem
29 – Barcelona – Razzmatazz 2
AUGUST 2023
13 – Alcatraz – Kortrijk BE
The gentlemen of OVERKILL are:
Bobby "Blitz" Ellsworth – Vocals
D.D. Verni – Bass
Dave Linsk – Lead Guitar
Derek Tailer – Rhythm Guitar
Jason Bittner – Drums