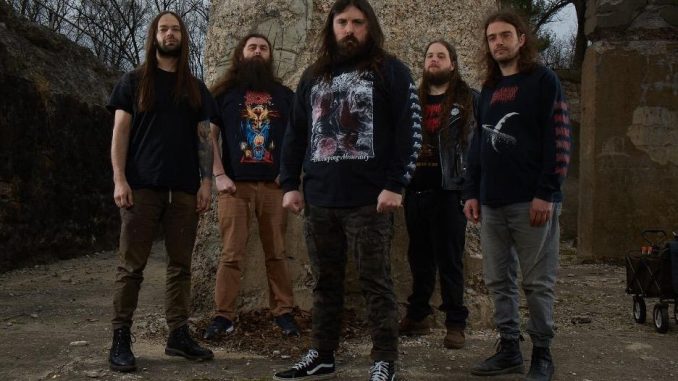 Watch HERE
New Album 'Infinite Psychic Depths'
Out July 21st on Relapse Records
Pre-Order HERE
OUTER HEAVEN return with their crushing new album, 'Infinite Psychic Depths', out July 21, 2023! Today, OUTER HEAVEN shares the second single, "Liquified Mind", with an accompanying lyric video.

'Infinite Psychic Depths', an exploration into the darkest depths of extreme music, showcases OUTER HEAVEN's muscle, as the band churns out some of 2023's most visceral and frenetic slabs of twisted Death Metal.

Watch the full video for "Liquified Mind" on YouTube HERE
Additionally, OUTER HEAVEN announces the official 'Infinite Psychic Depths' record release show on July 29th at The Polish Club in Phoenixville, PA! The band will perform the new album in full. Tickets are available now and sold HERE!
Album Art by Matt Stikker
'Infinite Psychic Depths' Track List:
1.Soul Remnants
2.Pillars Of Dust
3.Fragmented Suspension
4.Drained Of Life
6.Unspeakable Aura
8.Starcrusher
9.Pallasite Chambers
10.Warped Transcendence
11.From Nothingness To Eternity
Taking advantage of guitarists Jonathan Kunz's and Zak Carter's penchant for technical prowess and rhythmic galloping with melodic catchiness, OUTER HEAVEN bridges the worlds of dark n' dank despair and upbeat hooks. Austin Haines' vocal delivery is as unchained as ever, barking and growling through interwoven stories of societal collapse, hallucinogens, mutations, and more, connecting 'Infinite Psychic Depths' to their acclaimed debut, 'Realms of Eternal Decay'.

Methodological riffing swirls around muscular half-time clobbering in both "Soul Remnants" and "Unspeakable Aura". "Pillars of Dust" and "Liquified Mind" take the listener on a journey from the furthest reaches of the Earth's exosphere to the sweat and spilled beer of a dive bar moshpit. "Fragmented Suspension" gives a backhand to the genre tunnel vision with a tendinitis-inducing palm muted shuffle that's part Norwegian black metal iciness and part classic '80s L.A. hardcore skate punk.

Recorded by Ryan Reed and mixed and mastered by Greg Wilkinson at Earhammer Studios, 'Infinite Psychic Depths' throws a few tricks and guest appearances into the mix with bass playing by Derrick Vella from Tomb Mold, as well as vocal contributions from Pig Destroyer's JR Hayes, Morbid Angel's Steve Tucker and Alex Jones from Undeath.
Previously released single, "Rotting Stone / D.M.T." features a special appearance by Dave Suzuki (Churchburn, ex-Vital Remains) doing a trade-off solo.

Watch the official music video, directed by Hayden Hall (Sick Slice Studios) HERE
OUTER HEAVEN are:

Austin Haines – Vocals

Jon Kunz – Guitar

Zak Carter – Guitar

Paul Tshudy – Bass

Paul Chrismer – Drums