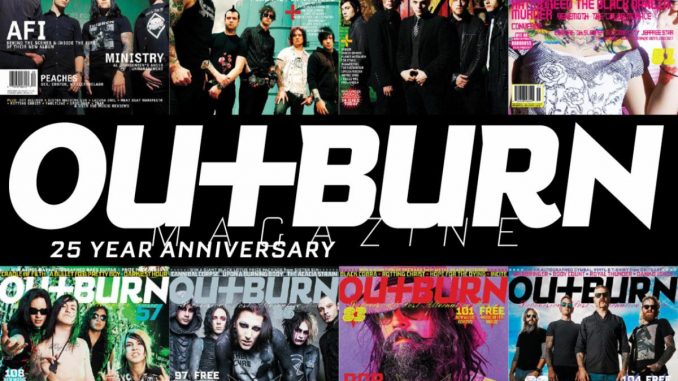 Issue #93 to be Released in April 2021
Outburn is back in print and will be better than ever with a brand new issue releasing this April 2021, as they celebrate their 25 year anniversary as a magazine.
After launching Outburn.com to feature news, interviews, reviews, and premieres, Outburn is now reigniting the format for which it is best known — a print music magazine. With a newly diverse team of incredible writers and photographers, the magazine will continue to cover the range of bands and music genres that Outburn was built upon, and includes the latest new music and burgeoning artists. The revived print issue (Outburn #93 / April 2021) will have significant improvements — higher quality paper, a spacious and free-flowing design, and even more exceptional photographs and full-page pull out posters of fan favorite bands and musicians.
Print issues of Outburn will now be sold and distributed directly to its fan base, and a digital version of each new issue will also be available. Limited editions and multiple covers, exclusive magazine bundles, and additional surprises will all be a part of the all-new Outburn, making each issue a true collector's item.
In this uncertain time when many magazines are no longer printing issues, Outburn is extremely excited to once again publish a print edition for its amazing readers, ardent supporters, and new audiences.
"After 12 years as a photographer for Outburn, I stepped into the role of Editor-In-Chief with many goals in mind. Of these goals, two were the most important. The first was to build and launch the Outburn online website, which would have features, interviews, reviews, and more. The other important goal was to get Outburn back in print. While Outburn is coming back in magazine form, it will not be a return to the old formula and layout. Having spent my first 12 years with Outburn as a photographer, and with Rodney, who has always been the graphic designer behind the eye-catching issues, it should come as no surprise that a lot of really exciting visual expansion is coming to the pages of Outburn. We also have an upgrade in paper, boosting the quality of images, more full-page photos, spacious layouts for features, interviews, and, of course, the striking design you expect from Outburn. We will also team up with many of our featured artists for collaborative bundles to give fans access to exclusive items with each issue released. I am a firm believer that photos are meant to be seen in print, magazines are meant to be read in physical form, so I am beyond elated for Outburn to be back in time for its 25th anniversary. There are a lot more fun surprises in store, so keep your eyes peeled. Outburn Magazine is back!" – Jeremy Saffer, Editor-In-Chief
"Music and graphic design have been lifelong passions of mine. It's the reason I started Outburn in 1996 and it's the reason Outburn will be back in print with a new issue in April 2021. Outburn will not be the same publication as it was before. It will be reimagined, full of energy, and definitely collectible with a fresh sense of freedom and fandom, breaking out of the rigid template that had been predictably set for too many years. Much credit must be given to photographer extraordinaire Jeremy Saffer who has taken over the reins as Outburn's Editor-In-Chief. Not only has Jeremy been instrumental in developing the content of our vastly improved online presence, it is inspiring and a true pleasure collaborating with him on the print magazine with all the vigor, ideas, and goals he brings to Outburn. This rebirth of the magazine feels similar to the buildup and excitement of our first issue, and I am absolutely thrilled to bring back the print edition of Outburn." – Rodney Kusano, Publisher
Outburn Online: