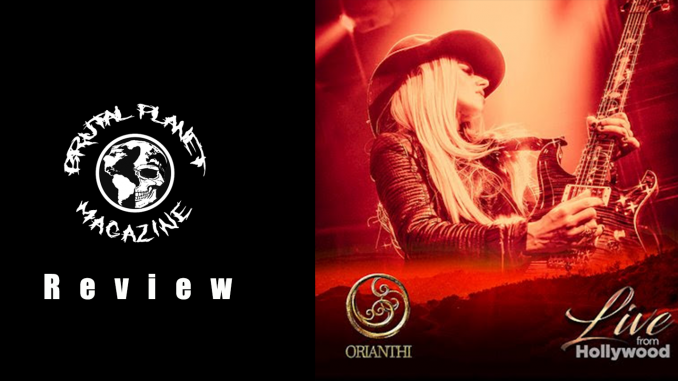 Review By:
Emily Tipping
Orianthi, Penny Penagris, known magnanimously as Orianthi is a gorgeous guitar slayin' singer/songwriter. Brutal Planet Magazine is stoked to announce this awesome Aussie has released a new Live CD/DVD/Blu Ray set, Orianthi Live From Hollywood. It serves as an appetizer for her upcoming new studio album, which will be released later in the year. This platinum-selling bombshell is best known for being a personal pick from Michael Jackson himself before his last tour. The guitar girl has easily put in her 10,000+ hours in of practice to be suitable enough to grace the stage with rock royalty and global superstars like Carlos Santana, Carrie Underwood, Alice Cooper and more. 
The Live disc set showcases how much Orianthi has grown as a woman and a musician. From older pop-ish cuts like "According To You" to the smoldering new "Blow." Frontiers Music srl presents this internationally renowned hard rock stunner, Live in her new hometown, Hollywood, CA.
Orianthi has a pure tone to her voice, incredible guitar skills and a beautiful aura. You can easily see and feel it on this long-form video. She puts the sexy back in rock 'n' roll by rocking long blonde locks, plump pink lips, coupled with bangin' clothes and cool jewelry.
"Contagious" kicks off this set with low, ethereal Santana–inspired guitar riffs that quickly change to a screamin' distorted pure rock song with a stomping beat. Next is "Sinners Hymn" a gritty tune with uplifting lyrics. Then the Live taping takes us back to a song from her third album in 2013, "Heaven In This Hell" which ends with a beautiful melancholy guitar solo. "Think Like A Man" could foreseeable be a popular woman's anthem that all ladies can relate to, because to make it in this world, you have to sometimes, 'think like a man'. "You Don't Want To Know" is a slower cut with lower vocal tones. "What's It Gonna Be" insists that her man makes up his mind. The newer "Blow" is a kick-ass song in general. It starts out slower with a screeching guitar slide and has sexy lyrics. Sexy woman, sexy guitar and sexy lyrics, what more could you ask for? "Impulsive" reminds us how delicate the human reaction can be, making decisions based on quick reactions, not thought. Number nine, "Blues Won't Leave Me Alone" is easily set to rise to the top of the charts. The verse, chorus and bluesy guitar grinds, even the part when she sings about why she plays the guitar are all reasons why this could be considered the best song on the album. The platinum selling "According To You" has a more pop-rock sound, but in this Live album, you can really see and hear how she has grown into herself as she has made leaps and bounds in her guitar-shredding skills. "How Do You Sleep" finishes with a touch of pain in her talented string bending techniques. A perfect way to wrap-up this stunning hard-rock video.
Orianthi is a goddess that clearly takes good care of herself. She's a vegetarian and shares her love for healthy food online as she inspires others to prepare and eat healthy vegetarian recipes. Her popularity is growing rapidly as her on-line fan base is strong and steadily growing, especially on Tik-Tok. Between her grace and beauty combined with her incredible guitar skills this young woman is on track for even more success in the future. The live CD/DVD/Blu Ray is available to order July 15. According to her Twitter page, if it says 'Out Of Stock' order it anyway, they will make more. Request your copy now to watch, listen and check out this excellent guitar playing singer.