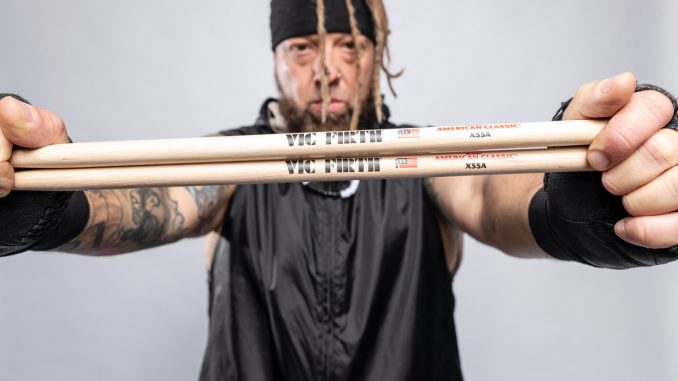 Christian F. Lawrence, known as "Opus", the drummer and back bone of Dead By Wednesday, who also plays & tours with David Ellefson, Hail the Horns, & Earth has released an autobiography about his crazy life. The book talks about touring, recording, hanging with celebrities, being a reality TV actor, and even a stint on MTV!
Read about all this, plus learn about some taboo branches on his family tree, as well as some unbelievable twists and turns life has thrown at him, in his first book break when I'm DEAD.
The title break when I'm DEAD was taken from a DBW song off their DOA album. The book was co-written by Doug Esper who worked with Chuck Mosley of Faith No More. It features interviews and intakes by Bumblefoot (ex-Guns n' Roses), David Ellefson (formerly of Megadeth), Brian Fair of Shadows Fall, Eric AK from Flotsam & Jetsam and many more metal giants in the rock n roll industry. The cover photo was shot courtesy of music icon Michael Alago and then designed by Melody Myers.
The book was published by Scout Media, which was established in 2013 and is an independent publishing company for aspiring authors and musicians. They have put out books so far for Jesus Jones, Dog Fashion Disco, & more! Check them out here: http://www.scoutmediabooksmusic.com/
You can pre-order & get the autobiography officially out NOW!!!
To buy the eBook now:
https://books2read.com/breakwhenimdead
To pre-order the paperback:
http://www.scoutmediabooksmusic.com/christian-opus-lawrence
The book will also be available at all Barnes & Noble and Walmarts everywhere!!
"Break when I'm DEAD chronicles Opus and his trials and tribulations through touring, recording, and writing music, as well as his stint as a reality show star and the journey of being a father through an uncertain era of politics and a pandemic. Journey along with Opus to discover some of his unusual life and personal events, as well as a shocking family tree," says Brian Paone (Scout Media).
"I'm super stoked on finally releasing my new book and ad author to my list of accomplishments. This has been a long process and in the works for a while so I'm glad it finally came into fruition. Everyone thinks they have an interesting life that should be in a book, well this is not just a stroke my own ego type book at all, I think a lot of people who read can not only relate, especially if you're a musician but will be very surprised by some of the content. It's always been a dream of mine to write a book and finally it's done! I'd like to personally thank everyone involved who helped me make this a reality!" says Opus (drummer of DBW).
About Opus:
"Music is either in your blood, or it's not." An adage by which Connecticut native Christian "Opus" Lawrence has become known for. From the first moment he heard the menacing and plodding rhythms of KISS's "God of Thunder" roar through his speakers, he knew he would dedicate his life to creating music. Immediately drawn to the hard intensity of the drums, Opus purchased his first kit when he was 11, using money he earned from a paper route. Influenced by such greats as Vinnie Paul, Dave Lombardo, Stuart Copeland, John Bohnam and Tommy Lee, he submerged himself in his art, and tasted his first success as a musician while playing in the alternative metal band, Violent Industry. While drums remained his first love, Opus wanted to conquer all aspects of songwriting, and taught himself guitar as he continued to play out as a drummer.
In 1997 he formed Gargantua Soul with singer Kris Keyes, and spent the next decade creating a cult following as the 7-piece nu-metal/hard rap-rock group produced 3 albums and toured the country. Gargantua Soul was the only unsigned band to play Woodstock '99, and they appeared on such shows as VH1's Farm Club, Howard Stern Show, and on ESPN to name a few.
After the band broke up in 2005, Opus went on to create the heavy metal band Dead by Wednesday with his cousins. His drumming evolved into a more aggressive style, though still holding onto the groove and finesse he had become celebrated for. His skills being sought after, Opus has acted as a hired touring drummer for Soulfly guitarist Marc Rizzo's solo project, and 80's platinum selling artists The Bullet Boys from LA.
Dead by Wednesday continues to conquer the metal world, having shared the stage with such legends as Shadow's Fall, Rage Against The Machine, Flotsam and Jetsam and Hatebreed. Throughout this melodic timeline, Opus always composed his own personal music using his guitar and vocals. Influenced by a vast style of musicians, including Alice in Chains, Cat Stevens and Pink Floyd, it is through his acoustic music that he is able to tap into a more emotional aspect of his craft.
In 2014, he decided to tread on a new waters and recorded his first solo acoustic CD, _Opus Unplugged_. He took his solo act on the road, incorporating his repertoire of cover songs. He soon played sold out shows opening for Zak Myers of Shinedown, Sevendust (unplugged), for both Scott Ian's (Anthrax) and Dave Ellefson's (Megadeth) spoken word tours, and toured nationally with Sean Danielson of Smile Empty Soul. This multi-talented artist has continuously searched for various outlets to express his creative nature, adding acting to his extensive resume, and has appeared on film and various cable reality shows. While he loves the energy he experiences from the crowd through playing the drums with his bandmates, his acoustic music allows him to connect with his fans on a new profound and intimate level.