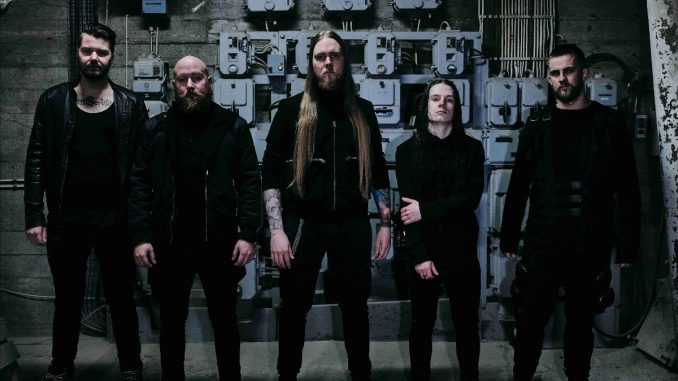 Drummer Ragnar Sverrisson of Icelandic Tech Death outfit OPHIDIAN I is now unveiling a brand new drum play-through for the track "Dominion Eyes," which is taken from the band's new album, 'Desolate.' The video, which showcases Sverrisson's sharp and technical prowess, can be seen at THIS LOCATION.

Sverrisson comments on the clip: "Written by my best bro Simon, this song is straight to the point and demands endurance. It's a really solid death metal song and the breakdown riff in the middle is tasty as hell."
'Desolate' can be streamed, downloaded, and purchased at THIS LOCATION.

To request an interview with OPHIDIAN I, please contact Katy Irizarry at Katy@season-of-mist.com. Additional assets, such as hi-rez photos, can be found HERE.
The artwork for 'Desolate', which has been created by Eliran Kantor, can now be viewed together with the album details below.
Track-list
1. Diamonds (4:35) (WATCH)
2. Spiral To Oblivion (3:31) (WATCH)
3. Storm Aglow (4:12) (WATCH)
4. Unfurling The Crescent Moon (2:53)
5. Sequential Descent (4:31)
6. Captive Infinity (3:43)
7. Enslaved In A Desolate Swarm (4:05)
8. Dominion Eyes (3:13)
9. Jupiter (4:01)
10. Wither On The Vine (4:07)
Total: 38:51
After nine years, Iceland's Ophidian I have returned to strike again. Formed in Reykjavík by Símon Þórólfsson (guitars) and Þórður Hermannsson (bass) in 2010, the snake-named outfit arrived at debut, Solvet Saeclum, in 2012. Almost immediately after that, Ophidian I splintered to focus on other projects and hone their musical chops. However, while Þórólfsson landed in black metal loners/labelmates Helfró and Hermannsson found solace in heavy rock act Lightspeed Legend, the duo never wholly forgot about Ophidian I. Fast forward six years later. Reborn, renewed, and reinvigorated, the group enlisted Daníel Máni Konráðsson (guitars), John Olgeirsson (vocals), and Ragnar Sverrisson (drums). Officially a five-piece, Ophidian I's mandate was to shed the past and shred the future. To wit, stunning new album, Desolate, wasn't just a new chapter but a completely different saga.

"We took to writing a very different style of music," Konráðsson says. "We spent a couple of years developing the sound and interplay—the technical front. We wanted to make very technically oriented music that still focused on songwriting. Essentially, catchy tunes, arranged in a somewhat traditional manner that's generally not prevalent in death metal. As a result, we spent most of our time working on the music itself, with the technical aspect serving as a way forward to that goal. We consider the sound we came up with fresh and accessible."

One spin through Desolate, and it's immediately apparent that Ophidian I operate at the near-insanity end of the musical and compositional spectrums. Tracks like lead single "Diamonds," "Spiral to Oblivion," "Unfurling the Crescent Moon," "Enslaved in a Desolate Swarm," and "Jupiter" reveal a professorial yet savage mien. Indeed, death metal has its technical sub-genre, and Ophidian I confidently reside alongside their fellow specialists, but Desolate offers something the others don't. Songs. Pieces that are designed to earworm surreptitiously and indelibly. That Konráðsson describes the music as "principally technical death metal" says everything.

"We mainly just wanted the songs on Desolate to sound very catchy and mature," says Konráðsson. "Faster, crazier, and more melodic also came into play. As we were deeper in our process and more and more comfortable with ourselves and the direction, we wanted to push the boundaries of our songwriting and its relation to the technical aspect. Being more melodic came naturally as when writing more traditional music, the melody and harmony are always crucial and often the critical factor. We were very ambitious in making good, memorable songs that'd leave something behind and hopefully stand the test of time."

The name Ophidian I originated ages ago, but the lyrical tie-in on Desolate is with the incredible Eliran Kantor (Gaerea, Hate Eternal) cover. Tracks like "Storm Aglow," "Captive Infinity," and "Dominion Eyes" explore matters personal and environmental—11 percent of Iceland is covered in glaciers, for example—through metaphor. So while it's not easy to read between Ophidian I's lines, careful consideration of the colors, themes, and landscapes Kantor used to express Desolate depict a harsh, barren, yet wondrous reality.

"The lyrics of the album are mostly personal," Konráðsson says. "Matters of the heart are often conveyed through allegories, set in the less habitable places of Iceland. They are tough and treacherous. The Kantor cover is effectively a portrait of that world. Tied into those lyrical themes and allegories are some cosmic elements. Hence the inclusion of the planet in the background."

Ophidian I recorded Desolate in Sundlaugin Studios (Sólstafir, Auðn) in Mosfellsbær, a small town outside of Reykjavík. With Konráðsson at the helm, Stephen Lockhart, and the rest of the band as sound engineers, the team nailed down Desolate's 10 songs in two months. The mixing and mastering were then handed off to Cryptopsy guitarist Chris Donaldson to configure at his studio, The GRID in Montréal, Canada. Donaldson took two weeks to complete the job. Overall, the studio sessions for Desolate were smooth, professional, and since Sundlaugin Studios is most famous for its association with Iceland's biggest post-rock export Sigur Rós, inspiring.

"Sundlaugin is an amazing studio," says Konráðsson. "The studio used to be a swimming pool (hence the name Sundlaugin—Icelandic for 'the swimming pool') that Sigur Rós converted into a studio for themselves and later started renting to others. We are lucky to have had the privilege to work in. The atmosphere is very cozy and comfortable. It's intentionally designed in such a way, and it works perfectly. The large room has incredible acoustics, which lends itself exceptionally well to drum recordings. That was initially the reason we wanted to go there. We started our days early and went home late. It was summer, so the sun shines at all hours of the day (as it does in Iceland during this season), and working long hours becomes joyous and often surreal as if looking at the world through a filter."

Ophidian I will take their technically impressive Desolate first to digital platforms. The Guilherme Henriques (Sólstafir, Crippled Black Phoenix) directed video for "Diamonds" is already dropping jaws. The Reykjavíkians have plans for more long-form videos, as well as multi-instrument play-throughs (wait for the "Sequential Descent" solo or the "Unfurling the Crescent Moon" mid-section), as a way to engage with and expand upon their interaction with fans across the globe. Then, as the world opens up, Ophidian I also expect to tour, bringing Desolate's high-intensity, incredibly adept death metal to audiences unknowingly ready to have their respective minds blown.

"After releasing the album, we hope to be able to bring our music out in all manners possible—physical and digital," Konráðsson says. "For now, we will focus on creating materials that will hopefully serve to bring intrigue and attention to the band, which we will then be able to morph into demand for our physical appearances as soon as they are possible."

Line-up
Ragnar Sverrisson – Drums
Daníel Máni Konráðsson – Guitar
Simon Thorolfsson – Guitar
Þórður Hermannsson – Bass
John Olgeirsson – Vocals
Recording studio: Sundlaugin Studio

Sound engineer:
Stephen Lockhart (drums)
Daníel Máni Konráðsson & Ophidian I (guitars, bass, vocals)

Produced by: Daníel Máni Konráðsson
Mixing studio and engineer: The Grid, Christian Donaldson
Mastering studio and engineer: The Grid, Christian Donaldson

Guest musicians: Julian Parry – vocals on 'Dominion Eyes'

Cover artwork artist: painted by Eliran Kantor

Bio: Chris Dick