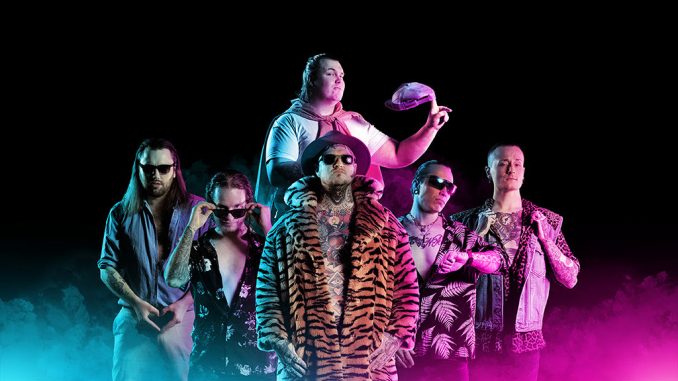 Finnish metalcore eccentrics
ONE MORNING LEFT
have released the video for their secret bonus single "
Intergalactic Casanova
" from their acclaimed album
Hyperactive
.
Watch the "Intergalactic Casanova" video here.
The band's fourth album marked its first new material in five years. On Hyperactive, the group began a whole new chapter of its story, drawing inspiration from retro electronic and video game music, as well as '80s hard rock — all the while staying true to the heavier roots.

Their musical style was not the only change to surround One Morning Left. Their lineup has shifted, too. Returning from the cast of 2016's "Metalcore Superstars" are frontman Mika Lahti, singer/guitarist Leevi Luoto, and drummer Niko Hyttinen. Additional firepower is provided by new faces Tuukka Ojansivu on guitar and Miska Sipiläinen on bass, as well as the return-to-form of keyboard player Touko Keippilä from the band's original "Panda <3 Penguin" lineup.

With the release of Hyperactive, One Morning left are adding to their already-growing global fan base. Having earned extensive live performance experience playing countless shows in Finland, touring mainland Europe, Russia, and the Baltics, and even performing in places such as Iceland and Japan, the group plans to take its energetic live show on the road in the near future.

"Join us on our quest to make the world a bit more epic," the band says.

Founded in 2008 in Vaasa, Finland, One Morning Left are known for their unique blend of electro, hardcore, and metalcore influences, as well as their unpredictable live shows where absolutely anything can happen. The band has shared stages with Amaranthe, Protest the Hero, We Butter the Bread With Butter, and more. The band has also performed at renowned festivals like Tuska Open Air and Rockfest.
OML's debut The Bree-Teenz was released in 2011. It was followed by the sophomore album Our Sceneration in 2013.

ONE MORNING LEFT ARE:
Mika Lahti | Lead Vocals
Leevi Luoto | Guitar + Lead Vocals
Tuukka Ojansivu | Guitar + Backing Vocals
Miska Sipiläinen | Bass + Backing Vocals
Touko Keippilä | Keyboards + Backing Vocals
Niko Hyttinen | Drums