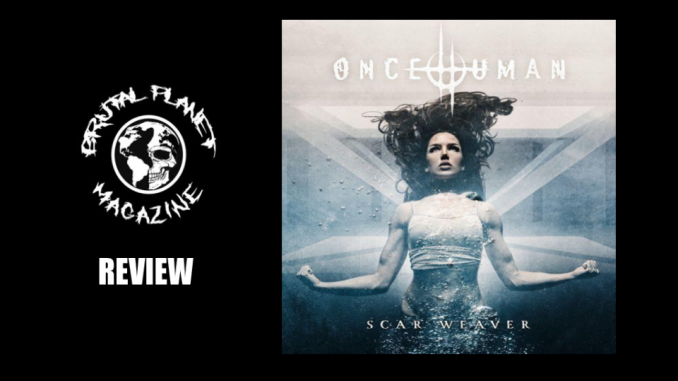 The Los Angeles metal band, Once Human (Lauren Hart- vocals, Logan Mader- guitar, Max Karon-guitar, Damien Rainaud-bass, and Dillon Trollope-drums) formed in 2014 and have already released two incredibly great albums- "The Life I Remember" and "Evolution." Now, they have emerged from the COVID-19 pandemic stronger and tighter than ever- ready to release their third full-length album, "Scar Weaver" on February 11 through earMUSIC.
The album starts out with "Eidolon," a chaotic onslaught of riffs and Lauren's unbelievable raw vocals. In a recent interview, Logan Mader said, "I always had a tremendous amount of belief in Lauren's ability to be a legit frontwoman, but when this began she was new, and so there was a lot of development to happen over time. She's really blossomed. She's grown a lot as a vocalist, a performer and a lyricist through all of this." Listeners, you are sure to hear the difference in her maturity and passion as a vocalist from this first track. "Eidolon" also features heavy riffs and drumming that set the bar high for the rest of the album to live up to.
The first single, "Deadlock," was released July 1, 2021. This song is one of my favorites on the album as it features the guest vocals of Robb Flynn of Machinehead. This isn't just a guest vocal spot of a few lines-Flynn and Hart spar with each other throughout the entire song. The chorus is catchy and the riffs are superb. Lyrically, the song calls out the politics of our current cultural climate. The title track, "Scar Weaver," slows the tempo down but is no less intense. The riffs on this song really showcase the creativity and talent of the band's songwriting master, Max Karon. "Bottom Feeder" mixes a lot of clean vocals throughout the song as well as showcasing a whirlwind of a solo and a thundering assault of an ending.
The band released two singles last fall- "Only In Death" and "Cold Arrival." The former is written about and dedicated to a friend of the band. Max Karon states, "He left us suddenly and without warning. These last eighteen months have been a solemn reminder that the lives we lead and the people we know are not immortal. The acknowledgment of that harsh reality is "Cold Arrival." Lauren Hart also sings a lot of cleans in this song, showing how diverse her vocal range can be. "Only In Death" is, what Hart describes, as her "most personal song" on the album. Again, her ability to blend ferocious growls with angelic singing is rare, and the bass lines on this song also stand out.
The latest single, "Erasure," was just released last week and was received positively by fans. The song is about the blood diamond industry, and Lauren felt very passionate about bringing awareness of this horrific reality to the masses. "Deserted" and "Where the Bones Lie" are both catchy songs that are hard to get out of your head, and "We Ride" is an absolute ripper of a cover of Strapping Young Lad.  As I said earlier, the band has really matured over the last eight years and this is, by far, their finest material.  This album is diverse and ruthless. If the genre of metal was a body, "Scar Weaver" is sure to leave its mark.