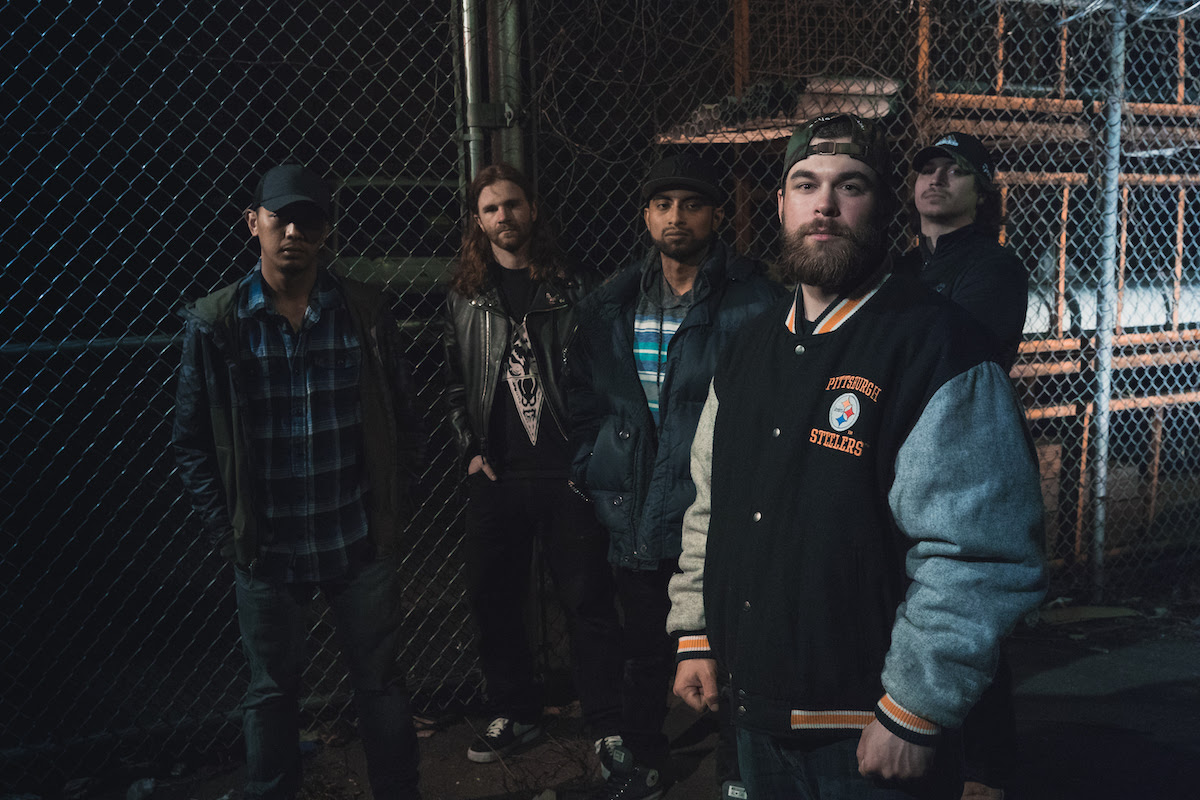 Photo Credit: Steven Pendini
"With spit-fire vocals, blazing guitar solos and a general no-fucks-given attitude, this is one raging, pit-inducing anthem." – Revolver Magazine

"On Sight is a deadly concern and has just thrown down the gauntlet on metallic hardcore in 2020. Pain is universal and their causes run the gamut. Let On Sight find your focus. Crucial record, y'all." – No Echo

"With exceptional songwriting ability and tight, fast paced songs with aggressive anthems, Cause Of Pain is a great album for fans of hardcore as it does so much of it right." – Wall Of Sound

"It's definitely going to release some frustration" – Cvlt Nation

"A crushing dose of no-frills, heavy-as-bricks hardcore." – BrooklynVegan
The New Jersey metallic hardcore group, On Sight, announced their livestream performance from Backroom Studios where the band will be performing their debut full-length Cause of Pain in it's entirety. The free livestream will be taking place on their
Facebook page
on September 18th, 2020 at 8pm EST. On Sight signed to Unbeaten Records earlier this year for the subsequent release of Cause of Pain this April. Without the ability to tour since the album's release the band will finally share with fans their masterclass in hardcore perfection from front to back. Watch the livestream
here
and prepare for it by watching the video for the lead single "Expired"
here
.
On Sight have been steadily building a name for themselves in New Jersey's prolific hardcore scene since 2016. The quintet melds their deeply-rooted metal influences with their brand of gritty hardcore that bucks the current trend towards metalcore in favor of incorporating mid-tempo thrash riffs, blazing solos, mosh-ready drumming and in-your-face vocals. The resulting sound feels refreshing while still holding true to the tenants of classic, unapologetically aggressive hardcore – leaving no doubt as to why they've been able to share the stage with a diverse array of acts ranging from Death Threat and Extinction AD to Judiciary and Xibalba.
In April of 2020, Unbeaten Records released the band's label debut, Cause of Pain. This full-length will serve as the highly-anticipated follow up to their self-titled EP and 2018 EP, Fading Out. While the foundation of what makes the band special was present on their previous releases, On Sight makes leaps and bounds on Cause of Pain. The record feels more mature in its greatly refined songwriting while pulsing with unrelenting energy and callous heaviness. Upon listening to this record, the influence of growing up going to shows from seminal bands like E-Town Concrete, Incendiary Suburban Scum, The Banner, Float Face Down, Years Spent Cold, King Nine, and Folly is immediately apparent. Of equal importance to Cause of Pain though, is the air of being "up to no good" in the streets of their hometowns, as well as, the escaping of their surroundings through learning an instrument. It was recorded over four months at Landmine Studios with Len Carmichael and mastered by Alan Douches of Westside Studios. The meticulous writing process was even longer as it unfolded in late-night sessions between the members – JT Giordano (Vocals), Darren Carreon (Drums), Dante Santiago (Guitar/Backing Vocals), Edgar Lucero (Bass), and Douglas Maxwell (Guitar).
The album title purposefully encapsulates the primary themes of the record – avenues of pain, fear, and heartbreak. These everyday life experiences can be dealt with in a myriad of ways, and it is those decisions that serve as the driving force behind On Sight's latest and most ambitious effort to date. Whether it's the loss of loved ones from drugs, divorce and death ("Without You"), fighting addiction ("Dead Ends") or dealing with abuses of power from law enforcement ("Cause of Pain"), the record shines a light on hardships that everyone can relate to.
Upon first listen, On Sight may come across as fixed on the negative pieces of their lives but, in reality, Cause of Pain is about the pivotal choices around what type of person one will be. At its core, this record is about taking power over that decision regardless of the good or bad external forces that are unavoidable in everyday life.