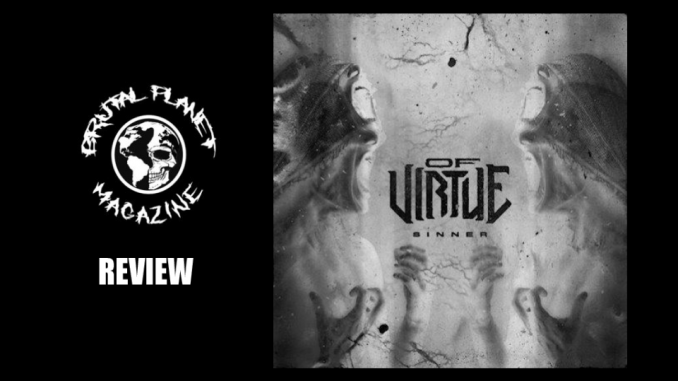 It's really hard to keep up with all the new music nowadays. There have been times when I discovered a "new" band only to find out they have been around for a while and I just missed them in the abundance of bands in the scene. Such is the case when an EP called "Sinner" came my way. The band, "Of Virtue" (Tyler Ennis- lead vocals, Damon Tate- guitar/vocals, Michael Valadez- guitar, Ryan Trinh- drums), hails from Michigan and has already released a handful of albums in their fourteen-year existence. I went on Spotify and checked out some of their discographies, and it's good stuff, but a lot of it doesn't stand out in the same way this new EP does. From the moment I heard these new songs, I fell in love with this band. These four guys have just found the secret sauce to creating metalcore that really does stand out from most of their peers- and I truly mean that. This EP is gold. 
The first track is "Sinner." Musically, the song is a blend of heavy riffs and graceful melody. Lyrically, it is an earworm. I have had the chorus stuck in my head all day. "Sinner" was the first single off of this EP and was extremely well received by fans. The official music video was released last April and has racked up over a quarter of a million views. The band's second single, "Hypocrite," also got a lot of attention. This track picks up the speed and is a bit heavier than its predecessor. "Hypocrite" reminded me a lot of Wage War (which is one of my favorite bands). If the band continues to write songs of this quality, they will blow up far beyond the local scene.
The third track on the EP is "Cold-Blooded." This song feels absolutely huge. It comes in with a driving prowl and explodes into an anthemic chorus. "Echoes" ends the album with a surprise. This final track starts out with spoken words and a softer into but carries the listener into a desperate cry for help and companionship. This song really speaks to the loneliness so many of us feel in this world. As I eluded to earlier, this EP is incredibly well written- both musically and lyrically. I'd be shocked if any metalcore fan did not like this. Of Virtue, if you are reading this, you have gained a new fan. I hope you will continue to put out music like this. "Sinner" redeems a genre lost in mediocrity.