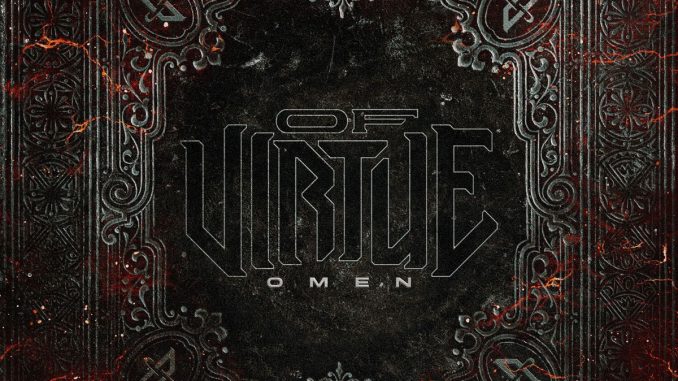 What began as a humble, promising metalcore act born from the blistering chill and barren fields of mid-Michigan has erupted into an internationally recognized and critically acclaimed act with
OF VIRTUE
. Playing this year's UK Tech Fest, Full Force, Summer Breeze, Fallen Fortress, 6K Fest, and Upheaval festival and accruing a staggering 7 million plus streams on their new
SINNER
EP on Spotify alone, Of Virtue's growth is nothing short of jaw dropping.
Today, the band is thrilled to share some incredible news.
Of Virtue will release Omen, their most ambitious and heartfelt project to date. This album represents a journey of artistic growth, experimentation, and soul-searching. Featuring the SINNER EP with eight additional tracks in total, this brand new album is all about soaring heavy anthems to fierce ballads.
Set for release on September 29, Omen will be available in limited colored vinyl and CD, along with unique merch options at the Arising Empire online shop, Impericon, and band shop.
Pre-order Omen here.
"Three years in the making and feeling as if it's the most significant one in our timeline thus far, this album was by far the most difficult to create in many more ways than one and one of the most emotional experience for us," the band says. "Hope that it helps you through your time of need, the way it did us."
OMEN TRACK LISTING:
"Omen"
"Hypocrite"
"Cold Blooded"
"Cut Me Open"
"Sober"
"A.N.X.I.E.T.Y."
"Floating" (Feat. Rory Rodriguez of Dayseeker)
"True Colors"
"Sinner"
"Holy"
"Cannibals"
"False Idols"
Of Virtue were formed in 2008 and catapulted onto the Michigan metalcore scene in 2009 with their debut EP To Breathe Again. Combining elements of melodic hardcore and metalcore into a mosh-friendly and energetic amalgam, the band became a staple within its local scene. Of Virtue issued their debut full-length Heartsounds in 2011, followed by an extensive regional touring cycle. The album found the band expanding on the sound that defined its earlier effort, with lyrics speaking of positivity and determination. It was sonically vicious, yet passionate and inspiring. In 2015, the band dropped Salvation, a sprawling and ambitious example of meticulous and melodic metalcore. Third full-length What Defines You arrived in 2019. That album marked incorporation of alternative styles into a backbone of bold, robust metalcore. Even in the setting of a global pandemic, Of Virtue continued to blossom worldwide, accruing new listeners and fans, effectively expanding their reach even in a time where live performances were all but impossible.

OF VIRTUE ARE:
Tyler Ennis | Vocals
Damon Tate | Guitar + Vocals
Michael Valadez | Guitar
Ryan Trinh | Drums