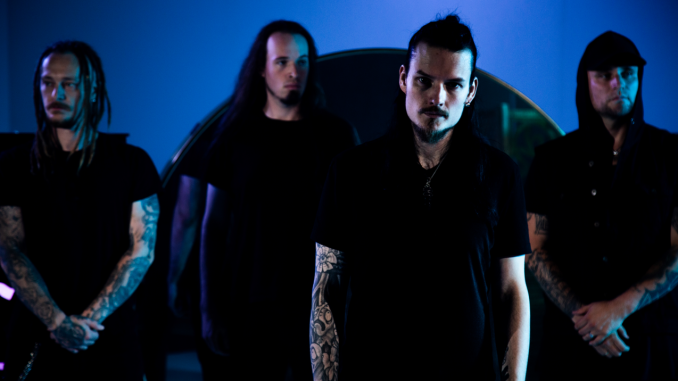 German nu-metal stars OCEANS are back. After delivering the second in a trilogy of EPs earlier this year with Hell Is Where The Heart Is – Part II: Longing, the band have proudly announced the third and final part of the series Hell Is Where The Heart Is – Part III: Clarity which will be released on November 25th.

In addition, OCEANS will release Hell Is Where The Heart Is as a physical album on November 25th, comprising of the songs from the Hell Is Where The Heart Is EP series.

To coincide with the announcement, OCEANS have released a video for their brand new single called "If There Is A God She Has Abandoned Us".

Timo Rotten comments:
"No matter how positively you try to go through life, there are times when you just feel abandoned and left alone. It seems like everything is going down the drain, so how can one not lose hope in these times right now? Previous generations seemed to give no fucks about this world and now we're left to pick up the shards. Some people just want to watch the world burn and I'm so fed up with all of this."

Pre-save the EP and pre-order the physical album here:
https://oceans.bfan.link/hell-is-where-the-heart-is-pt-iii-clarity.ema

Stream the new single here: https://oceans.bfan.link/itgshau.ema

Watch the 'If There Is A God She Has Abandoned Us' music video here: https://www.youtube.com/watch?v=AJkA2QM5r-4
OCEANS have already left a lasting impression on their two released EPs this year. The third part of this EP series closes the circle and builds on the lyrics and messages of the predecessors, which are now finally brought together as a whole on the album Hell Is Where The Heart Is.

About:
Ever since their inception, up-and-coming German outfit OCEANS have dropped jaws everywhere they went. With a unique sound that sits somewhere between nu-metal, progressive, post, and death metal and putting mental health at the top of their agenda, the four-piece quickly became a known constant in today's metal landscape. OCEANS have become known for their inclination towards innovation and experimentation within their genre; covering songs by the likes of Alessia Cara and collaborating with prominent musicians such as MACHINE HEAD's Robb Flynn and CALIBAN's Andy Dörner amongst others. Having released two EPs in 2019, their debut album in 2020, and another EP in 2021, the band featuring visionary mastermind Timo Rotten can easily be described as one of Europe's hardest and fastest working bands in the genre. Enter 2022 and OCEANS have already proved that they're set to continue on their upwards trajectory with their two latest offerings Hell Is Where The Heart Is – Part I: Love and its follow-up Hell Is Where The Heart Is – Part II: Longing.
OCEANS is:
Timo Rotten | vocals, guitar
Patrick Zarske | guitar
Thomas Winkelmann | bass
J.F. Grill | drums