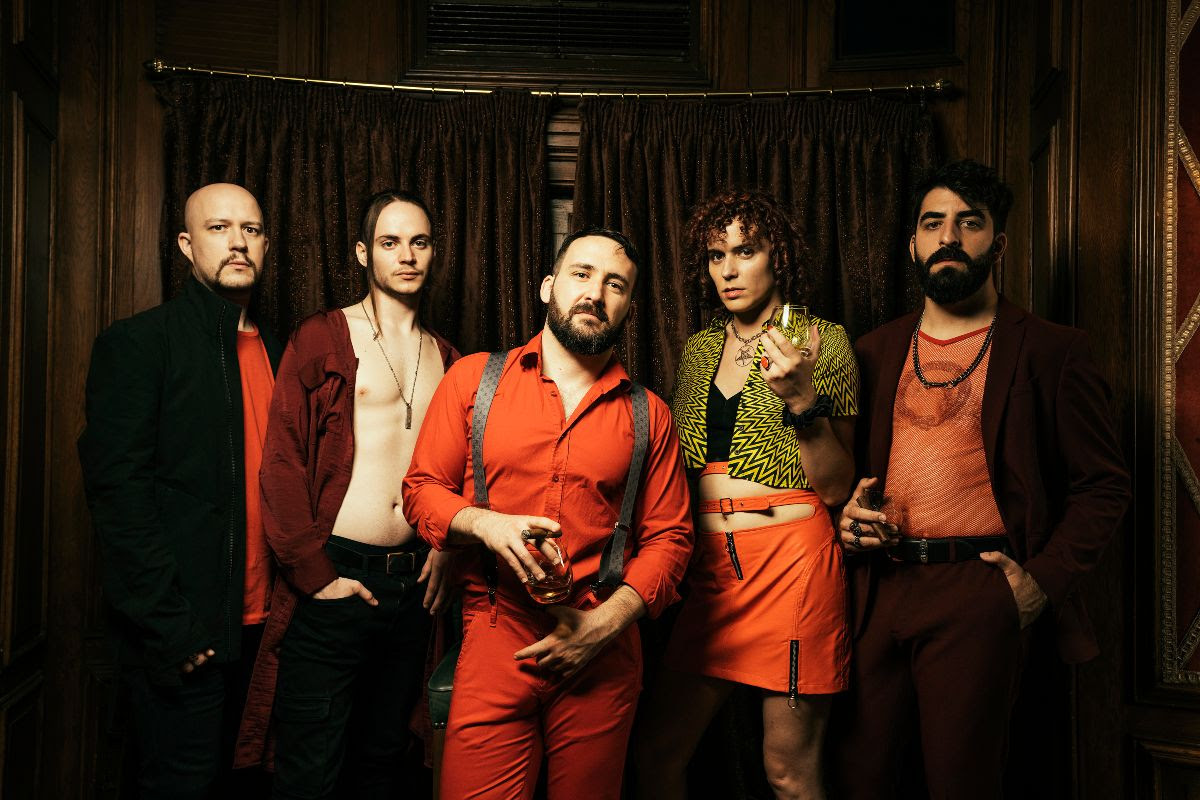 Barcelona's post-rockers OBSIDIAN KINGDOM will be hosting their very own two-hour special via Gimme Radio tomorrow, September 16, at 5:00 P.M. EDT! The band has curated a special playlist and will be present during the show's duration for a live chat and Q&A. You can sign up for free and tune in at THIS LOCATION.

OBSIDIAN KINGDOM
to Host Two-Hour Gimme Radio Special Tomorrow, September 16!

The band will be promoting their upcoming full-length, 'MEAT MACHINE,' which is due on September 25 via Season of Mist! The album is a harsh sonic journey, abject and stentorian like a love letter from a school shooter. The perverse album is a rough drop into a nightmarish world of forbidden desires, frustrated sexual urges and the dark realms of the subconscious mind. The album art and track list can be found below.

Pre-orders for 'MEAT MACHINE' are now live HERE.
The cover artwork was created by Ritxi Ostáriz And Elena Gallén and can be found below along with the tracklist.
Track-list
1. THE EDGE (3:58)
2. THE PUMP (4:24) (WATCH)
3. MR PAN (5:38)
4. NAKED POLITICS (4:21)
5. FLESH WORLD (6:15)
6. MEAT STAR (4:41) (WATCH)
7. SPANKER (4:19)
8. VOGUE (3:42)
9. WOMB OF WIRE (5:17)
10. A FOE (5:26)
Total playing time: 48:01
Style:
Experimental Rock / Post-Metal
RIYL: Scott Walker, Ulver, Deftones, Death Grips, Daughters, Nine Inch Nails, Faith No More
"Proof that some of the best music does indeed elude easy classification" – POPMATTERS
OBSIDIAN KINGDOM is devoted to exploring the boundaries of rock music. The Barcelonan band defies classification to this very day, drawing equally on progressive rock, post-metal, alternative and electronic music. However hard to pigeonhole, it remains consistent with delivering exciting artistry that never fails to surprise its audience.
Forever on a restless journey to find its true identity, the quintet has been dubbed "the masters of every genre" by Metal Injection. Featuring a heavy and intense sound with plenty of contrast, its main features are the ability to portray a wide range of emotions through the use of multiple sonic resources, a deep interest in aesthetics and the sombre quality of the lyrical topics.
'MEAT MACHINE' is an exercise in self-discovery, through a head-first plunge into the anxiety derived from sexual frustration, the absurd of reality and the inherent cruelty of a mechanized world. It is a demanding album that reads as an emotional roller-coaster, featuring an abrasive and overwhelming sound that draws equally from noise and art rock, post metal and late 90s alternative music.

Line-up
Rider G Omega: Guitars, Vocals
Ojete Mordaza Ii: Drums, Beats
Om Rex Orale: Bass
Viral Vector Lips: Guitars, Vocals
Jade Riot Cul: Keyboards, Synths

Recording Studio & Sound Engineers: Recorded and mixed at Ax Studios and Cal Pau Recordings in Barcelona during the summer of 2019

Producer/Sound engineer: Produced by Jorge Mur. Co-produced by Mr Ax and Obsidian Kingdom

Mixing: by Jorge Mur at Ax Studios
Mastering: by Magnus Lindberg at Redmont Studios in Stockholm (SE)

Guest Musician:
Jr Morgue – Microwave Sounds ('Womb Of Wire') And Bowed Guitars ('A Foe')

Cover art: Ritxi Ostáriz And Elena Gallén

Press-Kit: https://presskit.season-of-mist.com/Obsidian_Kingdom

Pre-sales: http://redirect.season-of-mist.com/OKMeatMachine

Available formats:
CD
Digital
Double Gatefold Vinyl in various colours
For more on OBSIDIAN KINGDOM, please visit the band's official WEBSITE, FACEBOOK, INSTAGRAM, YOUTUBE, and BANDCAMP.
For more on SEASON OF MIST artists, visit our official WEBSITE, FACEBOOK, INSTAGRAM, YOUTUBE, and TWITTER.