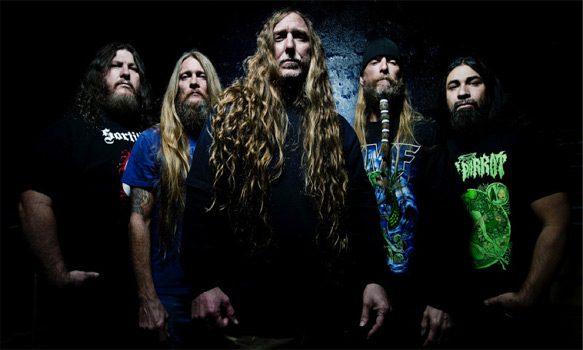 Florida death metal legends Obituary have set their sights on the road as main support for Black Label Society's North American Crusade tour. The tour which consists of 23-dates began on Wednesday, February 26 in Tucson, Az. Later in the tour though, there were will several Obituary only dates.
For Obituary though, their trek began two days earlier on Monday, February 24 at the Ridglea Room in Fort Worth. The one-off Texas show served as a dry run for the set and production before the official first date of the Crusade tour.
Facing a tightly packed and pro pit crowd, the band treated Fort Worth to a unique set that consisted of live Obituary set staples as well as some grooving songs that would appeal to the Black Label Society crowd.
Prior to Obituary taking to the stage, a sea of lingering fog reminiscent of mist descending over swampy Florida waters was present. Saturating the haze with deep red, blue and green lights would complete the setting, fitting for a night of Obituary.
The yellow railing barricade was no longer a buffer zone between the stage and crowd. It was already pushed against the stage from the chaotic set of the previous band that encouraged respectable stage diving while filming a music video.
As anticipation built for the Obituary's arrival, classic songs from hard rock heroes such as Thin Lizzy, Judas Priest, UFO, Foghat and Dio era Sabbath poured from the PA.
With the final down beat of Pat Traver's "Snortin' Whiskey," the first hefty notes of "Redneck Stomp", Obituary's set opener hit. An ocean of raised fists, cell phones and tempo matching headbanging commenced. As for the pit, it was just warming up in preparation for a night of physical indulgence.
Obituary treated Fort Worth to a respectable sampling of material. Familiar set staples such as "Slowly We Rot, "Find the Arise," "Visions In My Head" and "Don't Care" were accounted for. Then there were those that are not so common in an Obituary presentation.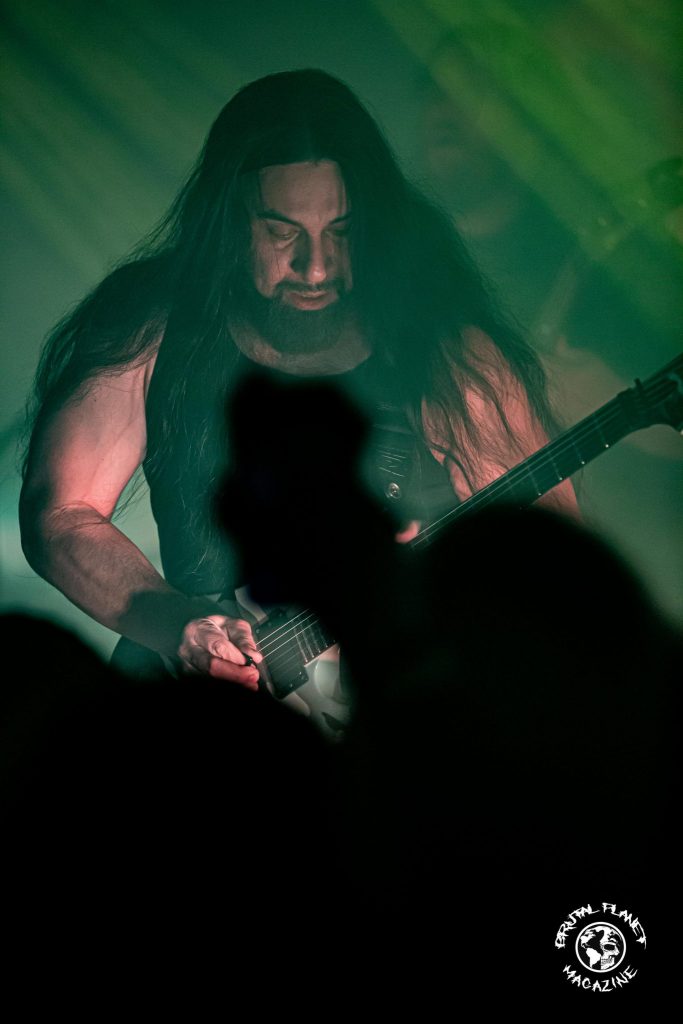 The enthusiasm, surging in front of the stage and pit participation never reached a lull. Now there were down times as recorded intros preceded songs but that was the extent of it. These sections were more of a breather break for all. Once the fortress of the Obituary sound opened back up, the energy and adrenaline level would elevate and stay consistent.
Obituary's sound was thick with an ideal balanced mix of all elements. It was all there. Guitar tones of Kenny Andrews and Trevor Peres, the crushing rhythm section of bassist Terry Butler and drummer Donald Tardy or John Tardy's vocals. If sound could be physically cut and removed from thin air, then Obituary's sound at the Ridglea Room would be the perfect specimen.
Obituary's trial run at the Ridglea Room proved to be a lethal showing of death metal.
As the band forges onward with the Crusade tour, there is no doubt the Florida death metal veterans will earn respect and gain new followers. Those Black Label Society fans not familiar with Obituary prior will be as the set concludes. These will be the new enlistees into the Obituary ranks.
As thanks, Obituary will raise their arms and guitars in victory.