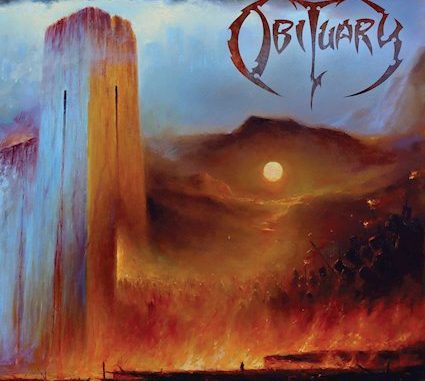 Florida's Obituary are set to release their tenth studio album titled Dying of Everything through Relapse Records in January 2023.
The release will follow their 2017 self released album simply titled Obituary. Even though Obituary was signed to Relapse at the time, the band utilized crowdfunding to finance the album. It was something the band just wanted to do and accomplish.
Now six years later along with relentless national and international touring, Obituary is ready to unveil their latest effort.
Dying of Everything has a heavier impact compared to Slowly We Rot and Cause of Death, both Obituary classics. Yet, the band continues that crushing studio sound they have been crafting since 2007 in the Obituary studio compound. It's a solid, ideal metal sound that's clean and polished but not overly produced.
Three singles for Dying of Everything have been released. The first, "The Wrong Time" is a straight forward plowing metal track that contains some grooves the listener will devour. It's a song that is certain to engage the metal head bobbing. It's something that occurs when a song just hits right in the feels. The tight and precise stoppage late in the track allows for a quick breath followed by vocalist John Tardy's heaving breathing.
The album's title track and second single "Dying of Everything" has that heavy plowing feel to it. The track possesses a brisk metal tempo upfront. At the midpoint though, there's a slowing tempo and a spoken word in an evil sounding dialect. The track then finishes out with seriously heavy instrumentation and no vocals.
"My Will to Live," the album's third single may just be that standout of the ten tracks. It's a song that will see people marching and ready to destroy all in the name of Obituary. "My Will to Live" is not a fast tempo piece, it's a locking in on a task mindset tempo.
Other tracks that need serious consideration include, "By the Dawn," "Be Warned," "Weaponize the Hate" and "War."
To sit down and contemplate what may be a favorite track for one may prove to be difficult. One listener may prefer a certain song more than another. All the tracks will gravitate individually as a favorite for each Obituary trooper. Dying for Everything is a strong of an album. It will be difficult to favor one song over another.
Fans of Obituary and the metal community as a whole will be pleased with this tenth studio album. From start to finish, Dying for Everything is a great listen that will not grow tiresome after several spins. It's a releases that will sit on the turntable or in the disc player receiving consecutive plays.
2023 is turning out to be a good year for metal and Dying for Everything just adds to it. The Florida death metal swampers will make Tampa proud with this album.
Dying for Everything will be available in vinyl, CD and cassette formats and hits the streets on January 13, 2023.