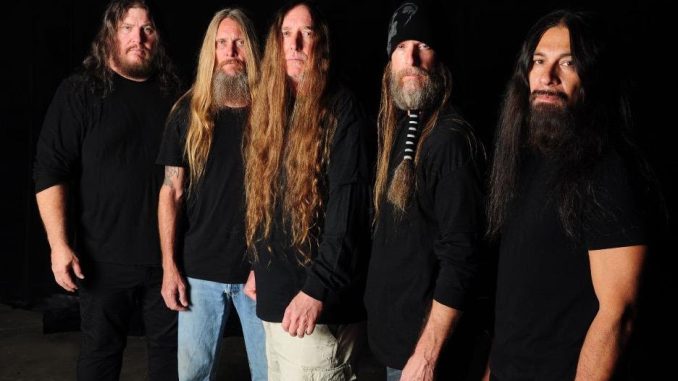 Happening April 22 & 23
North America Headline Tour Begins April 28th!
New Album 'Dying Of Everything' is Out Now
Order / Stream HERE
"OBITUARY once again show us how this death metal thing is done"
– Kerrang!
"Seethes with vital energy, possessing the spirit of a hungry new band and showcasing the skills of seasoned pros." – Revolver
"They're still one of the heaviest bands on the planet." – Blabbermouth
Florida Death Metal Legends OBITUARY announce the Barely-A-Live-Stream happening from the band's RedNeckStudio on April 22 & 23!

The band will be performing fan favorites from their historic discography on April 22 and performing their new album 'Dying of Everything' in full on April 23!

'Dying of Everything' is out now on LP/CD/CS/Digital & available directly from Relapse.com HERE or from your favorite local retailer.

Additionally, OBITUARY begin their Spring North America Tour April 28 through late May. Support will be provided by Immolation, Blood Incantation & Ingrown. A full list of tour dates is available below & tickets are on sale now.
"BARELY-A-LIVE-STREAM"
– Back-to-Back Nights –
..from RedNeckStudio in
Tampa, Florida!
•Saturday April 22nd (5pm EST)
*The Hillbilly Bash:
Beer Drinkin' – Hell Raising'
& Performing the FAN FAVORITE SONGS!
•Sunday April 23rd (5pm EST)
*'Dying Of Everything' – Full Album
STUDIO PERFORMANCE!!!!
TICKETS HERE
Album Art Credit: Mariusz Lewandowski (RIP 1960-2022)
"An instant OBITUARY classic"
– Stereogum
"Their live prowess and unwavering dedication to their fans made them one of the metal underground's most respected bands."
– Decibel
"OBITUARY's strongest album in 30 years"
– Metal Hammer UK
OBITUARY TOUR DATES:
North America 2023
w/ immolation, Blood Incantation & Ingrown
Apr 28 Charlotte, NC The Underground
Apr 29 Jacksonville, NC Hooligans Music Hall
Apr 30 Richmond, VA Canal Club
May 01 Baltimore, MD Baltimore Soundstage
May 02 Philadelphia, PA Brooklyn Bowl
May 04 New York, NY Irving Plaza
May 05 Boston, MA The Middle East
May 06 Montreal, QC Theatre Fairmount
May 07 Toronto, ON The Phoenix Concert Theatre
May 09 Chicago, IL Metro
May 10 Minneapolis, MN Fine Line
May 11 Omaha, NE The Waiting Room *
May 12 Englewood, CO Gothic Theatre *
May 13 Salt Lake City, UT The Complex
May 15 Seattle, WA El Corazon
May 16 Portland, OR Hawthorne Theatre
May 18 Berkeley, CA UC Theatre
May 19 Los Angeles, CA The Fonda Theatre
May 20 Mesa, AZ Nile Theater
May 22 Austin, TX Mohawk
May 23 Dallas, TX Granada Theatre
May 24 Houston, TX White Oak Music Hall
May 26 St. Louis, MO Red Flag
May 28 Louisville, KY The Mercury Ballroom
* No Immolation
"OBITUARY is a legendary band, and their latest record is one more reason why they deserve that legendary status."
– Metal Injection
"'Dying of Everything' is as pure a death metal album as you'll get in 2023 and that's a good thing. Long live death and long live OBITUARY!"
– MetalSucks
"'Dying of Everything' wastes no time showing that OBITUARY are only working to further perfect their craft rather than change their formula."
– Exclaim!