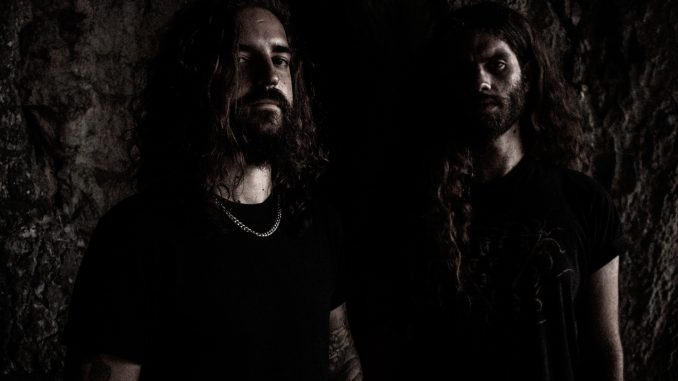 Portuguese death doom duo
OAK
will be releasing its sophomore effort, 'Disintegrate,' via Season of Mist on
February 10, 2023
, making it the band's debut to the label! The album artwork, tracklisting, and info can be found below!
In conjunction with the forthcoming full-length,
OAK
is now sharing the first part of the 45-minute long offering, "Disintegrate I," along with a performance music video! The clip, which was directed by Guilherme Henriques, can be seen at
THIS LOCATION
.
OAK
comments:
"Before managing to free himself from the unbearable weight carried on his back for an eternity, this giant knelt down and surrendered his own body to be consumed by the sun.

"Afterwards, there was only the cold that accompanied him on his passage to the immaterial world. This excerpt is about that passage and also aims at a transition from sound to image, so that this moment becomes as visual as it is audible."
Pre-sales for 'Disintegrate are now live
HERE
while the album can be pre-saved on streaming services
HERE
.
OAK, 'Disintegrate I' (Official Music Video) 2022
To request an interview with OAK or for more information, please contact Katy Irizarry at Katy@season-of-mist.com. Additional assets, such as hi-res photos can be found HERE.
The artwork for 'Disintegrate' was created by Belial Necro Arts and can be found below along with the tracklisting!
Tracklist:
01. Disintegrate (44:48)
Running time: 44:48
Genre: Atmospheric death doom metal

With the birth of their first full-length album 'Lone' in 2019, atmospheric death doom duo OAK emerged from Portugal with a slow and steady force, like roots breaking concrete. After four years of slumber, the band has awakened like the old gods, ready to release utter suffering and devastation onto the masses with its sophomore effort, 'Disintegrate.' For nearly 45 unforgiving minutes, this mournful maelstrom drags the listener asunder, while tormented growls and agonizing riffs echo deep despair within the atmospheric abyss.

OAK's path was forged by two kindred musicians; the mysterious pair recognized that they were an unstoppable force together when it came to creating painful, emotionally driven music. "We always wanted it to be a duo because of how fluid our jams have always been and this freedom we get when writing for OAK is really one thing that drives us," explains the band.

The writing process took place under the cover of darkness, setting an intimate mood for the record's creation. The pair worked with a totally clean slate, writing everything organically in their sessions together rather than coming with prepared compositions or ideas. As project took shape and began to come into its own identity, it yielded OAK's agonizing and ferocious sound. "We can have clean guitars, clean vocals, distortion, deep grunts, whispers, slow beats, blast beats, ghost notes and all this glues together nicely," says OAK of the project's many textures and layers.

Thematically, 'Disintegrate' tells the epic tale of a Titanic Giant who seeks to be unburdened from carrying the weight of the world, demonstrating that even the strongest have a threshold for just how much pain and heaviness they can endure.

However, the story doesn't end here as this is only the first chapter of the Giant's tale. "We are continuing our jam sessions and writing more and more. We will grow further with each release in the attempt of making our sound almost visible/cinematic. We need to tell the story of this giant's burden and liberation through our music and lyrics. We feel like there is much more to be told."

Lineup:
Guilherme Henriques – Vocals/Guitars
Pedro Soares – Drums

Recording line-up
Guilherme Henriques – Vocals/Guitars
Pedro Soares – Drums
Lucas Ferrand – Bass

Recording studio: Stone Sound Studio
Producer/Mixing engineer: Ricardo Oliveira
Mastering studio and engineer: Stone Sound Stydio by Ricardo Oliveira

Cover Artwork: Belial Necro Arts

Photo credit: Catarina Rocha

Pre-sales: https://redirect.season-of-mist.com/Oak-Dis
Pre-save: https://orcd.co/oak-disintergrate

Links:
https://www.facebook.com/OAKDOOM
https://www.instagram.com/oak_officialbandpage/
https://www.youtube.com/channel/UCp_xtwetsv2ZTMow2kmfEOQ
https://oakdoom.bandcamp.com/

Presskit: https://presskit.season-of-mist.com/Oak/
Login: presskit
Password: Presskitofmist