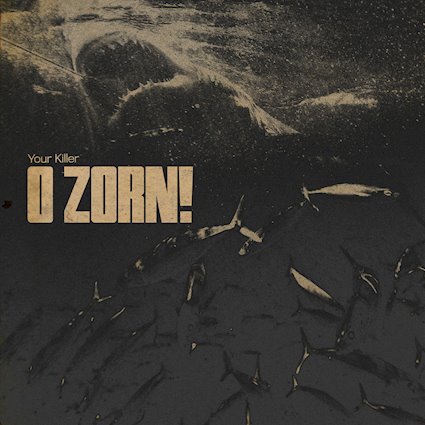 Hailing from the depths of the Long Beach underground scene, a trio of veterans of said scene by the name of O ZORN! have re-emerged with an offering of pure heaviness titled Your Killer.
The sophomore release follows the band's debut The Sleeping Sea King. Unfortunately for O ZORN!, the debut was a record that never saw a proper release but has received high praise.
Now with Your Killer, the band's album will see a proper release and rightfully so. The album houses plenty of heavy riffs, distortion and sound. Impressively, the album was recorded at the Foo Fighters now legendary 606 Studio.
Many of the nine tracks tell a tale of doom and sludge, the storyteller of humanity's failures and suffering, hopelessness and homelessness. Let-downs, never finding or being loved, being let down, substance abuse. These and more are themes that run through the needle grooves and veins of "Your Killer". Each of the nine tracks offer its own unique perspective of the issues.
The title track, possess the darkness that hovers over the album in its entirety. Along with "Casket," a heavy pounding tale of a wounded soldier's bloodstained journey to safety to "Secret Santa," the final track. It's a simple yet dark tale of addiction and the souls of the process with cigarettes. It's presents a heavy grooving rhythm even with the darkness hidden within the lyrics.
Besides the destruction, killing, doom, sludge and hints of stoner rock, O ZORN! have released a slab of heavy, crushing music meant to be released by whatever means possible.
With the reemergence of the band complete and the release of Your Killer, O ZORN! are fearlessly poised and ready to begin their quest of the heavy of the heaviness expression. The acceptance of this heaviness should be welcomed beginning on Friday, March 20 through Seeing Red Records. No excuses and questions asked.