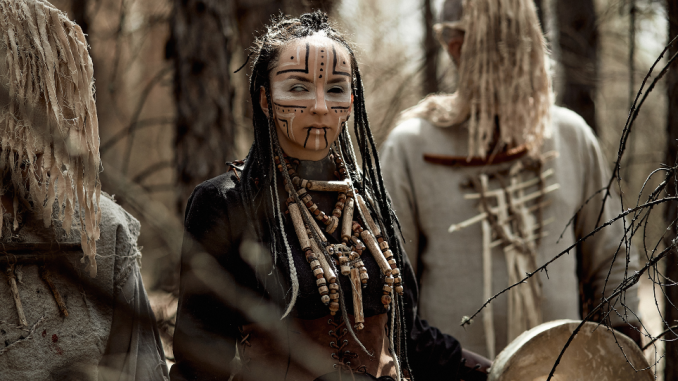 New Album, 'Torem', Out October 6, 2023
via Napalm Records — Pre-Order HERE!
Watch the New Music Video
October 6, 2023 sees Siberian dark folk duo, NYTT LAND – led by shamanic couple Natasha "Baba Yaga" and Anatoly Pakhalenko – release their ninth album epos, entitled 'Torem', via Napalm Records. Formed in 2013, NYTT LAND is one of the most captivating and haunting acts the dark folk music scene has to offer, and is highly recommended for fans of HEILUNG, WARDRUNA and RUNAHILD.

'Torem' invites listeners into a mystic world of ancient percussive instrumentation and mesmerizing vocal spheres. The album, sung in old languages Khanty (Siberian Native Tribe) and Old Norse (Old Icelandic), will take you on a sonic experience and journey of the band's new trilogy, dedicated to the three worlds in the cosmology of their land. NYTT LAND's unique sound has always been inspired by the sound of Siberian nature – their musical roots are deeply connected with mythology, historic themes and ancient shamanic culture.

Following their previously-released first single "Nord", today, the extraordinary duo lends the ravens a voice and premieres a new music video for the track "Huginn ok Muninn"!

Watch the Stunning New Music Video for "Huginn ok Muninn" HERE
The band comments:

"This song-spell on Old Norse is about Huginn and Muninn – two ravens endowed with speech. The role of Huginn and Muninn as messengers of the supreme God is connected with the tradition of shamanic practices and with the general symbolism of the northern peoples, depicting the raven as a source of hidden knowledge.

The lyrics and rhythm of the song are interpreted as the transcendental journey of a shaman who worries about whether he can return from this state."

'Torem' was produced, recorded and mixed by NYTT LAND, with mastering by Anatoly Pakhalenko. With intelligent, captivating storytelling, haunting visuals and atmospheric, ambient yet massive melodies encapsulated by unique throat singing, meditative grooves and an otherworldly spirit of mythology and nature, NYTT LAND is about to deliver a surefire highlight of 2023!
'Torem' Track List:
1. Olenmet
2. Nord
3. Risu Raknar
4. Johem Ar
5. Manito
7. Rise of Midgard
8. Torem
9. Iavel
'Torem' will be available in the following formats:
=> 1CD Digipak
=> 1LP Gatefold CLEAR
=> T-Shirt + 1CD Digisleeve
=> Digital