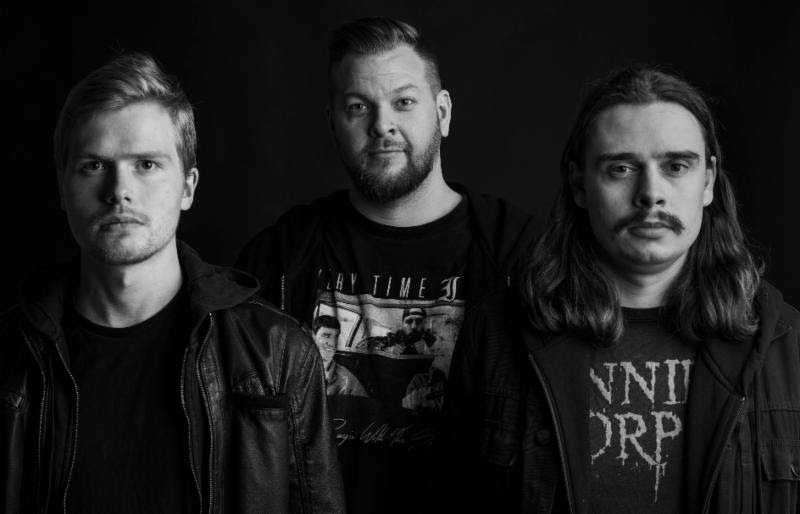 HEAR FIRST SINGLE 'MOUTHBREATHERS INC.' NOW
BOKASSA TO SUPPORT METALLICA ACROSS EUROPE THIS SUMMER
"BOKASSA are incredibly fucking good. The songs they write, their whole energy and vibe is such a breath of fresh air. When I heard their music a year ago, they blew my head off. Getting a chance to introduce them to a wider audience is going to be super cool."
Lars Ulrich (Metallica)
Talking to Kerrang! in Jan 2019
Thursday April 18th 2019 – Norwegian rock trio BOKASSA are thrilled to announce the release of new album, 'Crimson Riders' on June 21st.
The band have dropped first single 'Mouthbreathers Inc.' today which is available
here
and via
YouTube
. When asked about the song, the band explain,
"'Mouthbreathers Inc.' is written from the perspective of a dictator/cult leader when everything starts going south – which it inevitably always does. The track makes for classic BOKASSA with a pummeling lead riff, angry vocals, breakdowns, and a hooky chorus to sing along to while the throne crumbles. Watch out for the sneaky saxophone lick!"
BOKASSA fuse stoner rock riffs and groove with the energy and volatility of punk and hardcore, into their own unique brand ofstonerpunk. Their 2017 debut album, 'Divide & Conquer' was lauded by critics across the globe.
'Crimson Riders' was recorded in Trondheim's Brygga Studio, with production by the band together with Yngve Andersen(Blood Command), mixing by Simon Jackman, and mastering by the legendary Brian 'Big Bass' Gardener. The record is set for a 21st June release on CD, vinyl, and digital formats. Releasing via independent label MVKA in Europe (who are also home to the extraordinary Zeal & Ardor).
BOKASSA enthuse,
"We are very excited to release 'Crimson Riders'. Nine songs which revolve around everything from cults, religion, and border patrols to beer-drinking anti-heroes and immortal space pirates! Sonically, the album gives the listener everything from classic stoner-punk tracks, groovy desert songs, and high speed thrash metal, to hardcore-oriented sing-a-longs. This time we also played around with both cellos and saxophone in the studio so expect a few curve-balls here and there."
Track listing for 'Crimson Riders'

Brologue
Charmed & Extremely Treacherous
Vultures
Mouthbreathers Inc.
Wrath Is Love
Crimson Riders
Captain Cold One
Blunt Force Karma
Immortal Space Pirate 2
In early 2018, Metallica drummer Lars Ulrich played BOKASSA on his radio show, 'It's Electric', calling them "insanely fucking cool" and his "favorite new band". Fast forward to 2019, and BOKASSA are set to hit the road with Metallica this summer across Europe, declaring,
"We are extremely excited to support the legendary Metallica alongside Ghost – over 25 concerts in Europe. We are an underground rock band from Norway, so I don't think we can even imagine how big and awesome this is going to be, but we are insanely excited for this opportunity!"
Catch the band at the following dates:
Supporting Metallica:
May 1 – Lisbon, Estadio Do Restolo (Portugal)
May 3 – Madrid, Valdebebas (Spain)
May 5 – Barcelona, Estadi Olympic Lluis Companys (Spain)
May 8 – Milan, SNAI San Siro Hippodrome (Italy)
May 10 – Zurich, Letzigrund (Switzerland)
May 12 – Paris, Stade De France (France)
June 8 – Dublin, Slane Castle (Ireland)
June 11 – Amsterdam, Johan Cruiff Arena (Netherlands)
June 13 – Cologne, Rheinenergiestadion (Germany)
June 16 – Brussels, Koning Boudewijnstadion (Belgium)
June 18 – Manchester, Etihad Stadium (UK)
June 20 – London, Twickenham Stadium (UK)
July 6 – Berlin, Olympiastadion (Germany)
July 9 – Gothenburg, Ullevi (Sweden)
July 11 – Copenhagen, Telia Parken (Denmark)
July 13 – Trondheim, Granasen (Norway)
July 16 – Hämeenlinnam, Kantolan Tapahtumapuisto (Finland)
July 18 – Raadi, Airfield (Estonia)
July 21 – Moscow, Luzhniki Stadium (Russia)
August 14 – Bucharest, Arena Nationala (Romania)
August 16 – Vienna, Ernst-Happel-Stadion (Austria)
August 18 – Prague, Airport Letnany (Czech Republic)
August 21 – Warsaw, PGE Narodowy (Poland)
August 23 – Munich, Olympiastadion (Germany)
August 25 – Mannheim, Maimarktgelande (Germany)
BOKASSA headline shows:
May 2 – Seville, Sala Even (Spain)
May 11 – Paris, Les Etoiles (France)
What the press have been saying:
"…blend pummeling hardcore rhythms with bong-friendly riffage"
– Revolver
"Lots of thrashy riffs, chunky grooves, and gang vocals designed for maximum crowd catharsis at live gigs. I suspect that if there was a Venn diagram of Kvelertak fans, Cancer Bats fans, Iron Reagan fans, and Hatebreed fans, Bokassa fans would exist at the intersection."
– Metal Sucks
"..an irresistible hybrid of excellently crafted sonic cuts that are designed to be washed down with a frosty cold one, some mates and a bag of 'herbs' "
– Overdrive
"The most exciting metal band since Slipknot"
– That's Not Metal Podcast
"intense, unpretentiously creative, and relentlessly rhythmic."
– Metal Hammer