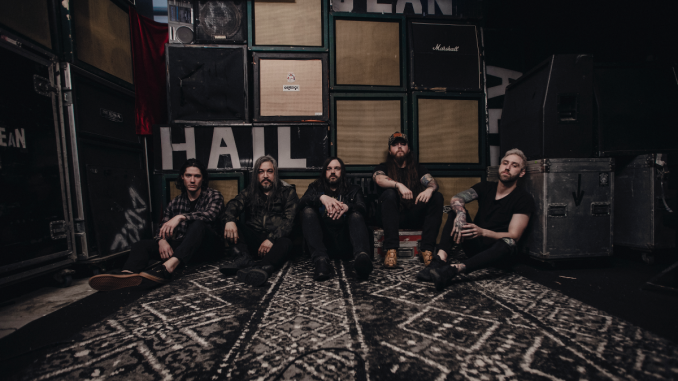 Norma Jean have dropped the video for "1994." It's comprised of footage spanning the entirety of their career. Watch it here.
The song lives on their ninth album Deathrattle Sing For Me, out now via Solid State Records. Get it here.
"If you film your band for 20+ years and never do anything with it, you end up with a box full of VHS and hi-8 tapes like what happened to me," says singer Cory Brandan. "Instead of making that expensive documentary you were always hoping to make, just make a three-minute music video instead."
Norma Jean will also hit the road on a headline tour with Fire From the Gods and Greyhaven as support. All dates are below.
NORMA JEAN ON TOUR:
WITH FIRE FROM THE GODS + GREYHAVEN:
2/3 — Anaheim, CA — Parish — House Of Blues
2/4 — San Francisco, CA — DNA Lounge
2/5 — Roseville, CA — Goldfield Trading Post
2/7 — Seattle, WA — El Corazon
2/8 — Portland, OR — Bossanova Ballroom
2/10 — Denver, CO — Oriental Theater
2/11 — Sioux Falls, SD — Icon Event Hall
2/12 — Iowa CIiy, IA — Wildwood
2/15 — Milwaukee, WI — The Rave
2/16 — Chicago, IL — Bottom Lounge
2/17 — Covington, KY — Madison Theater
2/18 — Pontiac, MI — Crofoot Ballroom
2/21 — Brooklyn, NY — Monarch
2/22 — Cambridge, MA — Middle East
2/23 — Millersville, PA — Phantom Power
2/24 — Virginia Beach, VA — Elevation 27
2/25 — Greensboro, NC — Hangar 1819
2/26 — Atlanta, GA — The Loft
2/28 — Austin, TX — Come And Take It
3/1 — Dallas, TX — Trees
3/2 — El Paso, TX — Rock House
3/3 — Mesa, AZ — Nile
3/4 — Las Vegas, NV — 24 Oxford
3/5 — Los Angeles, CA — 1720