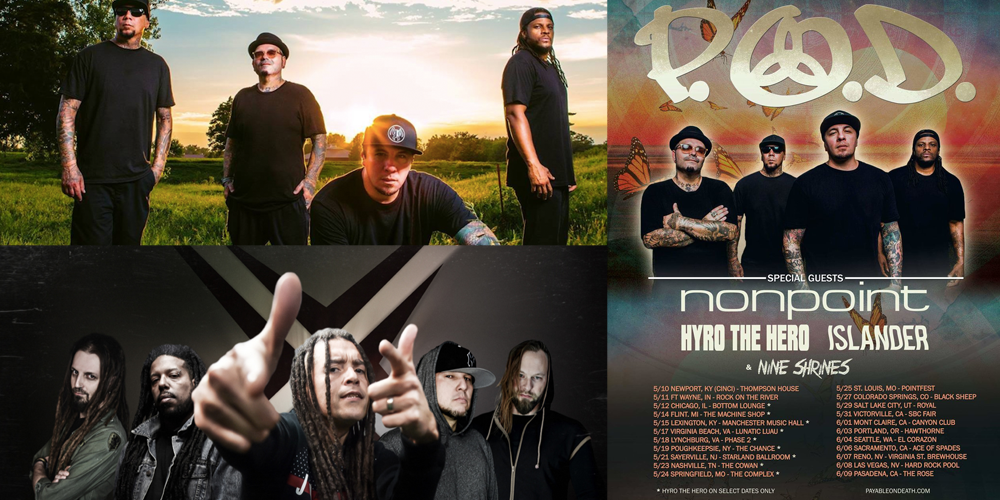 When the announcement came that P.O.D., Nonpoint, and Islander would tour together, I got downright giddy. This is by far the coolest line-up I have seen in quite a while. The energy of all 3 bands is out of this world.
For this show, they added Nine Shrines to the bill and I know exactly why. In support of their new album, "Retribution Therapy" this Ohio based rock band kicked this night into gear. You would never know they were playing to a room full of people eating dinner (odd venue) with the heart and energy they put out.
Next up was Islander. If you haven't heard of this band, you are surely missing out. From the second they took the stage they proved they were here to rock our faces off. With hits like 'Darkness,' and 'Coconut Dracula,' Islander caught the crowd's attention and kept it. Good thing too since singer Mikey Carvajal climbed scaffolding, walked on band mates, and even took a turn walking on some of those dinner tables, handing out love to all those in his path. All in all, Islander was the perfect way to keep this night going and prepping us for what was coming.
Following Islander was none other than the prestigious Nonpoint. Nonpoint is definitely a band you just can't stand still watching. I have had the pleasure of seeing this band in many types of venues and they never disappoint. They catch more air than an F-14 at the yearly air show here in California and you can't help but to join in. I even heard a rumor we took out some ceiling tiles and light fixtures of a store right below us. How freaking metal is that! In a world quick to put music into specific genres, Nonpoint stands out with their mix of hardcore metal, straight rock, rap, and killer guitar work. Elias' vocals were as always beyond clean. Flowing between singing, screaming, and rapping, he is always on point (see what I did there.) Be sure to check out their newest album "Chaos and Earthquakes" and catch them if they are playing anywhere near you.
The lights went down for the final time and you could feel the buzz growing in the air. It was time for the main event… the mighty P.O.D. P.O.D. has been proving for years that you can have a positive message and still kick ass. With Sonny's angelic voice (both sound wise and message-wise,) Marcos slaying on the guitar, and Traa and Wuv killing the rhythm, there is no question why this band is still pulling in fans. This tour to support their latest album "Circles" has proved that. Venues have been sold out all over the world, and being in attendance tonight, there are no questions as to why.
They are another band you CANNOT be still while watching. Unless you are you are doing this life thing all wrong… The set list covered their entire career including 'Alive,' 'Youth of the Nation,' and my personal favorite track from the new album (call me biased) 'Always Southern California,' they had the entire room singing along in P.O.D. heaven.
Thank you P.O.D. for reminding us how music should make us feel once again!