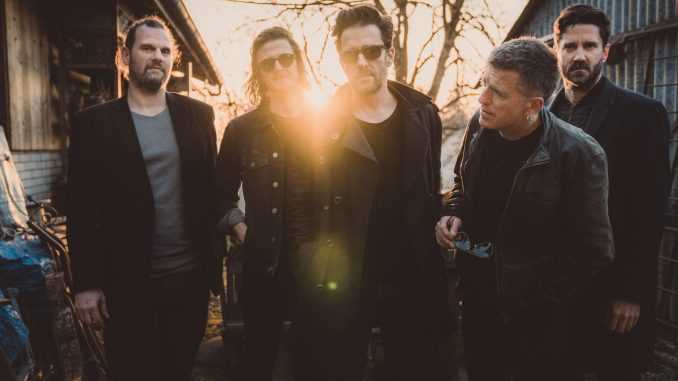 After the Zurich-based
NONEXISTER
released their very first single, "
Your Pain Up My Veins
," including a spectacularly dark video starring actress
Carol Schule
r at the end of March, the cinematic video for the current single "
Drowning In The Void
" is released today.Watch it
here
.
The band dedicates the song to loved ones who have been unexpectedly lost in the prime of life, who left their lives without warning.
Singer Nik Leuthold says, "The lyrics were written after the death of a good friend of mine. They describe the state of shock you fall into when you receive such a horrifying message. The shock throws you into a kind of surreal in-between world and you don't understand anything anymore. You don't feel any pain at first, but are left stunned, and the everyday actions you continue to perform seem absurd. One stands bewildered and disoriented outside of space and time, watching the world and oneself in wonder without any real connection to either. The only warmth you find lies in the memory of the lost person, the same memory that hurts so heavily."
Bandmate Marco Neeser adds, "Grounded guitars combined with electronic noises create a tension that leads through the whole song. It meanders through the vastness of the desert, leading into a sweeping noisy soundscape before diving back into a deep, dark chorus. Musically, the song is based on a track of my former band Division Kent. I showed the original version to Nik, who loved it, and the track inspired him immediately to write new lyrics and vocal lines. It was striking how this completely changed the atmosphere of the song and gave it a new profound meaning."
Nik continues, "The video was a wonderful collaboration with director Justin Stoneham. He is not only a fantastic and award-winning director, but as well a wonderful team player. It was clear to me from the beginning, that the in between world would lead the visual direction, and I already had a first script. Therefore, I needed a director who would be willing to develop this idea. Meeting Justin was a huge stroke of luck, because apart from his skills, he knows these situations from his own personal experience and agrees on the image of an intermediate world as an interpretation of them."
Director Justin Stoneham says of the shoot, "I have only positive things to say about this project. 'Drowning In The Void' was an incredibly enjoyable experience from start to finish. We were fortunate to have an exceptional crew on board. Furthermore, the collaboration with NONEXISTER, especially."
NONEXISTER live from the interplay of electronic energy and hard catharsis. As if they were sounding an after-hours club at the end of the world, the Zurich band, consisting of Marco Neeser (electronics, songwriting, production), Nik Leuthold (vocals, songwriting, production), Reto "Fu" Gaffuri (bass), Siro Müller (drums, backing vocals), and Silvan Gerhard (guitar, backing vocals), swing like a pendulum between moments of industrial ecstasy and moshpit-worthy outbursts.