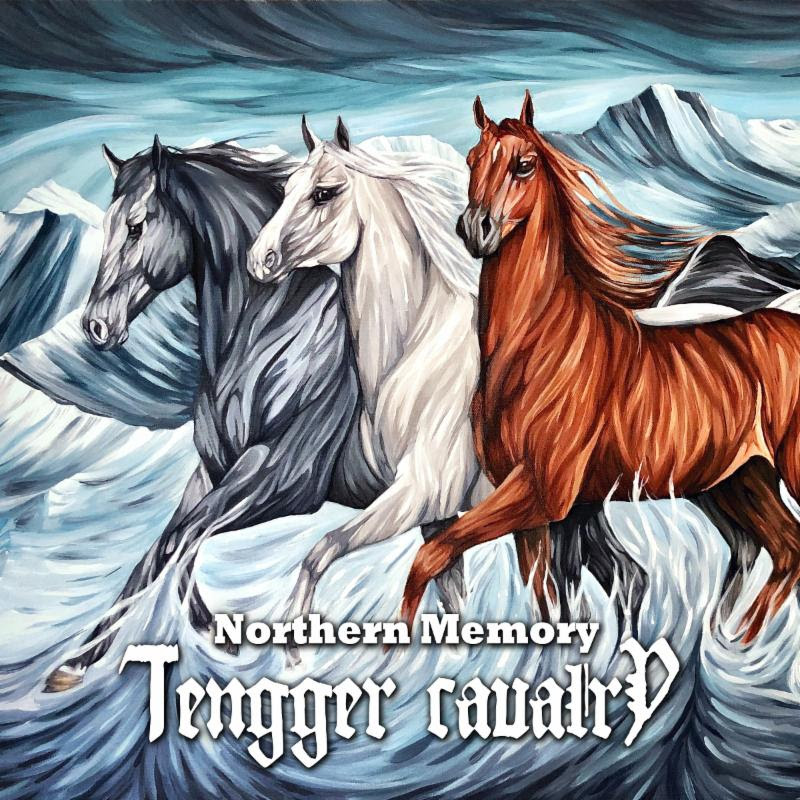 Album Art by Amanda Charlton
Global Music Award-winning nomadic folk metal group
TENGGER CAVALRY
recently announced a brand new full-length album, entitled
Northern Memory
, scheduled for independent release on May 10, 2019. The concept album is based on the history of nomadic tribes – such as the Hunnu, Cian-Bi and Khi-tan – who charged and immigrated to Northern China from modern Mongolian and Siberian regions.
Northern Memory
can be pre-ordered
here
.
Building upon their acclaimed blend of throat-singing, traditional Mongolian instrumentation and heavy metal elements, TENGGER CAVALRY evolves on Northern Memory – exploring previously uncharted industrial and emotive rock-influenced territories while staying true to their traditional roots with the sounds of Morin Khuur (ancient fiddle), Tovshuur (Mongolian guitar), Mongolian flutes and more.
TENGGER CAVALRY frontman and Northern Memory producer Nature G tells Revolver: "With this album, in comparison to the traditional approach of Mongolian and Chinese folk tunes, we used many traditional central Asian folk elements, giving it a 'desert-like' sound. Also, as I am a long time Rammstein fan, listeners will hear some machine-like riffs inspired by the band."
Northern Memory track listing:
1) Cian-Bi Rock and Roll
2) Khan of Heaven
3) Forging
4) My Sky
5) Wings of Scar and Steel
6) Pier 39
7) Lone Wolf
8) Unite
9) Iron Fist
10) Pier 39 Pt. 2
11) The Brave Brave One
After streaming the
Northern Memory
, make sure to check out the new music video for the track "My Sky", filmed during one of Nature G's most recent visits to his native homeland of China, here:
https://youtu.be/vsJrlrFwf34
Read the story behind the track's inspiration and Nature's personal journey
here
.
About TENGGER CAVALRY:
TENGGER CAVALRY are one of the most unique and innovative acts in modern music. To date, the band has earned international praise and attention from the likes of Billboard, CNN, The Huffington Post, The Wall Street Journaland countless others.
TENGGER CAVALRY ("the army of the sky god" in Mongolian) blends the nomadic musical traditions, instrumentation and warrior spirit of Central Asia with the aggression and power of heavy metal. The group was founded by Nature "G" Ganganbaigal, who sings using the ancient Mongolian tradition of Khoomei (more commonly known as throat-singing) and plays multiple native instruments, including the Morin Khuur (an ancient fiddle), the Tovshuur (a Mongolian guitar) and the Mongolian flute.
Following Nature G's relocation to America five years ago, TENGGER CAVALRY has successfully completed several tours and two sold out performances at New York City's prestigious Carnegie Hall.
In the studio, meanwhile, the group's output has been prodigious – since forming in 2010, they've released six full-length albums, two EPs and numerous singles, including unique cover interpretations of metal classics. In January, Megadeth's Dave Mustaine retweeted the group's cover of "Symphony of Destruction," while the previous month, the official MotörheadFacebook page reposted their rendition of "Fight."
Learn more about TENGGER CAVALRY:
TENGGER CAVALRY line-up:
Nature – Guitar, Morin Khuur, Vocal
Tamir – Morin Khuur
Pat Reilly – Guitar
Greg Baker – Double Bass
Randy Tesser – Drum