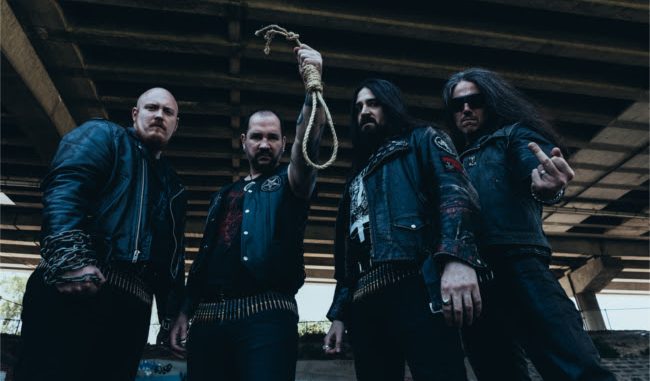 Australian blackened death outfit NOCTURNAL GRAVES will be guest DJing their very own radio special via Gimme Metal on Tuesday, January 11 @ 7:00 P.M. EST // January 12 @ 11:00 A.M. AEST! Main member J.R. has curated a brutalizing two-hour playlist and will be in the chat to hang out with fans! As always, it is FREE to sign up and listen HERE.

The band is supporting their brand new record, 'An Outlaw's Stand,' which was released last Friday! The record can be streamed, downloaded, and ordered HERE.
The artwork for 'An Outlaw's Stand,' which has been created by Simon Turner, can now be viewed together with the album details below.
Track-list
1. Death to Pigs (5:30) (LISTEN)
2. Command For Conflict (4:32) (WATCH)
3. Ruthless Fight (3:46)
4. Across the Acheron (4:05)
5. No Mercy For Weakness (4:01)
6. Law of the Blade (5:13)
7. Beyond the Flesh (4:56) (LISTEN)
8. An Outlaw's Stand (4:28)
Total: 36:31
NOCTURNAL GRAVES sound the charge with their venomous new offering, 'An Outlaw's Stand.' Coalescing the nastiest and rawest elements of death, thrash, and black metal, the Australian outlaws' brand of apocalyptic metal explodes like an atom bomb, leaving utter devastation in its path. The relentless onslaught of pure brutality makes one thing clear – Long live death!

NOCTURNAL GRAVES were originally formed in Victoria, Australia in 2004. Two well received demos, 'Profanation of Innocence' and 'Deathstorm,' followed in the same year. Quickly securing a deal, the band officially released the 'Necromancer' 7″ vinyl in 2006 before unleashing their cult debut full-length, 'Satan's Cross,' the following year. The iconic album was later re-issued with the stunning cover art by renowned painter Paolo Girardi (INQUISITION, MANILLA ROAD, HIEROPHANT) in 2017.

When the Australians first hit Europe in 2009, they celebrated the event with 'The Gravespirit Sessions' split. Former DESTRÖYER 666 and RAZOR OF OCCAM guitarist Shrapnel, as well as drummer L.W., joined in 2012.

NOCTURNAL GRAVES widely extended their international fanbase with the release of sophomore album '…From the Bloodline of Cain' (2014), which resulted in an invitation to the 2016 edition of Maryland Deathfest and more shows in the United States. The band supported the tour with a limited 7″ EP 'Sharpen the Knives / Lead us to the Endless Fire.' 

Upon a line-up change in 2018 in which L.W. departed from the band and J. took his place back behind the drums, the band saw their third album, "Titan," released through Season of Mist. An Australian/New Zealand tour with WATAIN followed in support of the album's release. 

In 2019, NOCTURNAL GRAVES joined forces alongside DESTRÖYER 666, DEAD CONGREGATION, and INCONCESSUS LUX LUCIS and embarked upon the Sons of Rebellion tour throughout Europe. 

At the onset of the world plunging headfirst into the pandemic, the band locked themselves away to write and record their fourth assault, 'An Outlaw's Stand.' Upon reflection, this new offering encompasses the entire history of NOCTURNAL GRAVES, compiling eight tracks of sheer ferocity and raw, untamed black and death metal. 

Style: Death Metal Savagery

Links:
https://www.facebook.com/nocturnalgraves
https://www.instagram.com/nocturnal_graves_official

Lineup:
J.R. : Drums, Rhythm Guitars, Bass, Lead Vocals
Decaylust: Lead Guitars, Vocals
Shrapnel: Lead Guitars
Prain: Vocals

Produced by: Nocturnal Graves, engineered by Jarro Raphael
Recording studio: I-HQ Recordings, Australia
Mixing: Jarro Raphael
Mastering: I-HQ Recordings, Jarro Raphael

Cover art: Simon Turner

Presskit: https://presskit.season-of-mist.com/Nocturnal_Graves
Username : presskit
Password : Presskitofmist

The radio single for "Command for Conflict" has been cleared for immediate airplay and can be downloaded (in mp3) HERE.

Pre-sales: https://redirect.season-of-mist.com/NocturnalGravesShop

Album formats:CD Digipak
12" Gatefold vinyl (Black)
12" Gatefold vinyl (Dracula / 250 copies)
12" Gatefold vinyl (Smokey / 400 copies)
Digital