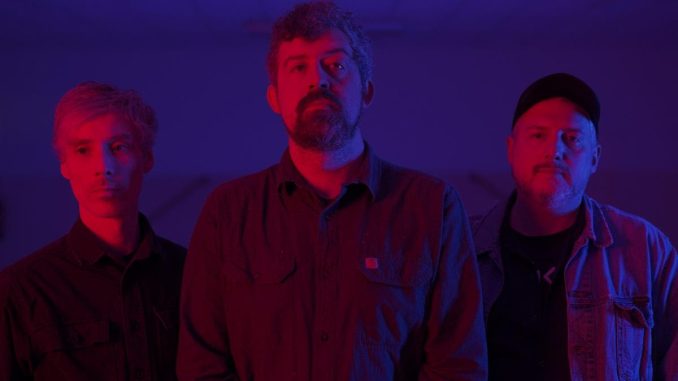 New Album 'Eye Of Night' Out February 23, 2023
Today, Svart Records announces the sophomore album 'Eye Of Night' by Irish synthetic kraut-metal trio No Spill Blood. After the 2015 debut 'Heavy Electricity', the synth-bass-drums trio have spent the pandemic years working on a triumphant return, set to be released on February 23, 2023. No Spill Blood will embark on a 14-date Euro tour with Year of No Light to support the album starting February 4th.

As showcased by the new single "Anvil Crawler" (LISTEN HERE), the Dublin trio have refined and developed their signature sound, incorporating elements of doom and thrash into their synthetic kraut metal. 'Eye of Night' is a feast of thunderous riffs, propulsive rhythms, cosmic textures, and moments of far-reaching minimalism. An arsenal of analog synths and electronics alongside pounding low-end strumming underpin a series of inward-folding tales of a protagonist's journey within the self. An exploration of the cosmos within, an engagement with the inner recesses, bearing witness to lies beneath the real.

The album is adorned with iconic artwork by legendary artist Michael Whelan, it was mixed by Phil Manley (Trans Am, The F**king Champs) and mastered by James Plotkin (Khanate, Sumac, Zombi, etc). Eye of Night will be released on vinyl, CD and digital formats on February 23rd.

Formed in Dublin, Ireland in 2011, No Spill Blood are a forward-thinking synth metal band consisting of Matt Hedigan (bass, vocals), Ruadhan O'Meara (synths and electronics) and Ror Conaty (drums). Their sound has been described as a distinctive blend of heady, electronic riffs and crushing electronics which draws elements from synth punk, noise rock, classic doom, and experimental esoterica. The band's debut album was on Sargent House in 2015, and they have performed live with Russian Circles, Baroness, Boris, The Fall and Deafheaven.
'Eye of Night' (Tracklist)
Cradle Scythe
Anvil Crawler
Ad Unguem
Toom
Eye Of Night
Ekur
Cimmerian Maw
Ossein
–
Dead Satellite
Tour Dates with Year of No Light
04.02. Le Rex, Toulouse, France
05.02. Bateau Ivre, Tours, France
05.02. Petit Bain, Paris, France
08.02. Jubez, Karlsruhe, Germany
09.02. JunkYard, Dortmund, Germany
10.02. HeadCRASH, Hamburg, Germany
11.02. Cassiopeia, Berlin, Germany
12.02. KuBa, Jena, Germany
13.02. Hansa39, Munich, Germany
14.02. Klub 007 Strahov, Prague, Germany
15.02. Dürer Kert, Budapest, Hungary
16.02. Viper Room, Vienna, Austria
17.02. Kulturzentrum Alte Mälzerei, Regensburg, Germany
18.02. Amalgame, Yverdon, Switzerland