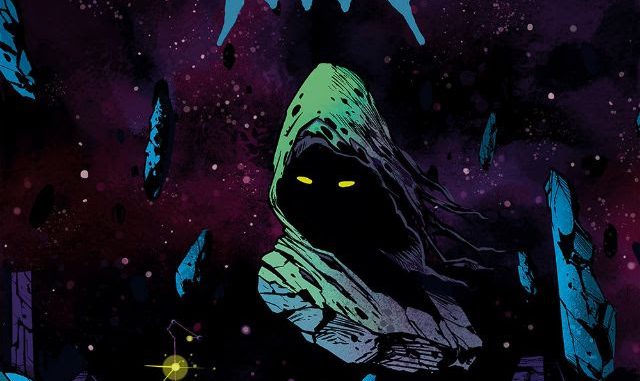 Blackened heavy metal outfit
NITE
will be releasing their sophomore full-length, 'Voices of the Kronian Moon,' on
March 25, 2022
via Season of Mist, making it the band's debut to the label! The band has partnered up with Metal Injection to premiere their brand new song, "Acheron," which can be heard at
THIS LOCATION
.
NITE mainman Van Labrakis comments: "'Acheron' opens our upcoming album and introduces us to the world of Kronian Moon. It's our take on the myth of the ancient river, where Charon led the souls of the dead past the gates of the underworld. In this case the Acheron river is a journey through space and time. A transformation and the beginning of a journey in an ancient alien world."
'Voices of the Kronian Moon' is available to pre-order HERE. The album and singles can also be pre-saved across streaming services HERE.
NITE, "Acheron" (Official Song Premiere) 2022
The album art, which was created by street artist DEIH, can be found below along with the tracklisting.
Tracklist:
01: Acheron (04:44) [LISTEN]
02: Kronian Moon (03:59) [WATCH]
03: Last Scorpion (04:40)
04: Liber ex Doctrina (04:44)
05: Heliopolis (04:32)
06: Edge of the Night (05:04)
07: Thorns (04:56)
08: The Trident (04:23)
Total running time: 00:37:02
The San Francisco Bay Area has a history steeped in forward-thinking, technically dazzling metal, and NITE carries that torch with pride. Founded in 2018, their blackened heavy metal brand barrels towards the peril of an unknown future, while keeping one eye on the days when blistering leads once ruled the land. Guitarists Van Labrakis (Satan's Wrath, Mencea) and Scott Hoffman (Dawnbringer, High Spirits) let loose galloping riffs and harmonies that evoke the classic sounds of the N.W.O.B.H.M., with Labrakis' grizzled voice driving their dark, melodic metal into the modern era.

With Avinash Mittur (Wild Hunt) replacing founding bassist Bryan Coons in early 2021, he and drummer Patrick Crawford (Serpents of Dawn, Older Sun) make up a rhythm section that's fierce yet breathlessly precise: a freewheel pounding reminiscent of the early days of heavy metal, with a Rickenbacker-powered roar fueling the low end. NITE's debut full-length Darkness Silence Mirror Flame, released in March 2020 by Creator-Destructor Records, earned widespread praise. It showcased their fist-raising classic heavy metal that nearly every fan of the genre once fell in love with, but with a twisted and shadowy edge that the titans of old could never imagine. NITE is the flame of the past illuminating the darkness of tomorrow.

Genre: Blackened heavy metal

Lineup:
Van Labrakis: Guitar / Vocals
Scott Hoffman: Guitar
Avinash Mittur: Bass
Patrick Crawford: Drums

Recording Studio: 210 Studios San Francisco and The Hoagie Container

Producer: Van Labrakis and NITE

Mixing, mastering, sound engineer: Van Labrakis

Cover Art: DEIH

Links:
Website: http://nitemetal.com
Facebook: https://www.facebook.com/nitemetal
Twitter: https://twitter.com/nitemetal
Instagram: https://www.instagram.com/nitemetal
YouTube: https://www.youtube.com/channel/UCo7-UhuJNohvsMB2DP05LAQ
Bandcamp: https://nitemetal.bandcamp.com/
Spotify: https://open.spotify.com/artist/6MjCnAA9RF0vy3j6QYyLG0
Apple Music: https://music.apple.com/us/artist/nite/1499573755