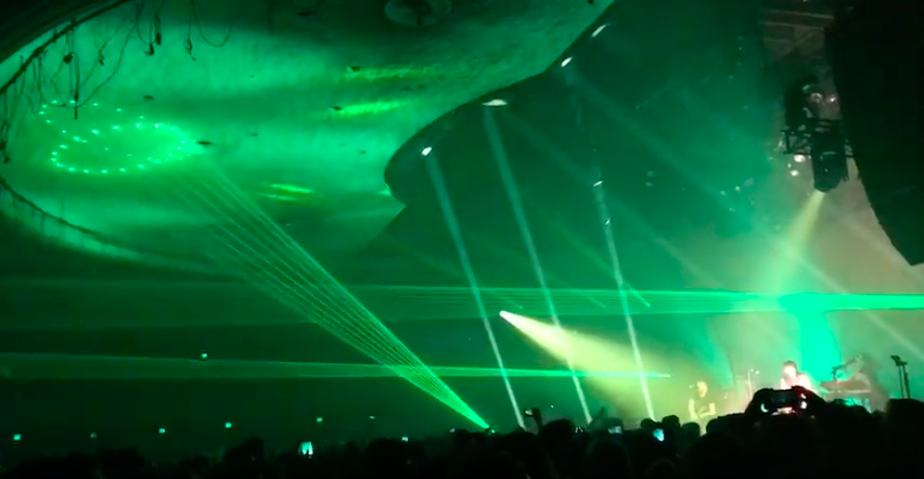 I credit Trent Reznor and Nine Inch Nails for opening my world up to electronic and industrial music. When I was an angsty teen all I really listened to was Metallica, Nirvana, Megadeth… the standard metal fare. Stuff that had guitars or course… anything without guitars was a waste of my time… or so I thought.
Then I heard "Wish" by Nine Inch Nails… it was dark, heavy, electronic… and it had that element that Trent's music before it had been missing… serious guitar. I instantly ran out and bought "Broken" Nine Inch Nails 2nd "official" release an EP. Broken, and countless other NIN releases have received steady and continual play from me over the years, but the Broken EP holds a special place in my heart. It was my gateway to electronic music…
I originally bought tickets for the show on Saturday Dec. 8th. After attending that show I was somewhat disappointed. The show was really low energy and the band did mostly songs from what is probably my least favorite NIN record "The Fragile" – it wasn't a bad concert. Just not what I preferred… So when a friend offered me a ticket to Tuesday night's show I jumped at the opportunity and I'm glad I did.
This was my favorite NIN concert I've seen to date. The reason? They played the ENTIRE BROKEN EP!! Not continually but they hit every single song on it, even the instrumental track "Help Me I Am In Hell" got love. In addition to them playing the entire Broken EP during the course of this show, they also played a large portion of the Downward Spiral record and some of the best stuff from "Pretty Hate Machine". On top of all this we also got a few rare soundtrack songs – "Burn" from Natural Born Killers and "Dead Souls" from The Crow soundtrack.
I took some footage that you can find in a YouTube playlist below, but let's walk through the set list real quick because it's a great one…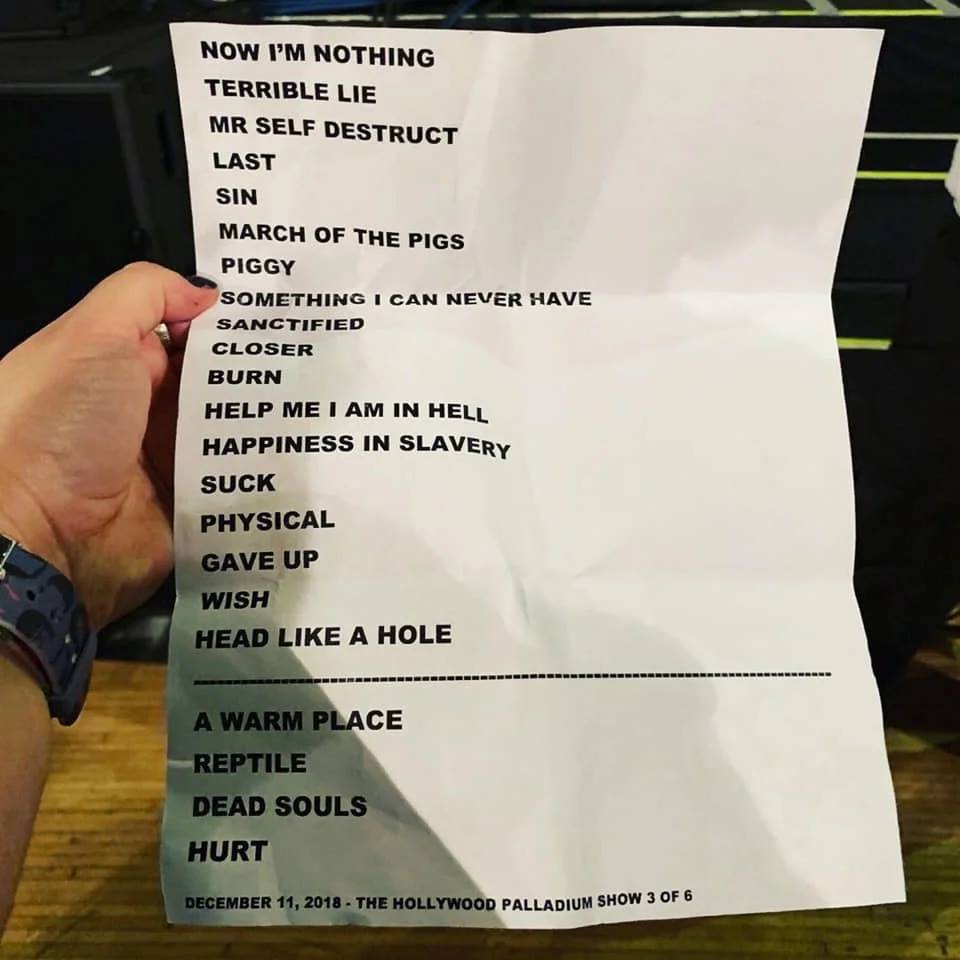 "Now I'm Nothing" – is a song that was mostly written for live scenarios as an intro to…
"Terrible Lie" – Hands down one of my favorite NIN songs and a great way to kick off a HARD set.
"Mr. Self Destruct" – The 1st track from Downward Spiral and another hard hitter.
"Last" – One of my all time favorite NIN songs, a great way to start with the Broken tracks.
"Sin" – This song ties in so well to "Last" and is another classic from the Pretty Hate Machine record.
"March of the Pigs" – Another hard as f**k track to get the crowd amped.
"Piggy" – Now Trent pulls back to "Piggy" a song I've never heard them do live before. It was a great transition from March of the Pigs into this one too.
"Something I Can Never Have" – Another of my favorite tracks from the Pretty Hate Machine album.
"Sanctified" – Staying on the great PHM songs with this one…
"Closer" – NIN's biggest radio hit – a necessary goal post to hit.
"Burn" – Now this one got me excited because it's another I've never seen them play (even though they did it on Saturday w/ the Fragile stuff this one just felt better)   
"Help Me I am in Hell" – *Ahhhh Broken*
"Happiness in Slavery" – Yes, more of the Broken EP.
"Suck" – Wow even the hidden track on Broken? Thanks Trent!
"Physical" – Wow the OTHER hidden track too?
"Gave Up" – Oh wow this is officially Broken hour.
"Wish" – And Trent rounds out the Broken stuff with his 2nd biggest hit ever… Wish.
"Head Like a Hole" – This is the crown jewel… maybe this is Trent's 2nd biggest hit after Closer? All I know is Closer is #1.
ENCORE
"A Warm Place" – A slow build back into something…
"Reptile" – My favorite song from the Downward Spiral – check out these lazers…
"Dead Souls" – A real crowd pleaser.
"Hurt" – Not my favorite NIN song but a great way to end the show… the noise at the end was fitting as we exited the venue.
This was again, probably the best NIN live show I have seen to date. I believe these were the last dates in the tour so I was honored to catch them. Will NIN tour again? My guess is yes… if they do, get out and see them!!
Here's all the footage I took in one playlist – starting with the opening act "The Jesus and Mary Chain."