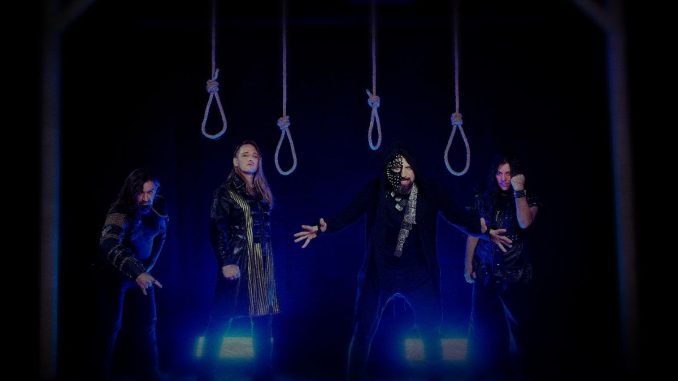 Greek melodic metal masters NIGHTFALL will be releasing their new full-length, 'At Night We Prey,' on March 5, 2021 via Season of Mist, making it the band's debut to the label! The album details and artwork can be found below. In addition, the band has shared the first single from the new effort, "Darkness Forever," which can be heard at THIS LOCATION.

The new album is now available for pre-orders HERE.

Vocalist Efthimis Karadimas comments on the track: "This song was originally inspired by Isaac Asimov's nouvelle Nightfall. It is called 'Darkness Forever' because of its analogy to what one experiences when in deep depression. Hope seems to be nowhere near and help from others is never enough to bridge the gap between shattered psyche and real world. Incapacity to communicate this harsh condition, to explain what all is about, is suffocating. And as all beings struggling to breathe, reactions are neurotic and violent."
Nightfall – Darkness Forever (official lyic video) 2020
NIGHTFALL have previously announced new European tour dates together with Draconian in March 2021! A full list of confirmed shows can be found below.
NIGHTFALL Euro Tour 2021 (w/ Draconian):
03/11/21: Warsaw (PL) @ Hydrozagadka
03/12/21: Gdansk (PL) @ Drizzly Grizzly
03/13/21: Berlin (DE) @ Nuke
03/14/21: Leipzig (DE) @ Hellraiser
03/15/21: Prague (CZ) @ Black Pes
03/16/21: Regensburg (DE) @ Eventhall Airport
03/17/21: Mannheim (DE) @ MS Connexion Complex
03/18/21: Dortmund (DE) @ Junkyard
03/19/21: Hamburg (DE) @ Kronensaal
03/20/21: Enschede (NL) @ Metropool
03/21/21: Rotterdam (NL) @ Baroeg
03/22/21: Antwerpen (BE) @ Zappa
03/23/21: Rennes (FR) @ Ubu
03/24/21: Paris (FR) @ Petit Bain
03/25/21: Wetzikon (CH) @ Hall of Fame
03/26/21: Paderno (IT) @ Slaughter Club
03/27/21: San Donà di Piave (IT) @ Revolver
03/28/21: Vienna (AT) @ Viper Room
The album artwork for 'At Night We Prey' was created by Travis Smith and can be found below along with the tracklist.
Track-list
1. She Loved the Twilight
2. Killing Moon
3. Darkness Forever
4. Witches
5. Giants of Anger
6. Temenos
7. Meteor Gods
8. Martyrs of the Cult of the Dead (Agita)
9. At Night We Prey
10. Wolves in Thy Head
Total: 46:10
It has been seven long years since the world was last blessed with new music from the melodic blackened death metal stalwarts of NIGHTFALL. While the band has been absent from the scene since the release of 2013's Cassiopeia, their legacy has not been forgotten. Comprising the holy trinity of Greek metal – along with ROTTING CHRIST and SEPTICFLESH – NIGHTFALL was the first extreme act in the country to sign an international deal, introducing the world to the burgeoning Mediterranean scene in the early 90s. Now, the band is plotting a triumphant return with At Night We Prey, the darkest and latest chapter of NIGHTFALL's already storied career. Unlike past efforts, the band abandons any gothic aesthetic, traversing more into a melodic assault that calls to the sounds of Gothenburg, displaying an obvious maturation from the band that showcases their most serious, evolved, and tightest effort to date.

During the first decade of NIGHTFALL's lifespan, the band headlined stages across Europe. Thereafter, went on to dominate international festivals such as Brutal Assault, Sonisphere, and Wacken, the latter of which the band solidified their legacy as the first ever Greek band to earn an envied spot at the renowned festival. The band eventually made the decision to switch to a studio act before they went completely silent. When reflecting upon the sudden disappearance after a steady rise from the underground, vocalist and founding member Efthimis Karadimas explained that it was due to an all too familiar beast – depression. "It's because of depression that kicked in as early as mid-00s. I can write for hours and get into details about stuff gone wrong or mistreated situations, but the basis of all discouragement to move on has been depression and the effort required to get over it." Despite the dark days, Karadimas did not abandon music entirely, moving on to form THE SLAYERKING, a gothic doom metal band that has released two agonizing full-length records between 2016-2019.

Alas, the abrupt departure of the band was not the final "goodbye" as NIGHTFALL has been reinvigorated with a new lineup and coveted deal with Season of Mist. Karadimas has reunited with original NIGHTFALL guitarist Mike Galiatsos, who helped define the band's sound during the early years. With the addition of drummer and producer Fotis Benardo (ex-SEPTICFLESH) as well as guitarist Kostas Kyriakopoulos (THE SLAYERKING), the band is finally ready to release the tenth studio album At Night We Prey. In addition to the long-awaited new music, Season of Mist will also be re-issuing the band's original albums that were produced by Holy Records back in the 90s. This is not the only news the band has to share as NIGHTFALL has also vowed to finally perform again. "We are gonna play these live, including stuff never played live before," says Karadimas.

At Night We Prey is a very dark and personal effort, tackling the topic of Karadimas's battle with depression. "A beast I have experienced its teeth deep into my soul, I decided to come out and share that experience with metalheads," Karadimas laments. "This is the least I can offer now to the big fight against depression. If we do not stop this, it will eat us all alive. Share your pain, speak openly about it. This is the only way to kill the demons in your mind."

Genre: Melodic Death Metal

https://www.instagram.com/nightfallband
https://www.facebook.com/nightfallbandofficial

Line-up
Efthimis Karadimas : Bass, vocals
Mike Galiatsos : Guitar
Kostas Kyriakopoulos : Guitar
Fotis Benardo : Drum

Recording studios: Devasoundz studios and Soundflakes studios (Athens)
Producers: Efthimis Karadimas and Fotis Benardo
Engineers: Fotis Benardo, Thimios Krikos, Aggelos Karatzas
Mixing studio and engineer: Orgone studios, London, by Jaime Gomez Arellano
Mastering: Maor Appelbaum Mastering, Los Angeles, by Maor Appelbaum

Guest musician: Female vocals by Eleni and Souzana Vougioukli

Cover art: Travis Smith

Press-Kit: https://presskit.season-of-mist.com/Nightfall
Username: presskit
Password: Presskitofmist

Pre-sales: https://redirect.season-of-mist.com/NightfallAtNightWePrey

Available formats:
CD Digipak
LP in various colours
Digital

For more on NIGHTFALL, visit the band's official FACEBOOK, BANDCAMP, and INSTAGRAM.