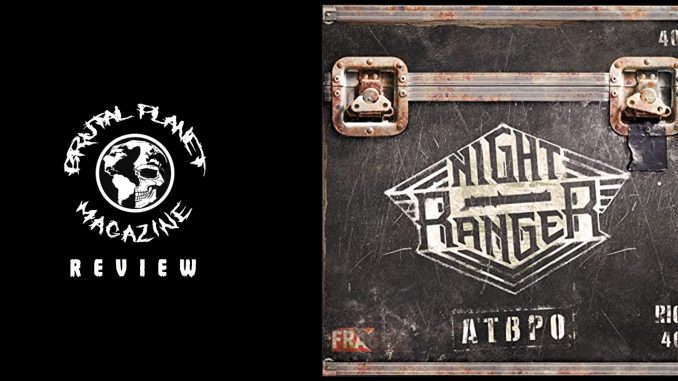 Night Ranger has been providing the world with a fantastic brand of Rock and Roll since the mid-'80s. What is their brand of Rock and Roll? A mix of shredding guitars, dual vocal duties, and catchy lyrics. In 2021 Night Ranger will release their 12th studio album called "ATBPO" (which stands for And The Band Played On), which is an ode to making music during the covid era. Night Ranger took time during lockdown to create this masterpiece that combines a classic sound with fresh lyrics and their signature guitars riff and solos.
ATBPO starts with "Coming For You," a fun fast pasted song with some amazing guitar and a catchy chorus. As the album continues, "Bring It All Home To Me" provides a great beat that is sure to be a road trip classic. Cruising down the California coast in a convertible seems to have a new theme song. Things continue through "Breakout" to one of my favorite songs on the album called "Hard To Make It Easy." The song has a "twangy," almost country-like feel to it and adds piano to give it a barroom feel. Brad Gills slams an amazing guitar solo mid-way through the song. A ballade comes as the song "Can't Afford A Hero." "Cold As December" is another favorite of mine. The heavy guitar riffs sync with jack Blades vocals amazingly. "Dance" is a song that subtly reminds me of a Bryan Adams song. Coming out of the guitar solo, they use some orchestration that fits the song perfectly. This song is easily my favorite on the album. It has everything needed to be classic. Things slow down again for "The Hardest Road," then pick right back up for "Monkey." "A Lucky Man" provides a fun beat with catchy lyrics. A crescendo of perfection comes at the end of the album with "Tomorrow." A classic Night Ranger track with the perfect combination of Jack blades and Kerry Keggy on vocals. The song sounds as if it would fit perfectly into the bands' best of and, it is a brand new song. If you want a feel of what to expect from all of "ATBPO," listen to "Tomorrow" first.
If you didn't know who Night Ranger was and you heard this album, you would think these guys have what it takes to sell over 17 million albums over 40 years. Night Ranger is nowhere close to slowing down, and ATBPO proves that. Pick up your copy of ATBPO when it is released on August 6, 2021, via Frontier Records.