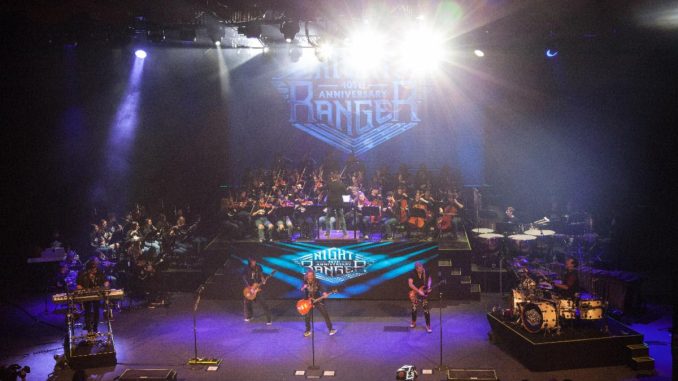 '40 Years and a Night with Contemporary Youth Orchestra' Out October 20th via Frontiers Music SRL
Pre-Order HERE
Share New Single "(You Can Still) Rock in America (Live)" & Live Music Video! — Watch HERE
Currently on Tour in Celebration
of Their 40th Anniversary
Legendary rockers, NIGHT RANGER are releasing a brand-new live album titled, '40 Years and a Night with Contemporary Youth Orchestra', that is due out October 20, 2023. The live album and live performance footage will be available on CD, Vinyl (including limited editions), DVD, Blu-ray, and digitally across all streaming platforms worldwide. This release comes as they approach the anniversary of date it was recorded, just one year ago in Cleveland on November 9th, 2022.

The first single from the album, "(You Can Still) Rock In America (Live)," is out today, along with a live music video.

"It was a dream come true to have NIGHT RANGER music accompanied by an entire symphonic band… including our own! Although now, we're spoiled, and we want to carry the orchestra with us everywhere we go!!" — Jack Blades

"Playing the show with the Cleveland CYO and being able to record It was an incredible and unique experience. To have younger musicians not only embrace but enjoy playing our music was a new high for us as a band. You could see all the hard work they put into rehearsals, and finally getting to perform it live was an incredible new benchmark in our career." — Kelly Keagy

"I can check this one off my bucket list. Having the CYO backing us for this show was just amazing and it really took NIGHT RANGER to another level. Looking forward to its release and sharing with the world!" — Brad Gillis
'40 Years and a Night with Contemporary Youth Orchestra' Track List:
1) Intro
2) (You Can Still) Rock In America
3) Four In The Morning
4) Sing Me Away
5) Call My Name
6) Sentimental Street
7) High Road
8) Night Ranger
9) Goodbye
10) When You Close Your Eyes
11) Don't Tell Me You Love Me
12) Sister Christian
13) High Enough (Bonus Track – Japan)
This one-of-a-kind, one night only NIGHT RANGER performance with Cleveland's own Contemporary Youth Orchestra was at the Key Bank State Theatre in Cleveland, OH on November 9, 2022. The Contemporary Youth Orchestra (CYO) is made up of 80+ musicians aged 12 to 18, representing more than 40 schools in Ohio. It fosters students' technical ability and creative growth in both an inspiring and supportive community. The students performed alongside NIGHT RANGER throughout their entire set and these unique renditions of their greatest hits was also their first time ever performing with a symphonic orchestra live. All of this is what made this a truly once in a lifetime NIGHT RANGER concert event.

Contemporary Youth Orchestra was founded in 1995 and its mission is to change lives through the study and performance of new and contemporary music and introduce students to opportunities in the creative arts industries. The CYO vision is to create experiences that foster imagination, develop independent thinkers, and inspire confidence through music. Contemporary Youth Orchestra includes advanced ensembles that focus on the study and performance of orchestral works by living composers. In residence at Cuyahoga Community College (Metro Campus), CYO has grown to include a full orchestra, wind, string, and percussion ensembles. CYO inspires and nurtures young musicians as they are challenged to explore creativity, enhance their work ethic, and increase their capacity to function as a team. CYO musicians bring the energy of youth and the quality of professional playing to the concert stage. CYO has previously collaborated with Jefferson Starship, Styx, Pat Benatar and Neil Giraldo, and Kenny Loggins (among others) for orchestral concerts featuring the artists' work.
NIGHT RANGER has recently come off the nationwide Parti Gras Tour with Bret Michaels. They continue to tour around the world in celebration of their 40th Anniversary. See NIGHT RANGER on the road in these cities for the remainder of 2023.
Click HERE for full list of dates.
8/12 Durant, OK Choctaw Casinos & Resorts – Grand Theater
8/18 Escanaba, MI Upper Peninsula State Fairgrounds
8/19 Beaver Dam, WI Dodge County Fairgrounds (Dodge County Fair)
8/24 Worley, ID Coeur D'Alene Casino Resort Hotel
8/26 Castle Rock, CO Philip S. Miller Park Amphitheater
8/31 Las Vegas, NV The STRAT Hotel, Casino & SkyPod
9/1 Las Vegas, NV The STRAT Hotel, Casino & SkyPod
9/3 Lincoln, CA The Venue at Thunder Valley
9/8 Jackson, MI Optimist Ice Arena
9/10 Decatur, IL Devon Lakeshore Amphitheater
9/15 Helena, MT Lewis & Clark County Fairgrounds
9/29 Cherokee, NC Harrah's Cherokee Casino Resort
10/6 Rohnert Park, CA Event Center at Graton Resort and Casino
10/8 Umatilla, OR Rock the Locks Music Festival
10/14 Chandler, AZ Gila River Hotels & Casino – Wild Horse
10/20 Kansas City, MO Ameristar Casino
10/21 Little Rock, AR Arkansas State Fair
10/25 Anaheim, CA City National Grove of Anaheim
10/26 Ivins, UT Tuacahn Center for the Arts
10/27 Stateline, NV Harrah's Lake Tahoe – South Shore Room
11/4 Vinton, LA Delta Downs Racetrack and Casino
11/8 Costa Mujeres, Mexico Planet Hollywood Cancun
11/17 Tacoma, WA Emerald Queen Casino
11/18 Ferndale, WA Silver Reef Casino
12/15 Mahnomen, MN Shooting Star Casino
Night Ranger are:

Jack Blades – Vocals, Bass

Kelly Keagy – Vocals, Drums

Brad Gillis – Lead & Rhythm Guitars

Eric Levy – Keyboards

Keri Kelli – Lead & Rhythm Guitars