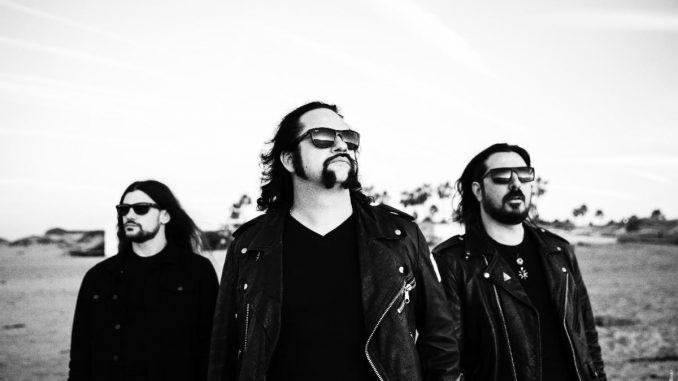 new compilation, 'Year of the Demon', now available for pre-order
Album artwork by: Don Phury
On March 25th, Southern California metal masters Night Demon will release a special compilation album – titled Year of the Demon – via Century Media Records. Comprised of the band's five standalone 7″ singles from 2020, this 10-track collection features original songs, cover tunes, and previously unheard live recordings. Pre-order your copy of Year of the Demon (in the available formats listed below) at: https://nightdemonmusic.lnk.to/YearOfTheDemon. For a preview of the record, Night Demon has launched a new single – a cover version of Thin Lizzy's classic "The Sun Goes Down" – which can be heard here: https://youtu.be/O7TW9LZNZw8
The previously released track – a cover of Cirith Ungol's "100 MPH [feat. Tim Baker (Cirith Ungol)]" – is also available here: https://www.youtube.com/watch?v=WFJ_eyaCqc4
Jarvis Leatherby (Vocals / Bass) comments: "2020 was certainly the 'Year of the Demon' in so many ways! Never in our wildest imagination would we be releasing (5) 7″ singles in a calendar year, and nowhere in our fans' imagination would one of the hardest touring bands of the last decade be sidelined (along with the rest of the world) by this virus that demonized our lives. We are proud to finally release these songs as a complete collection and include the rare B-sides that only saw the light of day on the collector's record player. Here's to 2022 and the future bringing us all something more to hope for. We have a lot more to come this year!"
When the world came to a gut-wrenching halt in March 2020, Night Demon's extensive touring plans were derailed; however, their creative flame burned brighter than ever. In the spring and summer of 2020, the band unleashed a series of five standalone, limited 7″ singles, which their loyal legions voraciously devoured; all physical product sold out instantly. Aside from the original songs (which were also released on digital/streaming platforms), the single recordings were exclusive to the 7″ vinyl pressings; they have never been made available to the public for purchase in any other format – until now, with Year of the Demon.
Year of the Demon track-listing
1. Empires Fall
2. Kill The Pain
3. Are You Out There
4. Vysteria
5. In Trance (Scorpions cover, live feat. Uli Jon Roth)
6. Fast Bikes (LeGriffe cover)
7. 100 MPH [Cirith Ungol cover, feat. Tim Baker (Cirith Ungol)]
8. The Sun Goes Down (Thin Lizzy cover)
9. Wasted Years (Iron Maiden cover, live)
10. Top Of The Bill (Scorpions cover, live feat. Uli Jon Roth)
Year of the Demon format details:
–Digital Album
–Ltd. CD Edition
–Black LP
–Silver LP [limited run: available at Nuclear Blast (100 units) and USA outlets (1000 units)]
–Lilac LP [limited run: available at CM Distro (500 units)]
–Sky Blue LP [limited run: band exclusive (300 units)] **USA customers, please visit: https://the-heavy-metal-store.myshopify.com/collections/night-demon-official-us-merch-store; international customers, please visit: https://nightdemon.bandcamp.com/**
Pre-order your format of choice HERE!
For a decade, the name Night Demon has been synonymous with top-shelf traditional heavy metal. Indeed, the trio consisting of Jarvis Leatherby (vocals/bass), Armand John Anthony (guitar) and Dusty Squires (drums) have been long been lauded as purveyors of stellar songs, searing live shows, and a relentless work ethic. Now, they return with Year of the Demon, which collects all five of the rare, out-of-print 2020 singles for a unified compendium that will be available in a broad range of physical and digital formats. The reason for compiling this album is simple: these songs deserve a wider release than the collector's edition 7″ vinyl treatment that they received in 2020. Year of the Demon captures a year in the life of Night Demon, a year in the life of us all, unlike anything any of us had ever experienced before.

For Night Demon fans that are ravenous for fresh material – 2022 truly is "the year of the demon"! In addition to the compilation due out in March, the band is excited to reveal that they are presently working on a new studio album, with a scheduled release date of November 4th, 2022. Stay tuned for more details coming soon!
Photo Credit: Peter Beste
Line-up:
Jarvis Leatherby – Vocals / Bass
Dusty Squires – Drums
Armand John Anthony – Guitars
Night Demon online:
www.instagram.com/nightdemonmetal