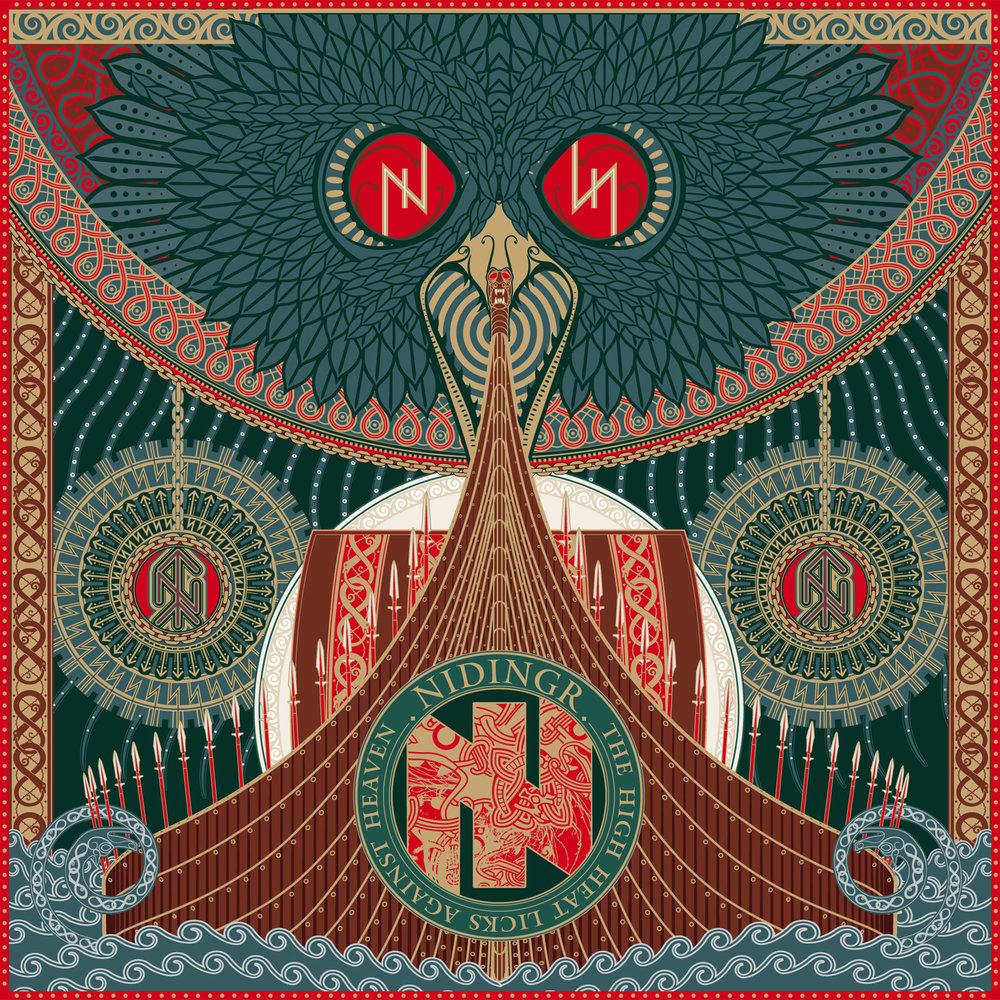 On the heals of the two-year anniversary of the release of Norwegian metal extremists
NIDINGR's fourth full-length album, 'The High Heat Licks Against Heaven,' guitarist Teloch (
MAYHEM, ex-GORGOROTH, ex-1349)
has shared guitar play-through videos for the album's cuts, "On Dead Body Shore" and "Valkyries Assemble."

The play-through clip for "On Dead Body Shore" can be viewed at THIS LOCATION while "Valkyries Assemble" is available HERE.

Additional play-through videos from Teloch can be found on his official YouTube page.
'The High Heat Licks Against Heaven' is available now via Season of Mist in a CD digitpak and multi-colored vinyl formats. It can be ordered HERE.
Back when "On Dead Body Shore" was released onto the masses for the very first time, Teloch commented, "To me this song solidifies a thing that is fucking great about Nidingr – no rules. When being genre Nazis like most black metal bands are, you lose the ability to write songs that you would otherwise want to. This song proves that at least we, who have the balls to do it, do not need to constrict ourselves to one specific genre, like some no-brain capacity black metal elitist feel like they have to."
The cover art for 'The High Heat Licks Against Heaven,' illustrated by Valnoir/Metastazis (WATAIN, BLACK ANVIL, THE BLACK DAHLIA MURDER, ALCEST, PARADISE LOST, and more) can be found below along with the track-listing:
Track List
1. Hangaguð
2. Surtr
3. The Ballad of Hamther
4. On Dead Body Shore
5. Gleipnir
6. Sol Taker
7. Ash Yggdrasil
8. Valkyries Assemble
9. Heimdalargaldr
10. Naglfar Is Loosed
NIDINGR was  founded by MAYHEM guitarist Teloch, and named after an old Norse insult meaning "scoundrel" or "villain," or a person of hatred and sin. The band features Cpt. Estrella Grasa on vocals, Teloch (MAYHEM, ex-GORGOROTH, ex-1349) on guitar, Myrvoll on drums and SIR (Gaahls WYRD, GORGOROTH) on bass.

Photo by Jon Levi Pedersen
'The High Heat Licks Against Heaven' is 10 tracks of scathing, caustic metal that showcases the band at the height of their powers. Sharp riffs twist and turn as they collide with explosive drumming, while vitriolic screams are unleashed from the depths of hell. Ambitious tracks such as "Surtr," "Sol Taker,"  "Heimdalargaldr," "On Dead Body Shore," and more, champion NIDINGR as the leaders of forward-thinking extreme music. 'The High Heat Licks Against Heaven' is total death worship, and sets a new bar for extreme aural domination.
"NIDINGR manage to carve out a stylistically interesting path to Valhalla. Ultra modern black metal with a temporal shift back to elder chapters of Norse mythology, 'The High Heat Licks Against Heaven' blends its disparate elements into an absorbing listen, and as such makes it one of the stronger releases of the (still) new year." – Metal Injection (8.5/10)
"NIDINGR are definitely more in the camp of esoteric, tortured, blistering and blasphemous embrace of the most vile and offensive of humankind and their new record 'The High Heat Licks Against Heaven' is one of 2017's peak heights of extremism and expressionism. Utilizing a combination of relentless momentum, riffs that speak of the channeling of magick itself, an avant garde sense of overpowering cohesive dissonance and chunky death metal heft assisted by the bands unusually low tuned guitars, NIDINGR offer something relentless, chaotic, venomous and 100% human in the form of a 40+ minute fuck you to god, society and existence itself." – Heavy Blog is Heavy
"'The High Heat Licks Against Heaven' sufficiently entertains fans of modern black metal, and proves that NIDINGR can rouse the drifters from sleep if only for the length of time the album blasts, shreds, and tremolo picks to levels beyond sameness and monotony." – Echoes and Dust
For more on NIDINGR, head to the Season of Mist website and the NIDINGR Facebook page.