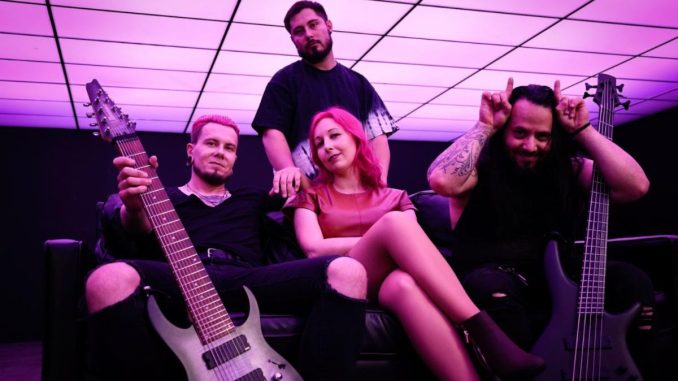 "While choosing the next track for a music video we, first, intended to pick a more typical metal song but then we thought – why won't we try another way and stay true to ourselves by not sticking to a specific narrow subgenre. Our previous music video for the track named 'Commotion' was a challenge, a scream and a position statement on war. 'Believe In Me' is a truly beautiful melody, with deep lyrics in the first part of the song. The second part, however, changes into metal sound and gives you the energy you've been searching for. We don't want to become a very predictable band doing the same things over and over. This new video is just us being honest which sometimes means being more sensitive, sometimes rude or aggressive but not monotonous for sure." – Next Door To Heaven

Watch "Believe In Me" here:
"Believe In Me" available here:
https://music.apple.com/us/album/acceptance-i-believe-in-me/1674694383?i=1674694393
https://pandora.app.link/AcqaME7bBBb
Next Door To Heaven is an international progressive/alternative metalcore band currently based in Los Angeles. After successful releases of the albums like Let's Dream, that made it to the top-20 of Google Play and "V ways to accept" that gave a band an opportunity to sign their first contract, Next Door To Heaven created a few more singles, an EP Inside, relocated to Los Angeles and re-released its hit album V Ways To Accept in black edition adding an extra track to it.
Now the band is recording a new album that will be called Disguise (Mixed by Neil Engle).
Next Door To Heaven released an animated music video "Commotion" on May 28th.
Watch "Commotion" here:
Photo credit: Donnoven Rios
Next Door To Heaven lineup:
Daria Mazunova – vocals, lyrics
Gene Mazunov – guitar, bass, vocals, composition, arrangements
Mike Moore – drums
Andrew Faust – bass guitar
Social media: https://linktr.ee/nextdoortoheavenband