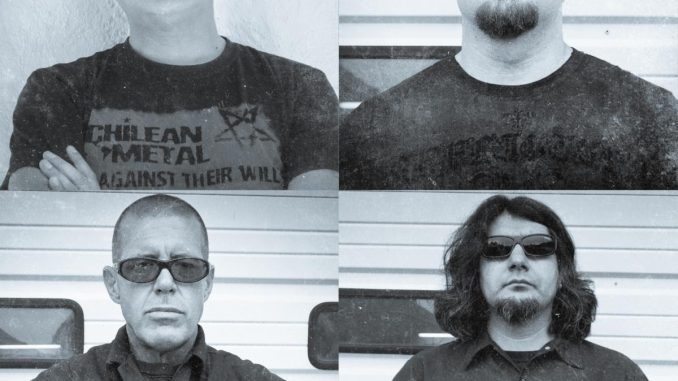 New York thrashers PIROSAINT have released a new full-length album, Know Thyself, via Digmetalworld in North America.
"This work has taken a lot longer that we have expected but we are more than happy with what we have accomplished," says drummer Ignacio Orellana. "This band has a long untold history because of its roots but we know that once we have an opportunity to show it live, we will deliver the metal goods. That's what we are about."
Know Thyself was recorded between 2013-2016 and 2020-2021 at Oily Sounds Studios NYC by Ignacio Orellana and is made up of new compositions, previously unreleased tracks and a special bonus for fans following PIROSAINT since their beginnings in 1989.
Originally based in Santiago, Chile, PIROSAINT joined a small but powerful and enthusiastic local heavy metal scene with bands such as Necrosis, Massacre and Criminal. After releasing two demos in 1992 and 1994, the band issued an EP called New God in 1997. Know Thyself, PIROSAINT's long-waited debut full-length, marks the band's second active decade.
Know Thyself track listing:
1. Better you than me
2. Bleed
3. Know thyself
4. The debt
5. Juanzer
6. Awaken my conscience
7. Everyday's war
8. Faster than before
9. Tonight
10. A new yesterday
11. Pirosaint
Know Thyself's vocal tracks were recorded by Eduardo Vidal and Andrés Valdivieso in Santiago, Chile. All guitar solos were recorded at Oily Sounds Studios by Ignacio Orellana and Angel Thorne Music CO LLC by Rob Thorne in Bethel, CT, except "Everyday's war," recorded by Regisson Silva in Sao Paulo, Brazil, at his home studio.
Outside of PIROSAINT, Orellana is a mainstay of the metal scene, spending countless hours behind the lens shooting bands of all levels in New York City and beyond.
PIROSAINT is:
Gonzalo Rodriguez – Vocals
Bill Smith – Guitars
Ron Buckner – Bass
Ignacio Orellana – Drums
PIROSAINT online: