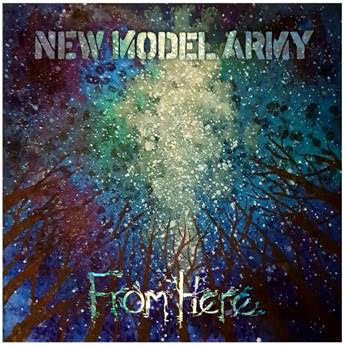 "An impassioned, impressive collection … their style remains a gritty variation on
Big Music
[with] the pounding title track fueled by righteous fury and mockery of those drunk on power. We'd all do well to listen" —
Classic Pop 4/5
"has the feel of arguably the band's finest album …a treasure trove of songs" —
Vive Le Rock 9/10
New Model Army
have released the new single "
Never Arriving
" from their forthcoming album
From Here
, out August 23 via
earMUSIC
.
Watch the video, shot close to the band's Yorkshire home by Stacy Picard and Vaughn Matthews on a cold misty day in May, here.

"Never Arriving" sees the band back in story-telling mode and on a five-minute musical journey set in the wide-open soundscape that characterizes the album. Driving rhythms, chiming guitar lines, and atmospheric passages give the deeply evocative lyrics a life of their own.

The album was recorded earlier this year on the tiny Norwegian island of Giske at the beautiful Ocean Sound Recordings studio and reflects the spectacular isolation of that environment, yet has profound messages for the world we all live in and the times we are experiencing. For a taste of the music and the environment in which it was recorded, click here.
Almost 40 years since the start of their remarkable journey, New Model Army have developed a fervent worldwide fanbase and reached multiple milestones of both creative and commercial success. Members have changed over the years and musical styles have evolved. But at the heart of the band, Justin Sullivan has remained — along with a distinct and sincere belief in the power of music to inspire and effect change on a personal and political scale, both locally and globally.

With the band's hugely acclaimed albums Between Dog and Wolf (2013) and Winter (2016) bringing renewed critical appreciation, chart success and an ever-growing audience of new fans to join the legion of faithful devotees, New Model Army return in 2019 with one of the finest records of their career.