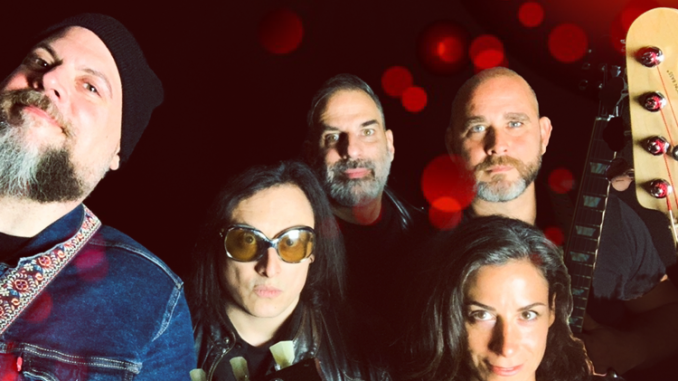 Today, Jersey City's BLACK WAIL have released their second EP of 2021, Dead Mountain (Rhyme and Reason Records). This release, the band's fifth, was recorded and produced by Mike Moebius (Kings Destroy, Pilgrim) at Moonlight Mile Studios, who they last worked with on their 2014's self-titled debut EP.
"This record is definitely on the darker side with all the down-tuned guitar goodness lovers of heavy music will enjoy," says vocalist/guitarist Michael Tarlazzi of the release.
The opening track, "Staring at the Sun" is a trashy banger that transitions into a spacey guitar-y jam before ramping back up into a super heavy crescendo. The second song and title track, "Dead Mountain" is a slow and heavy stoner jam that sees guitarist Ed
Charreun and Tarlazzi trade fuzzed-out solos for nine minutes. It's also the band's first such track. "Hot Seat 2020" is a re-recorded visit to a Black Wail live staple, while the final track, "The Frigate", is a story song about old-timey sailors meeting their demise.
Black Wail "Dead Mountain" (Official Video)
Black Wail formed in Jersey City in early 2014 when Tarlazzi, then best known as a drummer or guitarist, decided to front his own band to draw on his influences of metal, punk, psych, stoner, and classic rock; playing guitar as well as handling vocals for the first time. After recruiting Susan Lutin on bass and Bram Teitelman on keys, the lineup solidified with the addition of guitarist Ed Charreun and drummer Felipe Torres, who also play in the sludge/noise trio Twin God. Dead Mountain, the quintet's fifth EP, follows Born On Fire from earlier this year, and was produced by Mike Moebius (Kings Destroy, Pilgrim)
Michael Tarlazzi – Guitar, Vocals
Susan Lutin – Bass
Ed Charreun – Guitar
Felipe Torres – Drums
Bram Teitelman – Keys