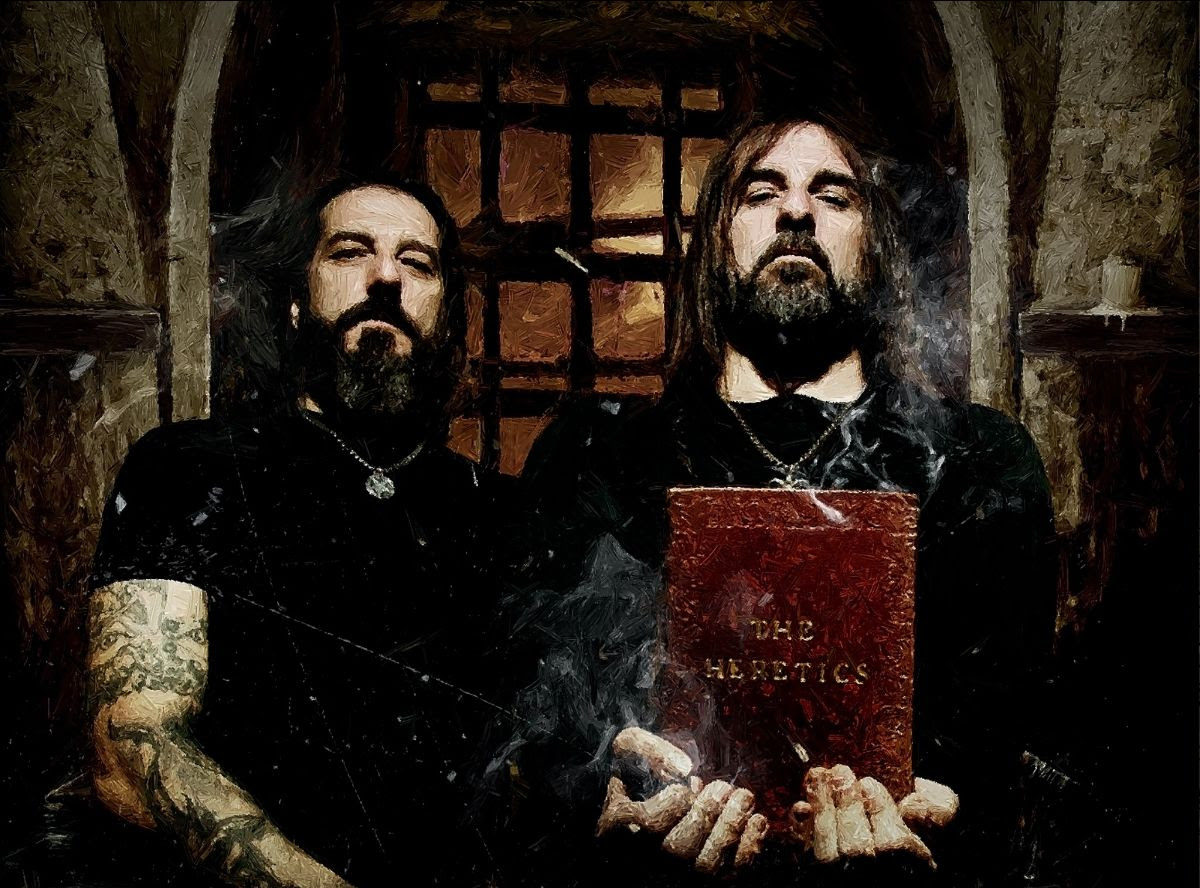 Metal veteran brothers Sakis and Themis Tolis of the Greek metal legends
ROTTING CHRIST
have been bestowed the immortal honor of having a newly discovered fossil species named after them! Two researchers from the Natural History Museum in Luxembourg, Dr. Ben Thuy and and Dr. Lea Numberger, recently found a new brittle-star species and decided to name it "Brezinacantha Tolis" in honor of the Tolis brothers.
Sakis Tolis comments, "My deepest thanks to the paleontological community, and especially to Dr. Ben Thuy and Dr. Lea Numberger, to name a fossil under my name! This is one of the greatest honors I have received as an individual and musician and gives me power to keep on creating during these wild times. Brezinacantha Tolis can be found in the Natural History Museum in Maastricht. If you are close have a look!"
Dr. Ben Thuy and Dr. Lea Numberger explain the inspiration behind the fossil name: "When we first saw the fossil brittle star, we immediately knew it was something exciting. It turned out to be a species new to science, and so we had the privilege to name it. With the choice of the name, we wanted to combine our joint passions for science and music, and decided to honour one of our favourite bands. The new fossil belongs to an animal that lived in a dark, toxic environment in the depths of an ancient ocean, dwelling on the remains of their dead predecessors. This is pure black metal! Naming this species after Sakis and Themis Tolis is our way to issue an academic recognition of their talent and hard work. Now they own a small piece of immortality, because scientific species names are for eternity."
More info on the discovery and its etymology can be found HERE.

Moreover, this is not the only exciting news the band has for this years!
ROTTING CHRIST
has recently annonced their collaboration with the creators of the PS4 game "Mortal Shell," which featured the band's epic track "Χ Ξ Σ (666)" in the official trailer! The game is set for worldwide release on August 18. The trailer can be seen at
THIS LOCATION
.
For more info on the game, visit the official website HERE!
It's not ROTTING CHRIST's first encounter with the gaming industry. Last month, the band was discovered on a poster in the game 'The Last of Us Part 2' along with label mates HORRENDOUS!
ROTTING CHRIST's critically-acclaimed record, 'The Heretics,' was released in early 2019 and can be ordered, downloaded, and streamed HERE.
ROTTING CHRIST
have reached another peak in their long career that now spans over more than three decades. The Greeks have literally stood the test of time. With a steady core line-up and their well-honed live delivery,
ROTTING CHRIST
are filling concert halls and reap enthusiastic crowd reactions wherever they go. This demonstration of love from their followers is not just driven by nostalgia as the band has managed to evolve and grow, while staying relevant beyond the classics with their highly acclaimed latest albums such as 'Aealo' (2010), 'Κατά τον δαίμονα εαυτού' (2013), and 'Rituals' (2016).
Now, with the new offering 'The Heretics', ROTTING CHRIST are opening a brand new chapter. With confidence and skills derived from experience, each song represents its own sonic universe. Guitarist and vocalist Sakis Tolis in collaboration with his brother Themis on drums achieve a perfect balance of amalgamating their classic and unique style of riffing and rhythm with exciting new elements sprinkled in to keep their material exciting and fresh. The experienced is enhanced by Jens Bogren's equally clear and transparent yet also massive as well as sombre mix and mastering at his widely renowned Fascination Street Studios (AMORPHIS, BORKNAGAR, MOONSPELL, DEVIN TOWNSEND, and many more).
ROTTING CHRIST were founded by Sakis Tolis and his brother Themis in the year 1987. Starting out on a basis of death and grind, the Greeks had already embarked on a darker musical journey by the time their debut full-length 'Thy Mighty Contract' (1993) was revealed. On the following seven albums covering a ten-year period from 'Non Serviam' (1994) to 'Sanctus Diavolos' (2004), ROTTING CHRIST steadily defined their own distinct style by experimenting with elements from death, heavy, and gothic metal without betraying their black roots. At the same time, the band went from underground heroes to headliner status. With the highly acclaimed ninth album, 'Theogonia' (2007), the Greek stalwarts added an unmistakable native element to their sound, which has remained with them as a signature trademark ever since. Exploring the mythical legacy of cultures around the globe led to ROTTING CHRIST's massively successful latest release, 'Rituals' (2016). With more than 30 years, 13 studio albums, a dozen EPs, singles and split releases, as well as more than 1.250 shows under their belt, 2018 marked the year of 'Their Greatest Spells' (2018), where they musically revisited their exciting legacy to connect their past with the present.
'The Heretics' marks another step in the evolution of the Greek masters. Buckle up for a fascinating musical ride through the woes of religious wars, Zoroastrianism and the eternal war between good and evil. Metal at its best!
For more on ROTTING CHRIST, follow their official WEBSITE, BANDCAMP, FACEBOOK, TWITTER, and INSTAGRAM.