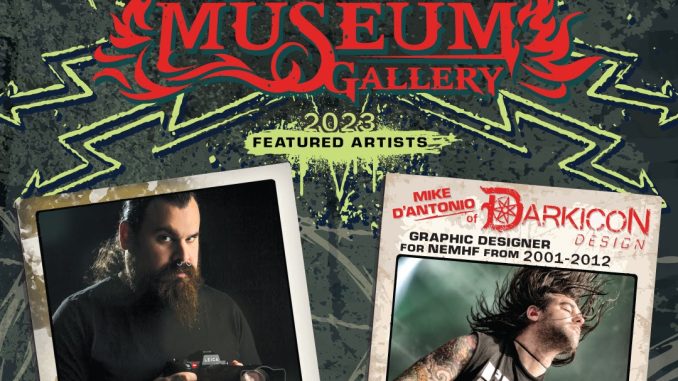 THE WORK OF KILLSWITCH ENGAGE BASSIST + GRAPHIC DESIGNER MIKE D'ANTONIO + NOTED PHOTOGRAPHER JEREMY SAFFER WILL B ON DISPLAY

EVENT RETURNS THE PALLADIUM ON SEPTEMBER 15 +16 IN WORCESTER AFTER FIVE-YEAR HIATUS

PARKWAY DRIVE + LAMB OF GOD TO HEADLINE

New England Metal & Hardcore Fest
launched back in 1999 and took place at the famed Palladium in Worcester through 2018. It was often held over two or three days, with multiple stages and top-tier acts like Megadeth, Manowar, DragonForce, Opeth, Between the Buried & Me, Meshuggah, Killswitch Engage, Suicidal Tendencies, Anthrax, and more appearing through the years. It was always a "who's who" of the metal and hardcore scene and was a "not to be missed" event each Spring.
It took a brief break after 2018 but it's back and better than ever.
The event returns as a two-day extravaganza on September 15 and 16. Parkway Drive and Lamb of God will serve as headliners, with an incredible roster of bands gracing three stages — two outside stages and the main room. VIP tickets are available here.
In addition to the killer lineup, there will be a museum and gallery celebrating the event's rich history and spotlighting the contributions of Killswitch Engage bassist Mike D'Antonio, who served as the event's graphic designer from 2001 through 2012, as well as the work of noted photographer Jeremy Saffer, who is the event's official shooter.
"I started creating New England Metal & Hardcore Fest logos and event shirts way back in 2001," says Mike D. "Every year, I looked forward to collaborating on art and developing the NEMHF brand identity. I am so proud of the growth of the festival and what it has done for Massachusetts — an absolute staple for holding a scene together and a true collision of many different styles, ideas and cultures. The return of the NEMHF is just cause for headbangers around New England to rejoice and revel in the resurgence of a legend, back from the grave."
Saffer shares, "When you are religious, you find your places of comfort and worship, you gather with friends and loved ones during the high holidays to worship. For us, for the metal and hardcore fans, our church is The Palladium, and our biggest holiday, our time to gather and worship music with our friends, has returned. I had the ultimate honor of being the photographer for this event."
He continues, "In an era when metal and hardcore were often separated, and sometimes even butting heads, this fest brought together all genres of metal and hardcover under one roof.. To play the Palladium is always an accomplishment, and for a band to play the New England Hardcore and Metal Festival was a dream. Not only did bands have the fest as a launching pad, but artists, photographers, managers, booking agents, record labels, and beyond all grew exponentially with NEMHF. It's incredible knowing that we again get to witness the bands who helped forge the world of heavy music, and those who will grow to temper and sharpen it for future generations of heavy music fans. I cant wait to have a camera in my hand, a band in front of my lens, and the words 'The New England Metal & Hardcore Festival' behind them again.' I am ready, are you?"
He finishes, "I am elated to team up with The New England Hardcore & Metal Festival to bring together a special Museum of NEMHF Visual History. While I did the official photography for the past 20 years of Metalfest, Mike D did the incredible and iconic design work, and I will be digging through the archives to bring together images in a special gallery from the past 20+ years of NEMHF along with some surprises and collaborations with Mike D, we will have some prints and other things available to celebrate the return!"
FRIDAY, 9/15:
Venue: Palladium Outdoors
Doors: 6:00 PM
Tickets: $49 ADV; $55 DOS; 2-day ticket $128.99
Lineup:
PARKWAY DRIVE (Headliner)
The Amity Affliction
Northlane
Make Them Suffer
SATURDAY, 9/16:
Venue: Palladium Outdoors
Doors: 12:00 PM
Tickets: $84.99 ADV; $100.00 DOS; 2-day ticket $128.99
Lineup:
LAMB OF GOD (Headliner)
Hatebreed
Shadows Fall
The Black Dahlia Murder
Dying Fetus
Fit For An Autopsy
Despised Icon
Chelsea Grin
Terror
100 Demons
Vein.fm
200 Stab Wounds
Crown Magnetar
Darkest Hour
Enterprise Earth
Frozen Soul
Fuming Mouth
Gates To Hell
Hazing Over
Judiciary
Momentum
Ringworm
Tribal Gaze
Undeath
Paleface (Swiss)
Jesus Piece
NEW ENGLAND METAL & HARDCORE FEST ONLINE: