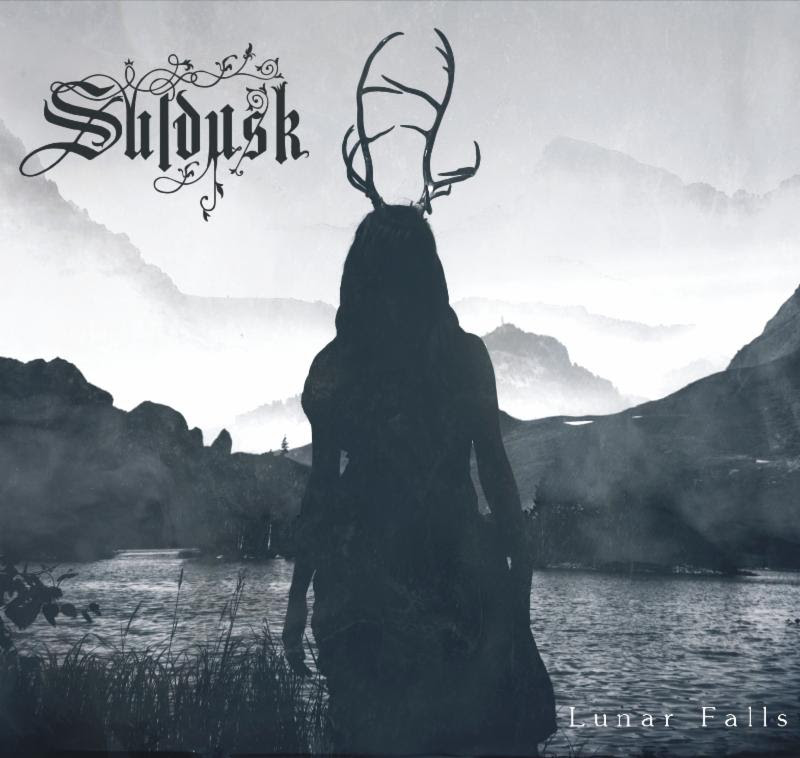 Stream Newly Revealed Track "The Elm" Here, and See Below for YouTube Links to New Tracks "Solus Ipse", "Aphasia", "Three Rivers" and "Catacombs"
Pre-Order Lunar Falls Now + Stream More Tracks via Bandcamp
Artwork by Aki Pitkänen, Narikka Photography
Hailing from Melbourne, Australia, 
SULDUSK
 – a new project led by other-worldly frontwoman Emily Highfield – weaves acoustic tones of dark folk with elements of doom, atmospheric black metal and post rock. 
SULDUSK
 is set to release her debut full-length album, entitled
Lunar Falls
, on April 12, 2019. The album is available for pre-order now via 
Bandcamp
.
The album will also be released as a Collector's Edition Digipack-CD (first press, limited to 1000 copies) and LP (limited colored vinyl with poster) via the Northern Silence Productions 
webshop
 or 
Bandcamp
 page. The limited edition LP is only available via the webshop while supplies last – only 99 copies remaining!
Lunar Falls' undercurrent theme is about living on the margins, and the intolerable suffering and sacrifice in the quest for identity. Nature provides much of the lyrical inspiration as the source of refuge and guidance throughout this quest. Lunar Falls is dedicated to the memory of late singer-songwriter Aleah Starbridge (Trees of Eternity).
Listeners can get an idea of what mystic sounds 
SULDUSK
 has to offer on 
Lunar Falls
via a newly released track, "The Elm" – an adaptation of Aleah and Juha Raivio's track "Sinking Ships". The hair-raising track is available to stream now via YouTube here: 
https://youtu.be/OqiyvpATii4
Highfield says, "The Elm is an authorized adaptation of Sinking Ships by Trees of Eternity. It is my tribute to Aleah Stanbridge who never lived to see the impact her music has had."
Additional streams of equally-haunting tracks "Solus Ipse", "Aphasia", "Three Rivers" and "Catacombs" are also available to stream via 
Bandcamp
, and also via YouTube at the links below:
With Lunar Falls, Emily Highfield explains that she wants to convey an escape to a soothing and real place. Her organic, earthly approach to music creates an immersive soundscape – a powerful panorama of shimmering guitars, haunting melodies and atmospheric density.
Highfield adds, "Lunar Falls is a sonic midnight forest trek – at times beguiling and soothing, and at once harsh and raw. Like nature itself. Bands that inspire me are immersive, honest and risk takers. I'm inspired by and love acoustic-driven and atmospheric/depressive metal – like Agalloch, Opeth, Saor, Unreqvited, Heretoir and Trees of Eternity."
SULDUSK first turned heads a few years ago after frontwoman and then-solo artist Emily Highfield uploaded some of her compositions to Soundcloud. When the melancholic black metal-infused acoustic track "Drogue" ended up reaching over 10,000 plays in less than a month, Highfield knew she was onto something great. This inspired Highfield to create the live and current incarnation of SULDUSK – a chamber metal ensemble which has since been embraced by audiences and underground musicians alike.
Lunar Falls was engineered, mixed and produced by Mark Kelson, with additional engineering by Jesse Oberin. The album was mastered by Joseph Carra at Crystal Mastering.
Lunar Falls track listing:
1. Eleos
2. Solus Ipse
3. The Elm
4. Aphasia
5. Three Rivers
6. Autumnal Resolve
7. Catacombs
8. Nazaré
9. Drogue
10. Sovran Shrines
SULDUSK is:
Emily Highfield: Vocals, Guitar
Mark Kelson: Guitar, Bass, Keys
Glenn James: Percussion
Marty O'Shea: Drums
Nicky Blackmore and Bryan Murphy: Additional Guitar
Francesca Mountford: Cello
SULDUSK online:
"Emily Highfield, the sole creator of SULDUSK, has succeeded in creating thoroughly entrancing musical experiences through seamless juxtapositions of contrasting musical styles. Even her vocals are representative of those contrasts – both caustic in their acidity and beautifully ethereal in their clarity."
– No Clean Singing
"Mysterious, hypnotic, compelling songwriting. Haunting and beautiful, very original – gentle, soothing, and then at times unexpectedly powerful when it conjures other-worldly dark screams from the collective sub-conscious – like Mother Nature venting her fury!"
– David Hirschfelder, Internationally award-winning soundtrack composer
"Varyingly described as acoustic Black Metal, Blackgaze or Doom Folk, SULDUSK have a sound that is entirely their own and utterly captivating… While no comparison can truly capture the magic of SULDUSK, fans of Opeth's 'Damnation' album are likely to be impressed."
– Overdrive Magazine
SULDUSK Press Photo by Tanya Voltchanskaya – reply to this email for a larger version!